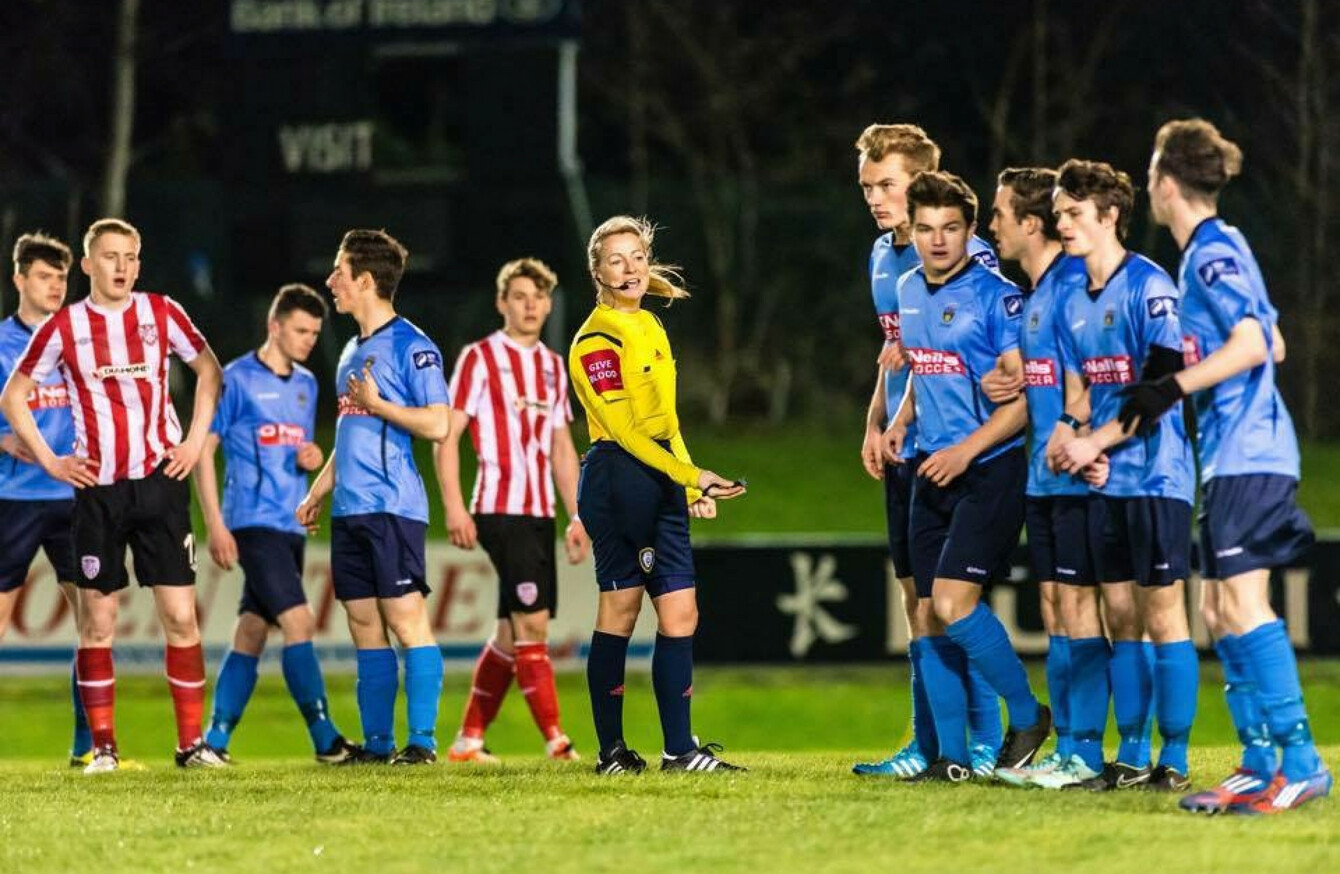 Paula Brady referees an underage match between UCD and Derry City
Image: Paula Brady
Paula Brady referees an underage match between UCD and Derry City
Image: Paula Brady
IF YOU WERE watching the FAI Cup final between Cork and Dundalk yesterday, you may have noticed some unusual patches on the referees' sleeves.
They're just one tiny symbol of something Ireland's referees are very passionate about – blood donation, and their subsequent sponsorship by Give Blood. And they're appealing to the wider football community to be the reason that blood donations are always there for those who need it.
Why sports fans, you might ask? Put simply, they care deeply about their communities, explains football referee Paula Brady: "The people who tend to be involved in a team sport, tend to be the type who want to give back anyway."
She explains: "Sport is a great leveller, it doesn't matter who you are or where you come from, you have an opportunity to contribute, be part of a team and do things for the greater good."
The football family
Indeed, while there may be rivalry between players and clubs ("that's what you want, that's what makes football what it is"), Brady says that "at the end of the day we're just one big football family."
And it's often a personal connection within a club or a community that inspires people to donate in the first place – a fellow coach started donating platelets after his niece needed them and Brady's own father needed a transfusion after a workplace accident when she was a child.
And as Brady reminds, it's probably the only thing in the world that money can't buy: "There's a price on everything in this day and age, but no amount of funding can directly increase donations. They're individual and 100% reliant on personal sacrifice. If people don't give, they can't buy more from a supplier like in any other situation."
This aspect really can make it a life or death situation, shares Brady: "You see tweets going out about low stocks of a particular blood type – that's grave. If there is no stock of one there and a person needs it, their life could be endangered."
Brady says that age-old rivalries goes out the window in these situations: If someone needs something or has a problem, it's not my club versus your club or the rivalry you see in the pitch – we're all in it together as one big football family."
Freak injuries
Football fans see it firsthand how suddenly you become reliant on blood donations – Brady remembers the famous incident of Shane Duffy in 2010 when a kick ruptured the blood supply to his liver, lacerating the organ in the process.
Dr Alan Byrne, who is still the team doctor for the Irish team (and FAI Medical Director), rushed over to him, knowing it was a serious injury even though there was no visible bleeding. Duffy was rushed to hospital in an ambulance and ended up in intensive care, requiring a blood transfusion for the six pints of blood that he lost.
On a smaller scale, the text service that the IBTS offer donors brings home how good it feels to donate blood, every single time:
When it goes directly to someone who needs it for a life-saving treatment, it's so powerful to know you've been a part of that. It's just good for the soul to hear, you're on a high after and feel inspired. 
A family affair
Fellow referee Allen Lynch is a third generation donor (his mother and grandmother were both donors), who often donates with his wife: "She has special blood so she keeps telling me hers is richer!" The donor clinic is even in his child's primary school, so "it's hard to miss", says Lynch.
Each time he donates, Lynch tries to raise awareness of the need for those within the football community to donate by wearing his referee kit to the clinic: "At first, the nurses would ask 'what's the story?' and now we take photos together as an opportunity to raise the word even more about referees donating."
Lynch sees his position as a referee as an opportunity to spread the word to a wider audience:
You're part of a bigger football family. We've referees in every county in Ireland at every level from international matches at Aviva Stadium to school football. You never know when someone will need your help.
In what Lynch describes as his "daily life" off the pitch, he's a sales rep and carries an organ donor card in case he is ever involved in an accident. It's a reminder that anyone could require a donation at any time.
It's a tough reality that he's reminded of on the pitch at times too:
I've seen some accidents and at the time, the player is just shipped off the pitch and you wouldn't know how serious it is until after. But being a donor and knowing your donation would be sitting there waiting for them is really satisfying. 
As you can probably tell from Lynch's smile in the photo above, the process is easy: "Once you do it once, you're on the system and it's the same people in the clinic all the time, you're almost on a first name basis with them."
There are times when a red card is a good thing. Since 2015, Give Blood has been the proud sponsor of the FAI Referees Association, and referees around Ireland are appealing to football supporters and players alike to donate blood. Find out where and when you can make your first, or continued donation here.