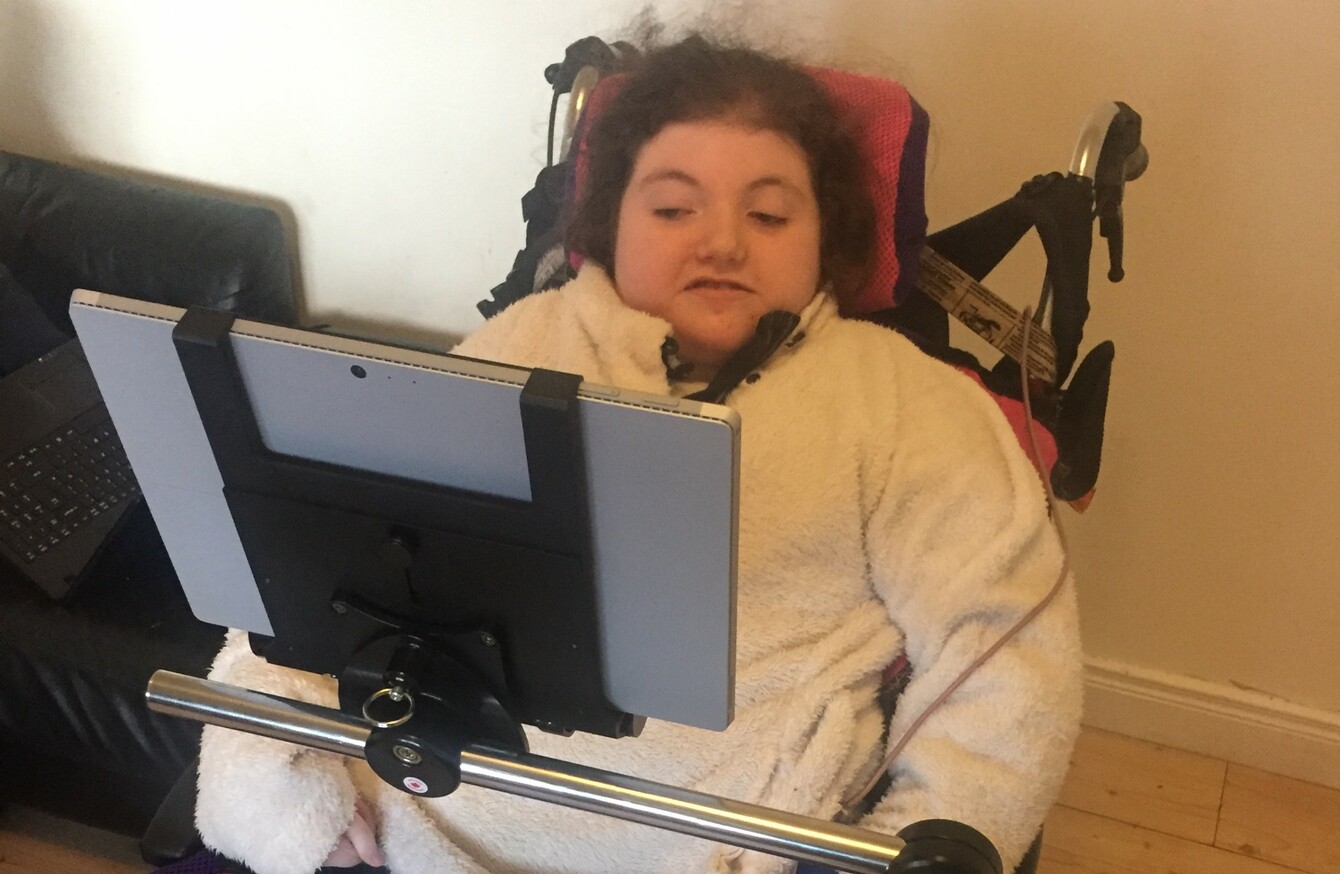 Image: Joe Lawlor
Image: Joe Lawlor
TO CALL RETT Syndrome a rare disease would be an understatement.
There are around 70 cases of it in Ireland, almost exclusively affecting girls. While a child is born normally, mental and physical symptoms like losing the ability to speak and distinctive hand movements arrive when the child is between 6 – 18 months old.
Ultimately, it means that actions we take for granted every day like talking and communicating with the world are impossible under normal circumstances.
But there are developments in this area, and the secret of giving those with Rett Syndrome an outlet lies in eye gaze, a technology which allows you to carry out actions on your PC or tablet by simply looking at your screen.
Joe Lawlor, a co-founder of the Rett Syndrome Association of Ireland, has a daughter who suffers from the illness. His 13-year-old daughter, Nathalia, has Rett Syndrome but after getting a Tobii Eye Gaze camera and a Surface Pro 4, she can communicate with her family and friends.
"It's only within 6 – 18 months that they start losing any abilities that they gained," explained Lawlor. "So my little girl was able to use her hands, she was able to babble, she was able to eat, pick up food and put it in her mouth and now she's unable to do any of that. She has no purposeful hand movement, she can't talk, she can't move her head and look at something".
What she does have control over is her eyes and now that there's technology there… her sister and myself, we're connecting more with her now because she's able to show us what she can do. It brings in the whole family around her. There's much more communication around Nathalia.
The software in question is Tobii Dynavox, which allows those with hand and speech impairments to communicate and work a machine using their eyes.
Source: Tobii Dynavox/YouTube
Both Lawlor and the Rett Syndrome Association of Ireland are currently organising an event based on the technology and what it can do for those affected.
Aimed at both parents and speech and language therapists, the aim is to educate both groups about the technology and bring it to the attention of the HSE and schools and get processes in place.
"At the moment, what we have is we're trying to educate the speech language therapists, to recommend these devices for our children," says Lawlor. "We want to educate them and get them trained up to them because they're going to be the experts with these devices when a child comes along".
When trained up properly, it means that they can properly gauge a child's cognitive ability as well as allow them to communicate simple things like saying they're hungry, or are experiencing pain somewhere.
There are some obstacles facing those families who want to use this technology. One is training professionals and giving children the necessary amount of time to learn how to use it. Lawlor likens it to learning a guitar. You wouldn't spend half an hour practicing and then give up because you're not skilled at it and the same applies here.
#Open journalism No news is bad news Support The Journal

Your contributions will help us continue to deliver the stories that are important to you

Support us now
Yet since those with Rett Syndrome can't speak, there's no way to tell how effective the training is in the short-term, and it can lead to some giving up before the results begin to show.
The other obstacle is a familiar one. Like all new technology released, the cost of something like this is always high.
"The camera itself that tracks your eyes, that's €2,000 and the software itself ranges from €600 upwards," Lawlor explains. "Because of that, a lot of families don't have access to it and they're turned down by schools and the HSE because of the pricing".
Despite the drawbacks, things are looking more optimistic for those with Rett Syndrome and similar conditions. The fact that such technology exists is a massive boost and what it brings is far greater than the asking price. It's hoped that April's event will act as a catalyst of sorts for this technology and start something new.
There's so much more than cost, it opens up the child's ability to communicate effectively… and it will take a while to teach it but let's start now. It's only been around for three years, and it's opened up the world for those who couldn't communicate.
The Tobii Eye Gaze event will be held on the 8-9 April at The Portlaoise Heritage Hotel in Portlaoise. Those interested can email the Rett Syndrome Association of Ireland at info@rettsyndrome.ie