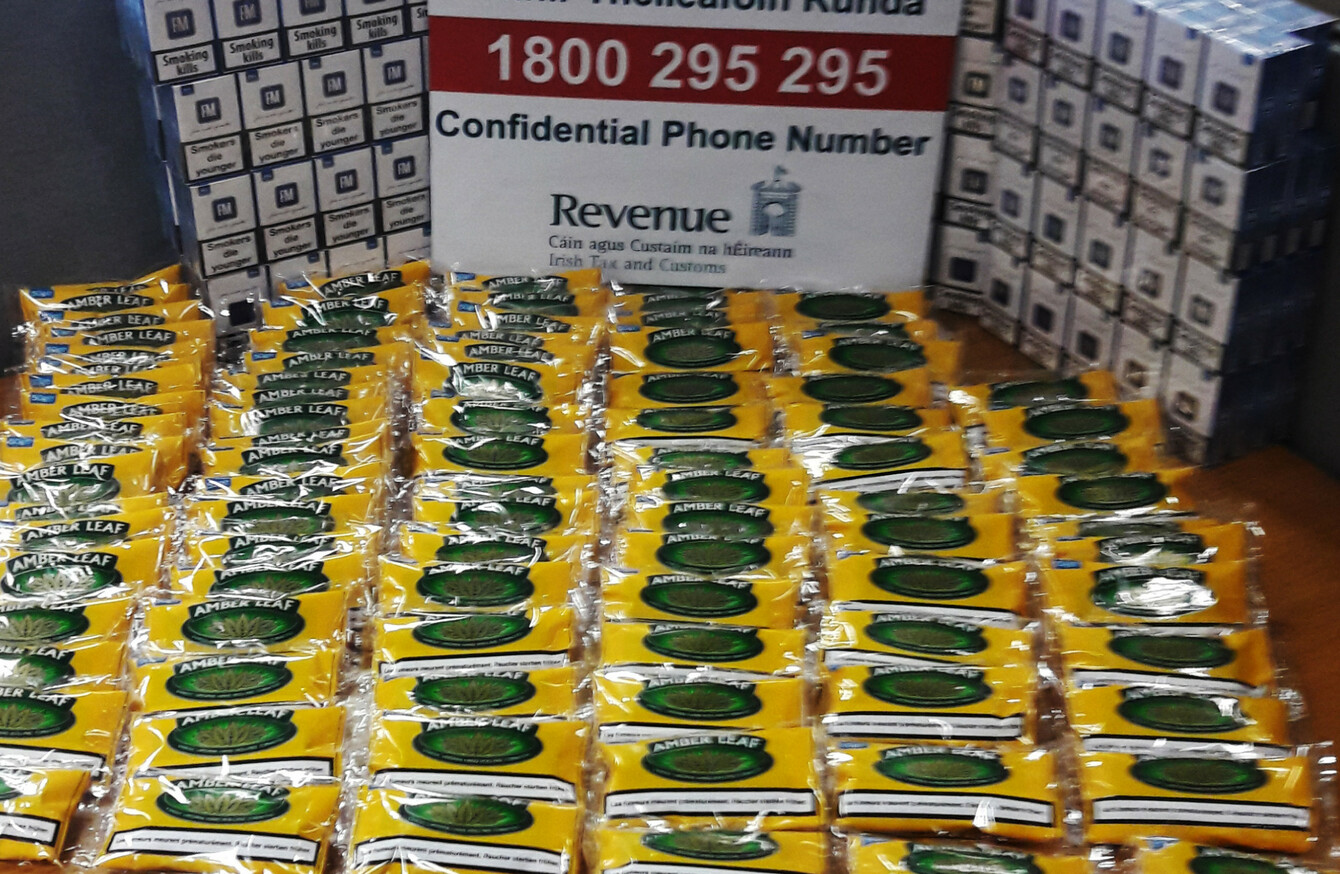 Seized tobacco and cigarettes.
Image: Revenue
Seized tobacco and cigarettes.
Image: Revenue
REVENUE OFFICERS HAVE seized illegal cash, drugs, alcohol and tobacco products worth and estimated €200,000 in a series of operations over the past three weeks.
Most recently, in an operation targeting the illicit tobacco trade in Dublin, officers seized 6,400 cigarettes and 4.7 kg of tobacco when they carried out a search under warrant of a retail premises in Dublin 16.
The cigarettes are branded FM and the tobacco is branded Amber Leaf.
Revenue said that the retail value of the seized goods is over €6,000, which would represent a loss to the Exchequer of about €4,765.
A man was questioned in relation to the incident with a view to prosecuting.
In a separate operation last month, Revenue officers assisted by detector dogs Frankie and Lottie, seized 9,500 cigarettes and 2kg of tobacco on Dublin's Moore Street.
A further operation in Dublin 13 turned up 4,800 unstamped cigarettes, along with cash amounts of £3,500 and €520, which are suspected to be the proceeds of criminal activity.
Other operations included a Lithuanian man who had arrived at Dublin Airport from Copenhagen carrying over 12,000 illegal cigarettes being sentenced to three months imprisonment.
In another operation at the airport seized 18,200 cigarettes. As well as this, 44kg of the drug khat was also seized at the airport and €14,600 cash from a 54-year-old Ukrainian man was seized.
Other operations included:
25,000 litres of smuggled beer being seized from a truck at Rosslare Europort
260g of amphetamines (valued at almost €4,000) being seized at Shannon Airport
A large number of cigarettes, cannabis, illicit drugs and more siezed at Dublin and Portlaoise Mail Centres
"Over the three-week period, tobacco and alcohol products with a combined value of over €138,000, representing a potential loss to the Exchequer of almost €85,000, were seized," Revenue said.
The estimated value of the drugs seized is in excess of €47,000.