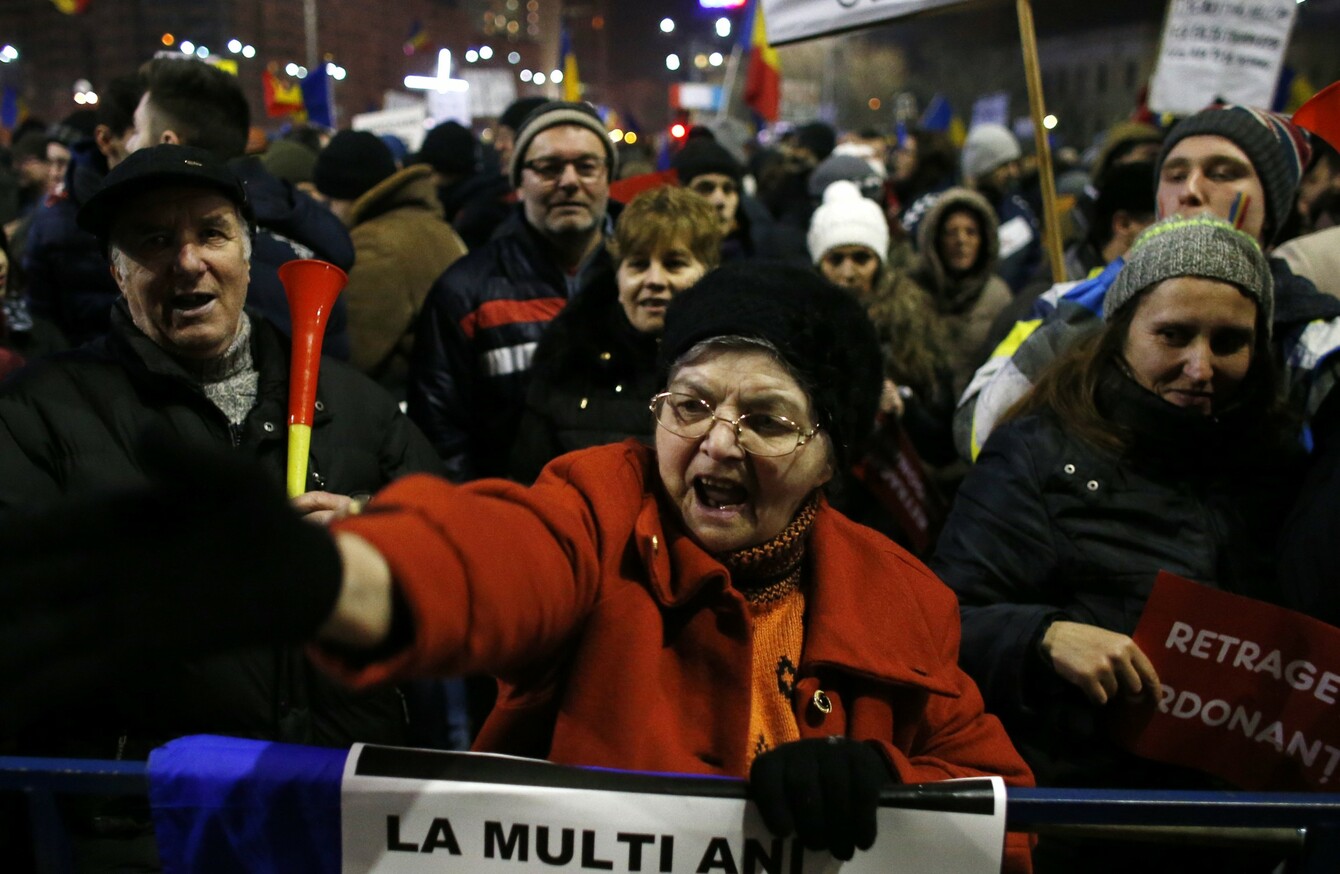 Image: AP Photo/Darko Bandic
Image: AP Photo/Darko Bandic
ROMANIA'S PREMIER HAS announced a dramatic climbdown on contentious corruption legislation after five days of demonstrations that were the biggest since the fall of dictator Nicolae Ceausescu in 1989.
Sorin Grindeanu told a hastily convened news conference that the government would meet on Sunday to repeal the emergency decree that had raised worries of a retreat in the fight against graft.
"I do not want to divide Romania," Grindeanu said at government headquarters in Bucharest, prompting celebrations among the estimated 120,000 people protesting outside for a fifth evening in a row.
The decree, passed late on Tuesday and due to enter into force on 10 February, was to make abuse of power a crime only punishable by jail if the sums involved exceeded 200,000 lei (€44,000).
The left wing government, which has been in office barely a month, also wants in a separate decree to free some 2,500 people from prison serving sentences of less than five years.
Grindeanu, from the left-wing Social Democrats (PSD), had said that the measures were to bring penal law into line with the constitution and reduce overcrowding in prisons.
Critics had said that the real aim was to let off some of the several thousand officials and politicians ensnared in a major anti-corruption drive in recent years, many of them from the PSD.
Earlier this week Brussels, which had previously praised European Union member Romania for its efforts on graft, warned against "backtracking".
The US State Department said it was "deeply concerned" that the new measures "undermine rule of law and weaken accountability for financial and corruption-related crimes".
Grindeanu said today that the penal code still had to be fixed but that a bill would be sent to parliament and the proposed 200,000-lei limit scrapped.