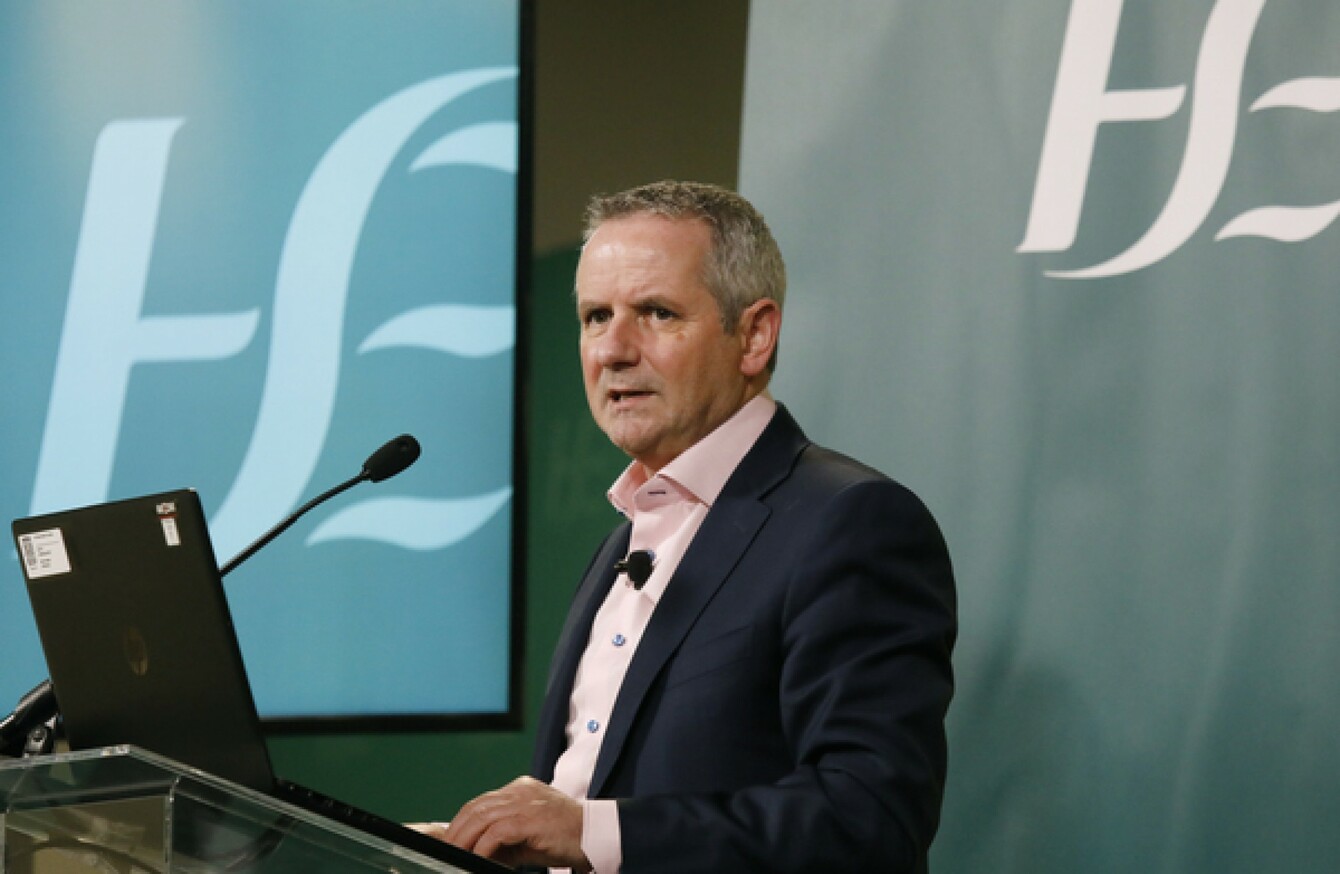 File image of HSE CEO Paul Reid.
Image: Leon Farrell
File image of HSE CEO Paul Reid.
Image: Leon Farrell
Updated Jan 4th 2021, 1:53 PM
COVID-19 CASE NUMBERS could increase in the coming days to 7,000 daily cases, the CEO of the HSE has said. 
Paul Reid described the current situation as "very serious" and said transmission levels are now "rampant". 
Speaking on RTÉ radio, Reid said cases of more than 6,000 are to be expected this evening alone. 
He said GPs have been "swamped" with some seeing up to 90% of patients referred for testing receive positive results.
He told Newstalk Breakfast earlier that 3,000 HSE staff are currently out of work due to being either a confirmed Covid-19 case or a close contact. 
He also confirmed that non-urgent hospital care will be scaled back to the extent of "where we were in March and April". 
"We will be taking actions this week to reduce and in most cases eliminate non-urgent care across our hospital system," he said.
"We have to create capacity during this week, we have to reduce the footfall in our hospitals and we have to reduce the risk because of the spread." 
As of 8am this morning, there are 744 patients with Covid-19 in hospital. Latest figures show 65 people are in ICU, with 12 admissions in the past 24 hours. 
Reid said the HSE is in discussions with hospitals to "significantly wind back" on elective care including non-urgent healthcare, day cases and outpatients. 
In terms of testing, he said capacity has been increased recently with over 140,000 tests completed in the last week. 
Speaking about vaccinations, Health Minister Stephen Donnelly has said that 4,000 people received the first dose of the Pfizer/BioNTech Covid-19 vaccine in Ireland in the first few days of vaccinations last week. 
On RTÉ radio's News at One, Donnelly said: "We're scaling that up just this week to about 35,000.
"So that's 20 hospitals, 25 nursing homes. And in the hospitals, it's healthcare workers, frontline healthcare workers in the hospitals, in community care, and we're working hard to make sure that GPs are included in that as well."

Cut contacts, stay at home
Last night, the deputy Chief Medical Officer urged people to cut all but necessary contacts, work from home if possible and "act as if it's March 2020″ due to the current Covid-19 situation.
Speaking on RTÉ's Six One News, Dr Glynn said: "We all need to act as one now and we all need to act as if it's March 2020, unfortunately, once again. I know that's a very difficult message but it's one that people really need to hear tonight. 
There's no benefit to speculating about how bad things could get, things are bad enough as things currently stand.
"Tonight there are nearly 700 families across the country that have people in hospital, there are 60 families across the country that have people in critical care."
Yesterday an additional 4,962 cases of Covid-19 and seven deaths were confirmed in Ireland.
In September, Dr Glynn advised people to cut their close contacts in half.
He said last night that people should "cut their contacts to all but those that are absolutely essential over the coming week". 
"I know there have been many occasions where we have said the next five days, the next seven days, the next ten days is a really critical period, but that has never been more true than it is as I stand here tonight," Dr Glynn said. 
"We need every single person across the country to act as if they're infectious, to cut their contacts," he added. 
He said that "in particular" people with medical conditions and older people should "stay at home if at all possible".
Hospitals
Speaking on RTÉ's Morning Ireland, Dr Conor Deasy, a consultant in emergency medicine in Cork University Hospital, said there were currently 100 nurses off work at the facility due to a coronavirus diagnosis or as a result of being a close contact.
The hospital's ICU wards are at capacity, he said, but he stressed that anyone who needs ICU care will receive it and that staff from other areas of the hospital are being redeployed to care for Covid patients if required.
Deasy said that some face-to-face outpatient appointments for the week ahead had been rescheduled, but that the hospital was prioritising urgent cancer care, and that those treatments were continuing as normal.
#Open journalism No news is bad news Support The Journal

Your contributions will help us continue to deliver the stories that are important to you

Support us now
He added that the virus was so widespread in the community that in some cases, people who were coming in for treatment to injuries like broken bones were testing positive for Covid.
He added that he didn't want people with serious conditions like heart issues or strokes to stay away due to fears over the surge in the virus, as happened last spring – stressing that the emergency department was open for those who required it.
However he advised that people who didn't absolutely need to go to the emergency room should also consider other local options – like their GP or a private clinic.
Some people had been "caught out" by icy weather in recent days, he said, adding that while it was never a good time to suffer a fall or a break, people should look after themselves as they did not want to end up seeking emergency care during this period.
Speaking earlier on the show, the vice president of the Intensive Care Society and consultant at Beaumont Hospital, Alan Gaffney, said the ICU community in Ireland is "very concerned at the moment". 
Gaffney said: "The problem at the moment of course is that we're in the middle of the usual winter surge so our occupancy rate in ICU is around 87-90% which wouldn't be unusual for this time of year.
"But of course in this situation we have trends that are certainly moving in the wrong direction and, in fact, we had 12 admissions to ICU in the last 24 hours."
Additional reporting by Daragh Brophy