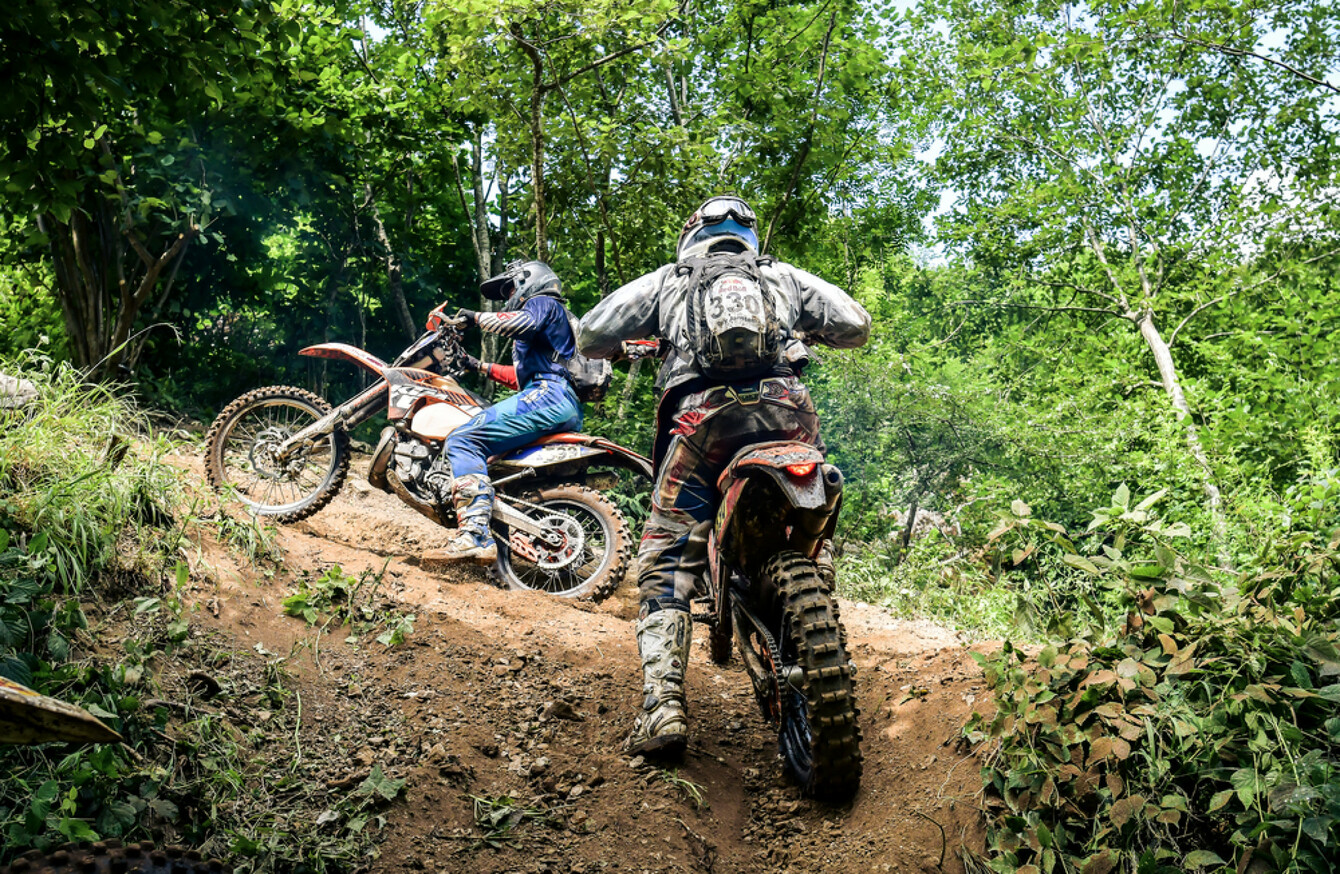 Motorcycle users in grasslands
Motorcycle users in grasslands
A 36-YEAR-OLD man was hospitalised with serious head injuries last Saturday after a scrambler bike was driven over a hill in Darndale Park, Coolock and landed on him as he sunbathed.
The horrific incident has led to calls for greater regulations and legislation to apply to the use of such all-terrain vehicles.
In a statement, Justice Minister Charlie Flanagan said that "the incident in Darndale Park underscores the dangers associated with the misuse of these vehicles, particularly in unsuitable environments where the potential for serious injuries to innocent bystanders exists".
He previously described the use of such vehicles as an "important public safety issue".
Currently, these vehicles – despite being designed for off-road, private use – are permitted on public roads under Irish law once the user holds a license and is taxed and insured.
If driven on a public road or footpath, they are subject to all of the regulatory controls that apply to other vehicles. For example, they must adhere to the speed limits and riders must wear a helmet at all times. Penalties include fixed charge notices, penalty points, fines and possible seizure of the vehicle.
However, there are grey areas when they are used in public spaces that are not roads or footpaths.
Sinn Féin TD Dessie Ellis has called for the extension of "the definition of public space in the road traffic act to include parks, greens and unused ground", as well as providing gardaí "the ability to impound quads and bikes that are used illegally in private property".
Under the 1961 Road Traffic Act, a public road means a road which the road authority is responsible for maintaining.
Earlier this year, members of An Garda Síochána, the Road Safety Authority and the Revenue Commissioner met with officials from various government departments to discuss the growing problem.
Flanagan said that gardaí continue to work on the ground with local authorities "implementing non-legislative enforcement solutions to deal with the misuse of scramblers and quad bikes", adding that "it is vital that this engagement continues".
He has also, however, sought the advice of the Attorney General on what legislative amendments are required to curb anti-social activity involving quads and scramblers.
This comes as a number of local councillors have voiced their complaints about the use of scramblers in their areas.
#Open journalism No news is bad news Support The Journal

Your contributions will help us continue to deliver the stories that are important to you

Support us now
Dublin City councillor Noeleen Reilly said that "there is a real breakdown in the law and communities are being held to ransom".
Speaking on RTÉ's News At One on Monday, Reilly said this "has been a consistent problem for years now".
In a separate statement, she suggested that providing land for designated use on a pilot basis could be a solution to "see if we can move these bikes off the roads and parks".
Adding his concerns, Social Democrats' councillor Cian O'Callaghan said: "The misuse of quad bikes and scramblers has been allowed to reach epidemic proportions in many communities."
He added that it's "not unusual to see children as young as seven or eight racing around housing estates and in public open spaces and parks, posing a huge danger to themselves as well as pedestrians and road users".
The supply of mechanically propelled vehicles, such as quads and scramblers, to people aged under 16 or 17 – depending on the vehicle - is an offence under the Road Traffic Act.
The Road Safety Authority intends to run a safety campaign later this year with the aim of discouraging those who may be considering purchasing scramblers or quad-bikes as Christmas presents for minors.