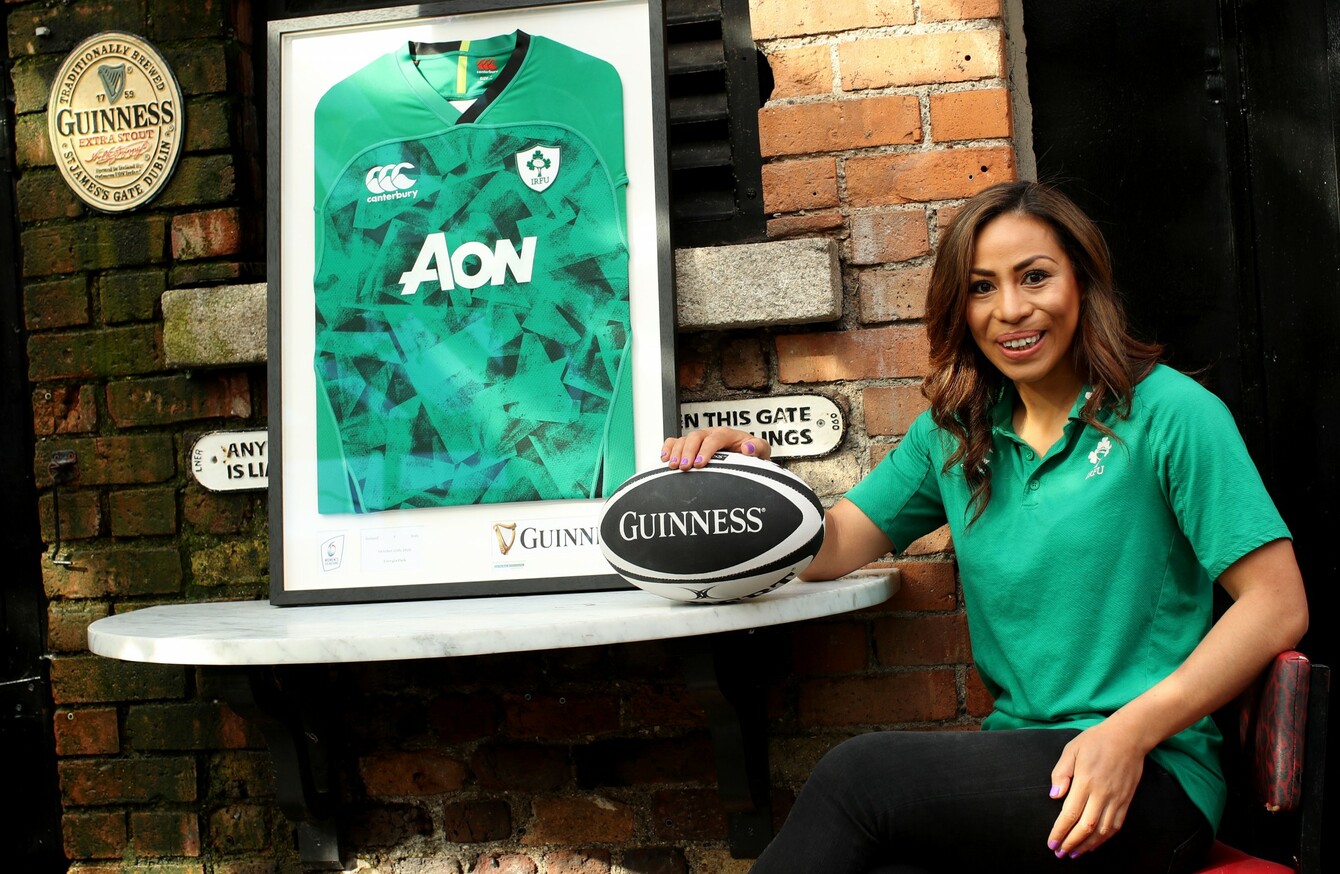 Sene Naoupu with the new jersey this week.
Image: Dan Sheridan/INPHO
Sene Naoupu with the new jersey this week.
Image: Dan Sheridan/INPHO
VISIBILITY IS KEY.
That was the message from Ireland rugby star Sene Naoupu as the new women's jersey was officially launched this week. 
For the very first time, aspiring female players and supporters will be able to purchase replicas of the exact shirts their idols – such as Leinster centre Naoupu – wear on the pitch.
In partnership with Canterbury, Elverys and the IRFU, Guinness have also announced that they will be on sale through their webstore and at the Guinness Open Gate Brewery.
It is expected to bring more exposure to the team and represents another step in the right direction for women's sport.
"This is hugely significant," Naoupu said this week. "It's awesome. To have the jersey visible and available to everyone is really important for the sport and how the community gets behind the Irish women's team.
Please God, girls, women and everyone will buy the jersey so they can feel more connected to the team and what it represents. That's exciting."
Seven months on from their last Women's Six Nations match, the rescheduled tournament returns this weekend as Adam Griggs' side take on Italy. Adjusting to life during the pandemic has proved difficult for most, but New Zealand-born Naoupu is counting her blessings ahead of Saturday's game. 
"It's been challenging for everyone, but it has also been an opportunity to reset expectations and goals," she added. "For us, from a rugby point of view, we are really thankful that we've had the opportunity to reassemble and to train together again in preparation for these upcoming internationals.
"In some ways, we're very fortunate and we're well aware that it's both a responsibility and a privilege to be part of this environment, when other sports and industries may not necessarily have that chance."
The current restrictions mean fans are not permitted to attend matches, but thankfully Ireland's remaining two fixtures will be televised live on RTÉ – allowing supporters to cheer the team on from home. 
"As a current player, myself and my team-mates see the importance of this, be it increased media coverage, showing our games on RTÉ or as Guinness is doing, giving fans the opportunity to show their allegiance and feel closer to the women's rugby team, by proudly wearing our jerseys," said Naoupu, who is positive about the future.  
"These steps to ensure the women's game is seen has a hugely positive impact on all of us players, giving us an extra boost of support when we need it most and it has the knock on effect of encouraging higher attendance at matches, when possible and increased uptake of the game amongst women throughout the country.
"It's wonderful to have the continued support of Guinness, who is a firm advocate for equality in the women's game."
Guinness has teamed up with Irish international and Leinster rugby player, Sene Naoupu and former Ireland international and Leinster rugby player, Brian O'Driscoll, to announce a partnership with Canterbury, Elverys and the IRFU in support of the sale of the newly released Irish women's rugby team jerseys across its retail sites - the Guinness Webstore and Guinness Open Gate Brewery.
The women's jerseys will be available for fans to purchase from the visitor sites from 21 October while stocks last. As a proud partner of the IRFU and official partner to the Women's Six Nations, Guinness is stocking the jerseys in its visitor venues to encourage further support for the Irish women's rugby team.