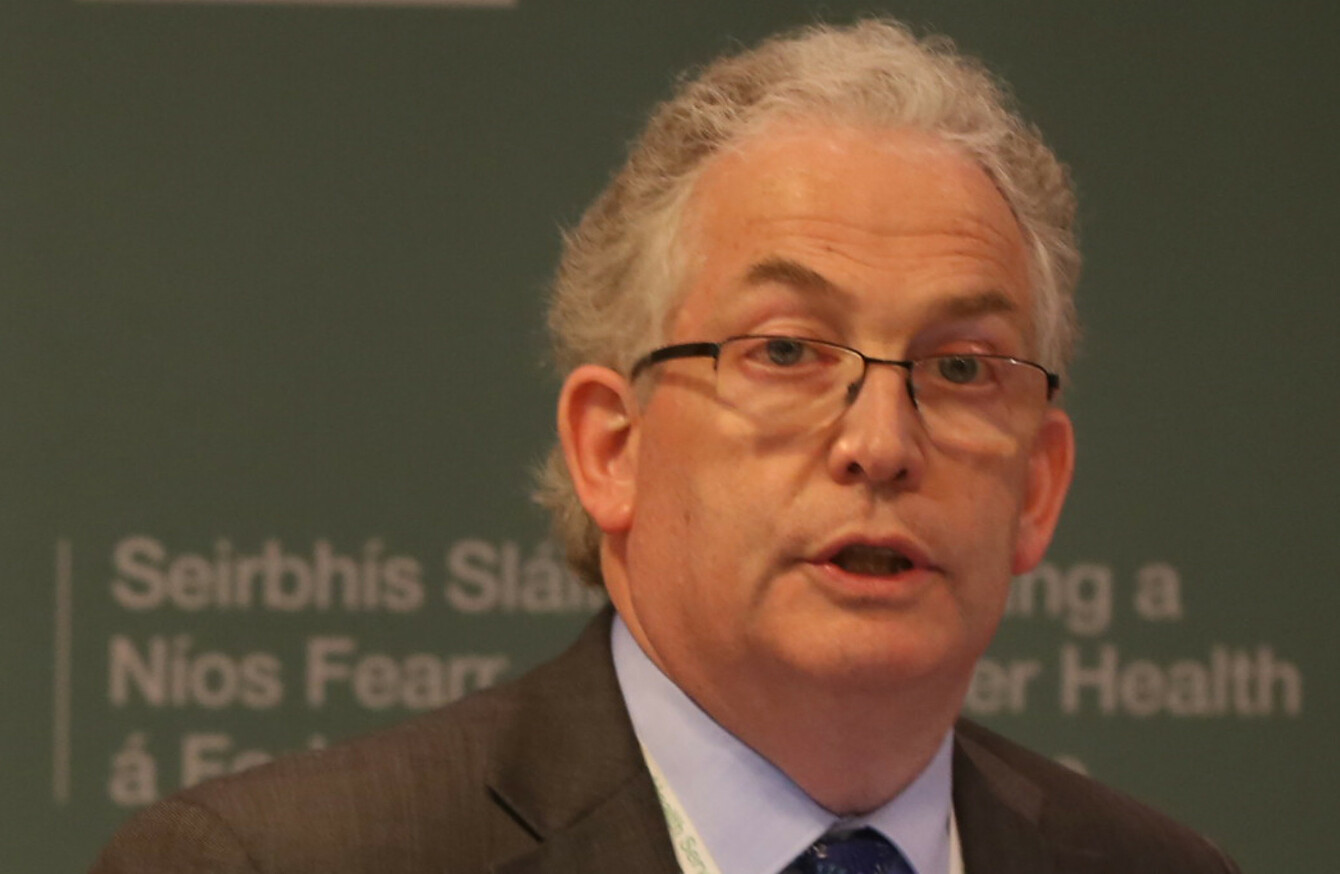 Tony O'Brien has faced increasing pressure to step down.
Image: Sam Boal/Rollingnews.ie
Tony O'Brien has faced increasing pressure to step down.
Image: Sam Boal/Rollingnews.ie
Updated at 8.45pm
TÁNAISTE SIMON COVENEY has said he does not believe more people losing their jobs over the CervicalCheck scandal will achieve anything in the current situation.
Sinn Féin has today published its motion of no confidence in the director general of the HSE, Tony O'Brien, over the ongoing smear test controversy.
In addition, Fianna Fáil's health spokesperson Stephen Donnelly said today that his party is also calling on Tony O'Brien to resign with immediate effect.
Speaking to TheJournal.ie, he said:
"There could have been more people sacked, if you like, but I am not sure that would have contributed to what we really need to do here which is establish the facts as soon as possible and to reassure women that the health service the state is putting in place for them is responding to them in a way that is safe and comprehensive and respects their right to information."
The Cork TD did not specify if he had confidence in the HSE boss, but said a number of people in CervicalCheck have left their roles this week.
Lets not forget what has happened here. The director of CervicalCheck has stepped aside, the number two in terms of technical director has also stepped aside. There is a new management team put in there, it is a team that has come from the emergency management unit in the HSE – and they are reporting directly to Tony O'Brien.
He is stepping down anyway in a few weeks time. He has a lot of knowledge of cancer screening and has done an awful lot of good work in the HSE in terms of setting up screening programmes and he is determined, before he goes, to contribute positively to see what happened here and contribute to the setting up of an inquiry that, I think, will judge his performance and many others in the HSE when we know all the full facts. I think that is the appropriate way to go.
There have been calls for heads to roll over the scandal, with the government and HSE under severe pressure over its handling of the matter.
Pressure has been mounting on HSE chief in recent days, and with Sinn Féin and Fianna Fáil calling for O'Brien to be removed, the government could be forced to take action.
"The priorities are supporting the affected women, providing clinical assistance to all with concerns and the investigation. We believe O'Brien remaining in situ will distract from these priorities," said Donnelly.
The HSE confirmed this week that 17 women whose cases were reviewed as part of an audit into the CervicalCheck controversy have died. It has not been determined if their deaths were due to delayed diagnoses. These women were among 208 whose original smear test results differed when reviewed again.
The woman whose case brought this scandal to light, Vicky Phelan, has already singled out O'Brien and said that he should resign. Last week she was awarded €2.5 million over incorrect smear test results from 2011.
Yesterday, O'Brien agreed to temporarily step aside from his role on the board of US medical company while he remains in his HSE role.
He is due to leave his top HSE job in August but has said he wants to stay on until then to help deal with the fallout of the crisis.
Louise O'Reilly, Sinn Féin health spokesperson, said today that O'Brien had "presided over a scandal that has cost the lives of 17 women so far, and has caused fear and worry for the vast majority of women in the State".
She said that O'Brien cannot be allowed to remain at the helm in charge at the HSE while inquiries are ongoing. Her party's proposal of no confidence will be brought to the Dáil next week.
"The culture of cover up and unaccountability in this State needs to end," O'Reilly said. "The protection of the institution should not be prioritised over the welfare of our citizens any longer."
Both the Taoiseach and Health Minister Simon Harris have said that inquiries will be made into how this scandal occurred, and O'Reilly said that they must be independent and headed by international experts.
The Tánaiste said the scoping exercise and statutory inquiry should be allowed to carry out an independent review on what occurred. He also commended the health minister for his handling of the scandal, reiterating a point he made this week that neither the minister or government knew nothing about what was going on.
I think Simon Harris has done a really great job in very difficult circumstances. He knew nothing about this and suddenly there was this avalanche of issues he needed to deal with. I know what it is like to be a minister who gets information at the last minute normally it is not as dramatic as this.
I think when we get to the truth of this the truth is more than likely going to be that the civil servants advising Simon didn't have the full facts either and were trying to establish them through audits, and visiting hospitals and looking through files.
I think we will probably find a lot of information was emerging as the days were going by. I don't think there was any deliberate attempt to hide things from the minister to make him look bad or anything like that, and I think that is how some have painted it.
Coveney admitted that the government had "a lot of work to do to fix this". He said its primary concern now is restoring trust in the cancer screening programme.
"I do think the last week to ten days has been a very bad period for the Irish health service and the HSE. It has been seen, particularly by women, as a terrible breach of trust and as a result a lot of people are feeling very vulnerable. Because this is such an emotive issue, the facts aren't always understood and often that triggers more concerns and vulnerability.
He said the government is determined to respond to this crisis "with a very consistent and firm hand" so that women are left with no questions. "I think if we do that we can rebuild trust in the system," said Coveney.
With additional reporting by Christina Finn