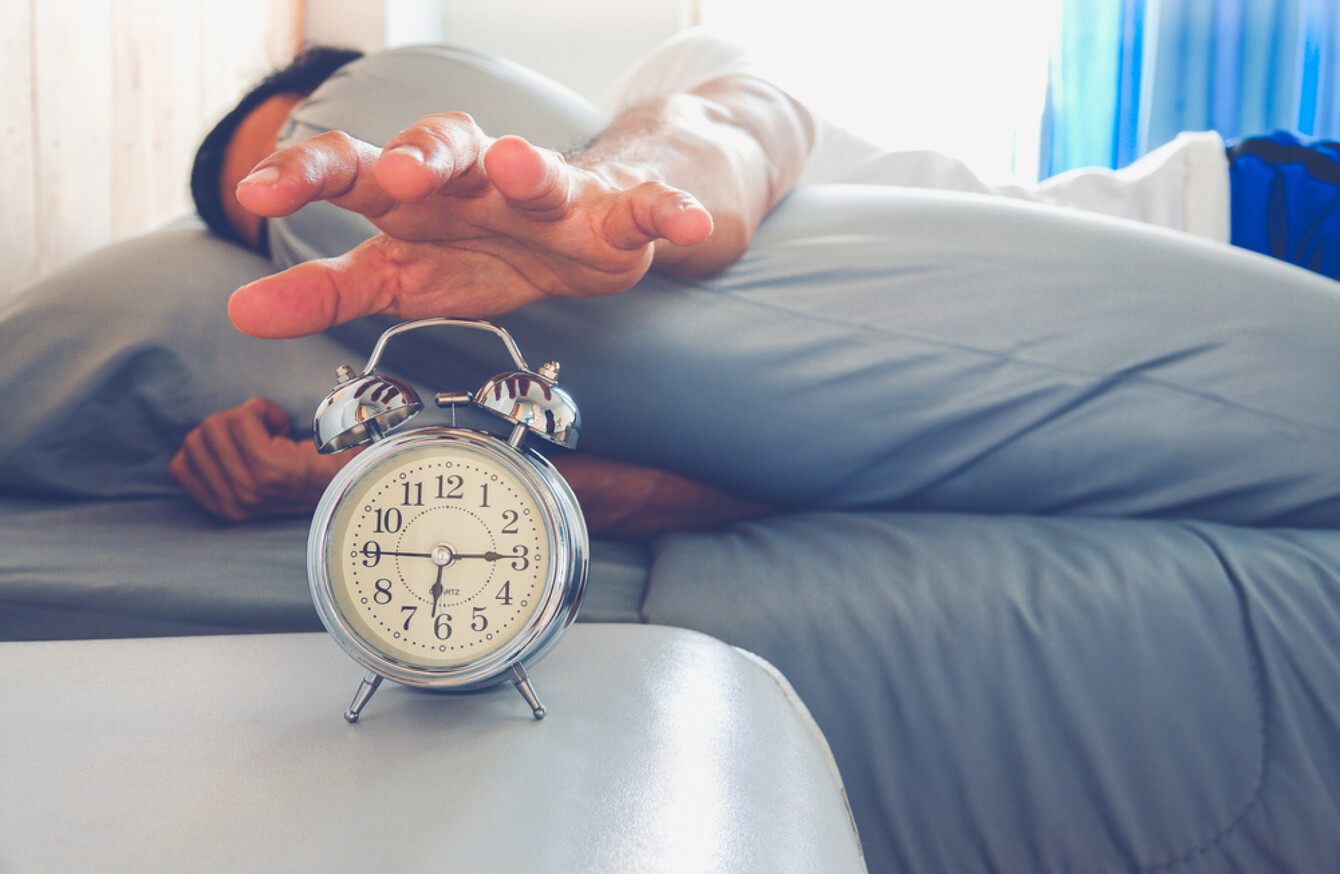 Image: Shutterstock/Ko Backpacko
Image: Shutterstock/Ko Backpacko
SPENDING A LITTLE too long in bed these mornings? If you find yourself yawning throughout the day, you're not alone. Almost a third of Irish people would like to improve their sleep, according to Healthy Ireland. 
And last week in the latest installment of The Health Check with Irish Life Health, we found out that overall, we'd only rate our sleep satisfaction as 5/10, and our likelihood to wake up feeling tired in the morning as 6.5/10.
So, what's keeping us up at night? We spoke to sleep physiologist and sleep therapist Motty Varghese of Sleep Therapy Clinic in St James' Private Clinic to see what these results mean and what we can do to improve them.
Getting a sense of our sleep
One of the ratings that really stuck out was readers' satisfaction with their sleep. At 5/10, this has been the health element that our readers are least satisfied with, over both their diet and their fitness.
But it's a rating that comes as no surprise to Varghese: "A lot of people would have complaints about sleep for various reasons." The biggest of these? "The introduction of technology into our daily lives has had a huge impact on sleep". But more on that later.
According to Varghese, about 10-15% of us have insomnia – and if you take longer than half an hour to fall asleep at least three nights a week, you could have it too.
The good news is that despite the fact that the majority of us wake up feeling tired in the morning, it's not actually that reflective of our energy levels, as Marghese explains: "The first half an hour to an hour of the day we are in sleep inertia so feeling tired is normal." 
Another significant worry for our readers was how sleep can interact with our minds – with readers rating a 7/10 for how connected they feel their sleep is to their mental health.
And it's a valid worry, according to Varghese: "Poor sleep can have a very significant impact on mental health – you're not going to be in a good mood during the day." He notes too that depression and anxiety are very common for insomniacs.
In fact, "mental illness and sleep can share overlapping pathways in the brain." But Varghese reminds that it's important not to trigger anxiety with pressure to sleep: 
We often see poor sleepers who may have come across TV programmes saying they need 8 hours. Then they're striving for this and it doesn't happen, which puts even more pressure on them.
Fortunately, the fact that readers said that they only tend to get the recommended 7-9 hours about half the time isn't a massive cause for concern, according to Varghese:
This doesn't surprise me actually, for many factors. People have very busy lives and kids need to be looked after and dropped to school.
And how much you should be getting really depends on individual circumstances, "though you should get no less than six and no more than ten." The best indicator he says is to consider our energy levels during the day: "If you're feeling energetic that's the best indicator that you are getting enough sleep."
In fact, if you're craving more than 10 hours a night, it can be an indicator that other things are wrong: "It does raise a question about the quality of sleep, and why it's not refreshing", says Varghese. However, this can be just a matter of improving our sleeping environment, which we'll tackle later.
The dangers of a sleep debt
The benefits of a good night's sleep are multifaceted, says Varghese – from making you more productive in work to making you safer on the roads. And unfortunately, not getting enough can become a vicious circle.
The effects of a lack of sleep affect everything from our minds "our cognitive function, memory and impulse control are compromised", to our ability to exercise and eat a balanced diet – which can lead to weight gain. In fact, tiredness has a direct impact on the food we choose to put in our mouths:
When we're tired, we not only tend to look for higher calorie food but our decision-making abilities are compromised – explaining why we don't tend to go for the green apple, we reach for the burger.
You can thank two 'hunger hormones' for this need for higher calorie food – ghrelin and leptin. When we haven't slept well, we produce more of them, meaning we feel the need to eat more. And when we gain weight, snoring and sleep apnea are more likely to become an issue, further impacting our sleep, says Varghese. 
Sussing our 'sleep drive'
According to Harvard Health, keeping the same sleep schedule throughout the week can be a way to ensure that you get good quality sleep every night. And readers rated habits like this as a 5.7/10 in importance.
While Varghese says that while we can give ourselves a few hours extra at the weekend, giving too many can end up doing more harm than good:
If you sleep until 10 or 11 in the morning and go to bed that night, you may not have enough sleep drive. This is determined by the number of waking hours we have before bedtime.
Keeping a consistent bedtime and wake up time is "the most important factor that determines sleep drive", or our appetite for sleep, says Varghese. If we compensate by going to bed too early or sleeping in too late, we won't feel tired that night: "It's the same as the way having breakfast, lunch and dinner makes you hungry at particular times."
And there are other factors that can mess with our sleep drive – and our phones are one of the worst culprits. Readers rated 7.1/10 for likeliness to use a screen in bed and 7/10 to check their phone during the night, which is something Varghese knows all too well:
This is very, very, very common. People turn off their handheld devices just before they turn the light off when they shouldn't touch them for two hours before bedtime.
This is because our body has its own way of circulating both alertness and drowsiness and the blue light from electronics disrupts this, explains Varghese: "When we sit in a dim environment for two hours, we stimulate our melatonin but blue light inhibits this."
So, how do we get better sleep?
Other solutions include ensuring that we a have dark, quiet, cool bedroom with a good quality mattress and that we time our habits correctly. If we're looking to improve our sleep, avoid the following before sleep:
Devices – two hours
Caffeine – eight hours 
Vigorous exercise – three hours 
Alcohol – three hours 
As our work life can both contribute to and be affected by a lack of sleep, Varghese suggests that corporate wellness programmes are starting to focus on sleep: "It's the pillar of every other part of our health from diet to exercise to mental health."
It's worth assessing whether you are a morning or an evening person says Varghese, and to try to amend our work to suit this, especially if you have flexible working hours. Sleep can be a "huge factor for productivity", and getting suitable start times and "offering sleep programmes makes a big difference".
Read more from The Health Check:
Over the next few months as part of The Health Check, we'll be capturing a snapshot of our health as a nation with Irish Life Health. We'll be compiling anonymous, real-time ratings and talking to experts about the results and what they mean for our health. We know Irish Life. We are Irish Life Health.