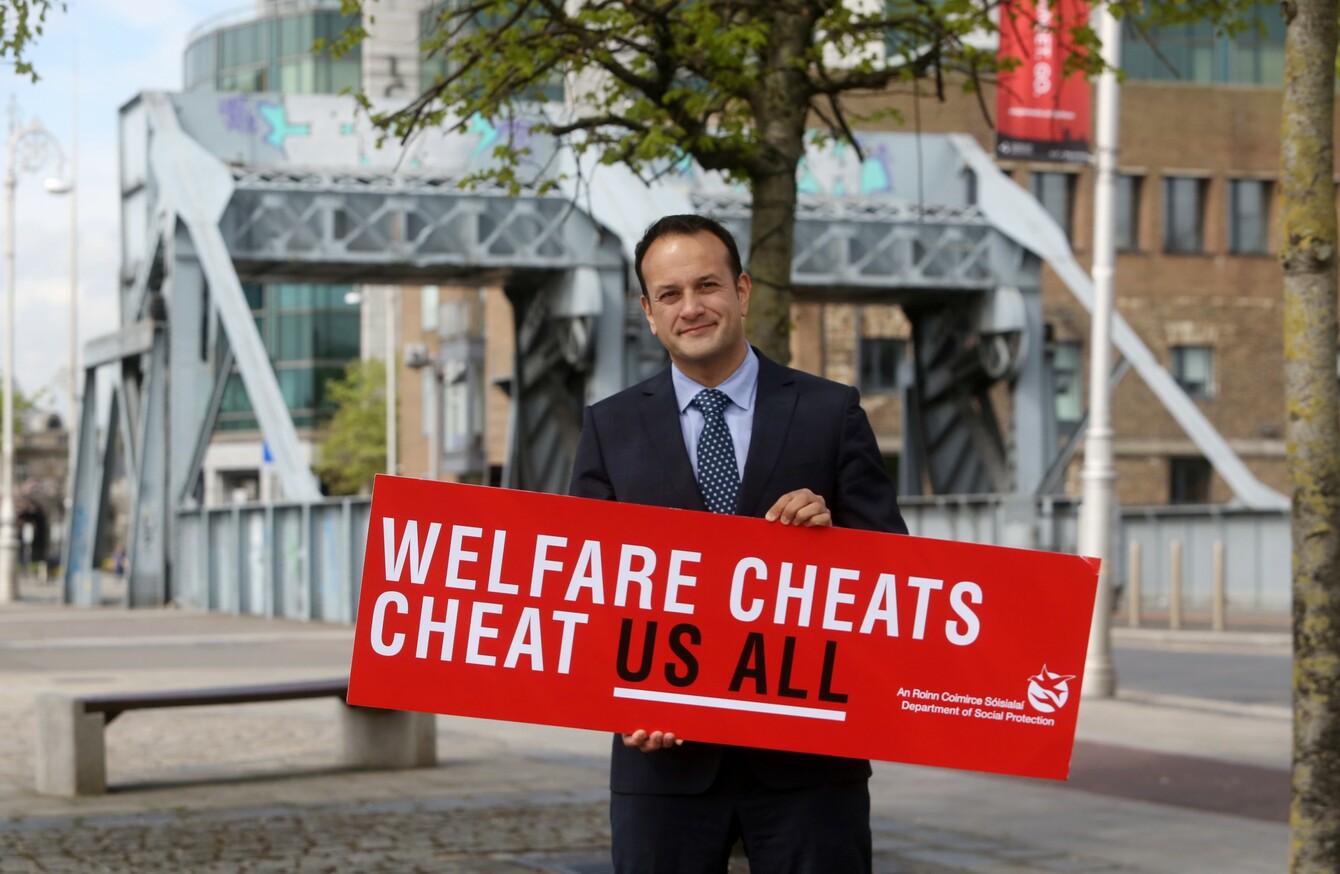 Minister for Social Protection Leo Varadkar launching the campaign last month
Image: Sam Boal/RollingNews.ie
Minister for Social Protection Leo Varadkar launching the campaign last month
Image: Sam Boal/RollingNews.ie
REPORTS ABOUT POTENTIAL welfare fraud made to the Department of Social Protection have doubled in the aftermath of the recently launched 'Welfare Cheats Cheat Us All' publicity campaign.
According to figures provided by the Minister for Social Protection Leo Varadkar, "some 500 reports" of suspected social welfare fraud were received by his department in the first week after he launched the campaign on 18 April.
In a written Dáil reply to deputies Roisín Shortall, Clare Daly and Denise Mitchell, Varadkar stated: "This represents more than double the number of reports received in the same week in 2016 and a 70% increase in the number received in the first week of April this year."
Confirming the €165,988 cost of the advertising campaign, Varadkar said: "The delivery of the campaign will achieve a balance of coverage across all demographics and regions and incorporate print, national and regional radio stations, digital and outdoor advertising.
"The national and regional radio, print and outdoor advertising will run for a period of two weeks, with a longer timeframe of four to six weeks for digital/online advertising."
Varadkar said the cost of the campaign is design and advertising related, noting: "No additional costs arise in staff resources, website development or the provision of the telephone reporting facility."
He said the 'Welfare Cheats Cheat Us All' campaign is designed to encourage reporting of suspected or known social welfare fraud, stating: "The direct marketing element of the campaign appeals to the public to report fraud and makes is easier for them to do so."
The department has used facial recognition software since 2013 as part of its measures to combat customer fraud and Varadkar added: "As of 25 April 2017, 155 suspected cases of identify fraud have been referred to the Special Investigation Unit and/or An Garda Síochána."
These cases are at various stages of investigation. Successful prosecutions have been finalised in court in 21 cases, with 18 people receiving custodial sentences.
Declining figures
The amount the department has paid out in overpayments due to customer fraud has declined in recent years.
Last year, the department made €41 million in overpayments due to customer fraud in 16,225 cases – a decline on the €49 million paid out in 2015 in 21,407 cases of customer fraud.
The department paid out €52 million in overpayments in 2014 in relation to 27,437 cases and €61.9 million in 2013 in relation to 27,489 cases.
In 2016, the department made 160 referrals to the gardaí concerning suspected fraud – an increase on the 151 referrals in 2015 and the 115 referrals in 2014.
In his reply to the TDs, Varadkar also stated: "In 2016, the Department achieved overall savings of €506 million as a result of control and anti-fraud measures. This reflects nearly 950,000 reviews of individual claims undertaken by the Department last year to determine on-going entitlements."
Total overpayments for last year amounted to €110 million, with 'customer error' contributing €46.7 million to the amount. Varadkar said his department recovered €82 million in overpayments last year.