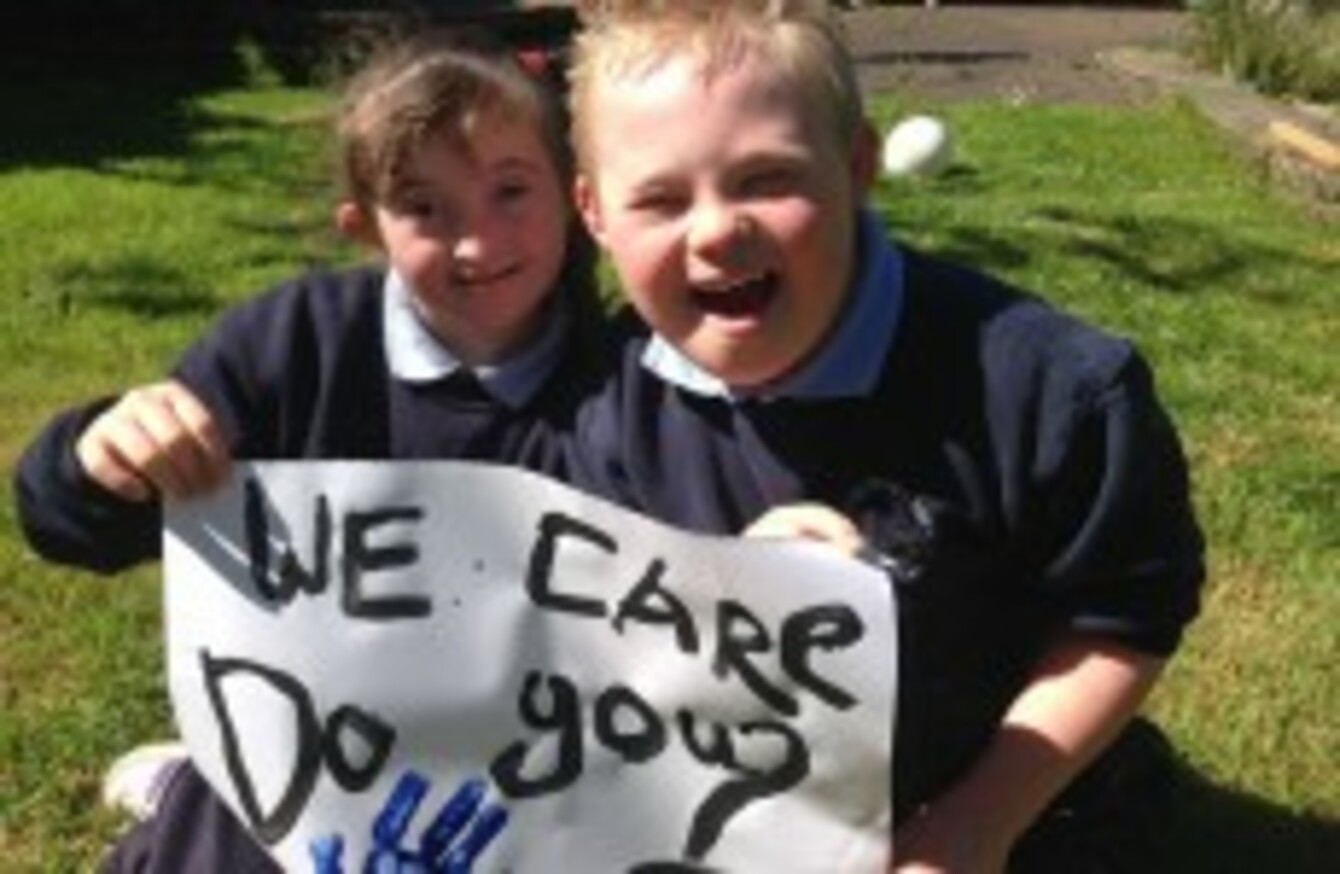 Image: We Care Do You Campaign via Facebook
Image: We Care Do You Campaign via Facebook
A GROUP OF schools are coming together to raise awareness about a recent government publication that outlines plans for special needs assistants in schools.
The circular outlines new guidelines that would see children with special needs subjected to reviews to keep their SNA supports.
The 'We Care Do You' campaign says that it's "raising awareness of the devastating impact that the latest Department of Education circular will have on our children".
Monkstown Educate Together National School say that 70 per cent of their classes have the support of a special needs assistant and that 30 per cent of their staff is made up of SNAs.
The school says that the new guidelines would mean that "Only when it can be shown via an exhaustive paper trail that all such attempts have not been successful in managing the child's behavioural, physical or emotional needs will SNA support even be considered".
Even when support is approved the child and school will have to continually re-prove that their particular needs are worthy of support, which it is the stated aim of the DES to withdraw as soon as possible.
"The circular also implies that all needs can be 'grown out-of' and that all children can become fully independent of support during the primary school years".
Last weekend Monkstown Educate Together held a campaign, 'We Care Do You?' where parents signed a petition and tied ribbons to a fence to show their support at the school fair.
Saint Anne's National School in Shankill also held a 'Rainbow River of Ribbon' event during the week.
The group have a Facebook page that outlines the work of the campaign.
Dee Dooley is a special needs assistant and also has a child with special needs, speaking about the circular, she said:
"I find it offensive that the circular outlines that there will be no special needs assistants supplied for junior infants for their first year and again for children in 5th and 6th class.
That's never happened before so that's very worrying.
#Open journalism No news is bad news Support The Journal

Your contributions will help us continue to deliver the stories that are important to you

Support us now
She added that "It's more about the system now than the children".
Fianna Fáil said the new guidelines "will lead to widespread cuts to school supports" for children with special needs.
However the Department of Education and Skills said that the circular "does not reduce or propose a reduction in the number of SNA posts available to allocate to schools".
It added that SNA allocations are reviewed annually and that "it should not be assumed that any such review may lead to a reduction in SNA support for individual pupils, or for schools who have pupils who have continuing care needs".