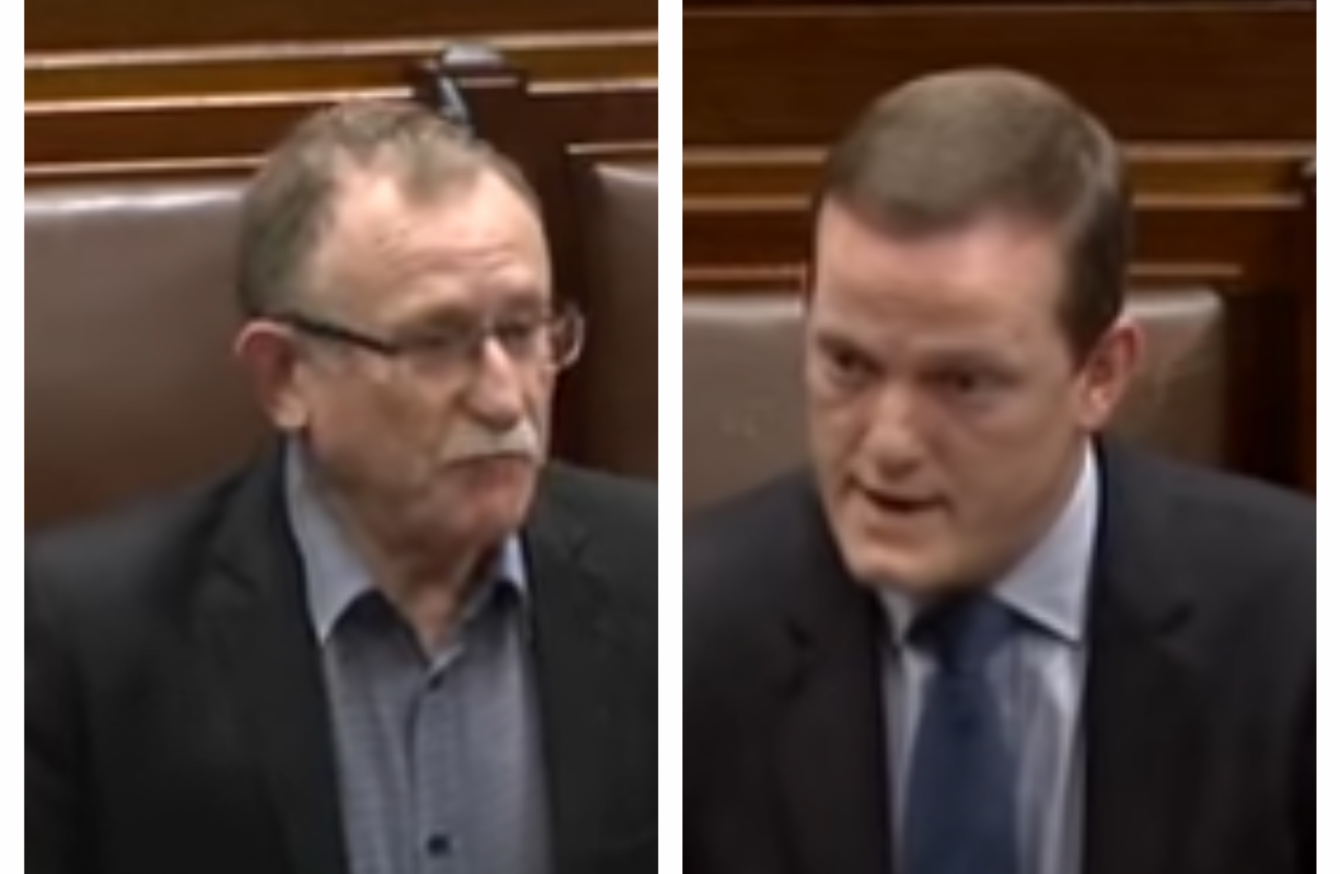 A FINE GAEL TD has said that he was not accusing Sinn Féin TDs of anything when he named them in the Dáil yesterday in relation to a Garda investigation into an IRA murder.
Under pressure from other party leaders, Gerry Adams yesterday made a statement to the Dáil about information he had received in relation to the murder of prison officer Brian Stack in 1983.
Stack was shot by members of the Provisional IRA as he left a boxing match in Dublin. No one was ever convicted for his murder.
In his speech, Adams reiterated an earlier assertion that names he had provided to the Garda Commissioner in relation to the case were given to him by Austin Stack, the son of the murdered prison guard.
Adams said he never described these people as "suspects" and that Fianna Fáil leader Micheál Martin had previously "misled the Dáil" in saying he did.
Following Adams' speech, Farrell stood up to raise "a point of order".
Source: TheJournal.ie/YouTube
The Fine Gael TD said:
I think it appropriate given that Deputy Adams has been afforded the opportunity to explain to the house his involvement and/or his discussions with individuals relating to this case, that the other individuals who are members of this house who he himself has named and which are already in the public domain, that deputies Ellis and Ferris be given an opportunity to address this house.
The TDs in question named by Farrell yesterday under Dáil privelige were Dessie Ellis and Martin Ferris.
Speaking today on RTÉ's Morning Ireland, Alan Farrell clarified his comments saying that he had been "led to believe" that Sinn Féin leader Gerry Adams had passed on the names of Ferris and Ellis to the Garda Commissioner last year in relation to the investigation.
Farrell further clarified his statement by saying he was not linking the deputies with the murder of Stack – nor was he implicating them in the events – but was merely requesting that they make a statement.
"I think it should be stated very, very clearly here, I implicated nobody," said Farrell.
I made a statement requesting two members of the house… to make statements in regards to the inclusion of their names in correspondence.
Adams has said previously that he had passed on names in relation to the murder of Brian Stack to the Garda Commissioner.
He said that these names were given to him by Brian Stack's son, Austin Stack, who has been campaigning for justice for his father.
Source: TheJournal.ie/YouTube
Austin Stack, however, has denied that he provided Adams with these names.
Speaking on Morning Ireland, Alan Farrell said information around Adams' correspondence with the Garda Commissioner had been given to him by a "confidential trusted source" and that he was confident the information was given in good faith.
"I wasn't offering accusation of wrongdoing either," he said.
I did not in any way infer that either deputy had done anything wrong. I simply wished that they be given an opportunity to address to Dáil in the same way Deputy Adams did.
In response to Farrell's comments in the Dáil yesterday, both Ferris and Ellis defended themselves vehemently.
"I'm not going to have people put my name out there on something that I have nothing to do with," said Ellis.
I refute any allegations. For the information, the man in question claims to be a solicitor, I was actually in jail for the period. In Portlaoise and before that in America so you should check your facts. You're a disgrace.
Kerry TD Ferris said he had already met gardaí in relation to the murder and that "he had nothing to answer for".
"On the record of this house. In 2013 I met with gardaí at their request regarding the death of Brian Stack," said Ferris.
I co-operated fully with them and I have nothing to answer for, and it's a disgrace what you have come in here naming. You should be ashamed of yourself.