Image: Photocall Ireland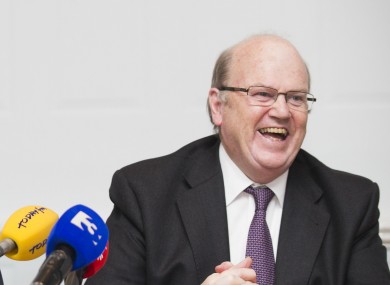 Image: Photocall Ireland
RATINGS AGENCY STANDARD and Poor's has upgraded Ireland's credit rating to an A from an A-, citing the fall in unemployment and the improving job market.
It is the second time in six months that S&P has upgraded Ireland's rating.
An A rating means that a country's credit quality is satisfactory and stable; it is still five notches below the highest ranking, which is AAA.
Minister for Finance Michael Noonan said that the upgrade was further evidence that the economic recovery has taken hold.
"The upgrade reflects Ireland's solid economic growth prospects, the continued strong management of the public finances, and the progress that Nama and the Irish banks are making," he said.
S&P also revised its projections for Ireland's GDP growth over the next two years upwards from 2.7% to 3.7%.
Explaining its actions, S&P said that the upgrade reflected its views of Ireland's solid economic growth prospects, noting that Nama has now repaid about half of its original government-guaranteed senior bonds.
John Corrigan, the head of the NTMA, said the upgrade "concludes a very positive year for Ireland's credit ratings".