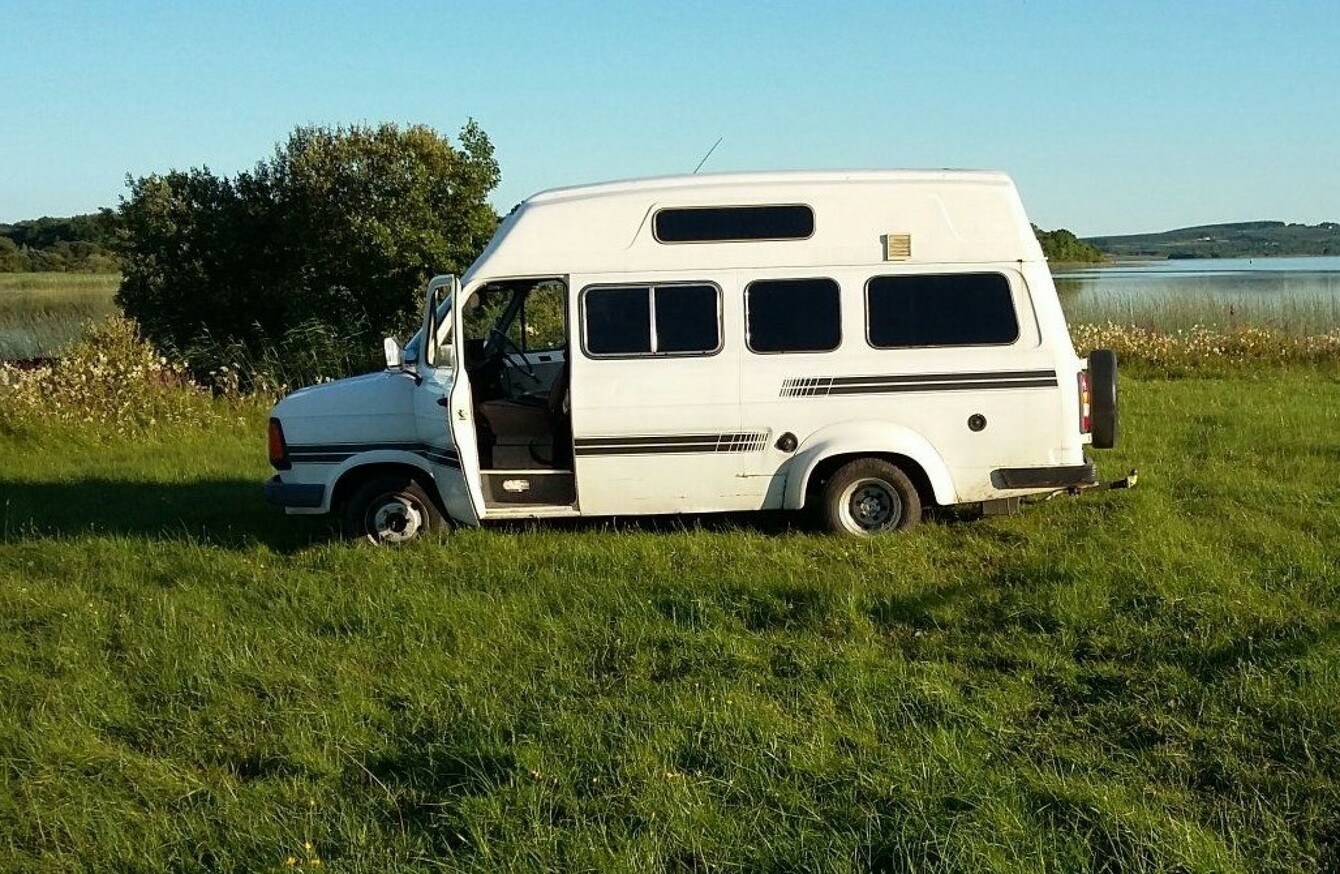 UPDATE: Andy has now been reunited with his camper van after it was located in Palmerstown last night. He thinks it may have been a TheJournal.ie reader who called gardaí and thanked everyone who shared the story. 
A MAN HAS appealed to Electric Picnic revellers to keep an eye out for his beloved camper van, which was stolen from outside his apartment block this week.
Andy O'Rourke's camper van was stolen in the early hours of Thursday morning. He told TheJournal.ie the van was his "pride and joy".
"It was very unique, there's none other like it in the country I think. I was so delighted when I saw it, I always wanted to get one and when I turned 25 I got it. You have to be 25 to get camper van insurance so I had saved up. I sold my car and did without a car for two years to save up for it."
The 27-year-old is a teacher and he had enjoyed a summer of driving around the country with family and friends. O'Rourke and his Ford Transit Mark 2 also featured in TG4′s popular dating show Pioc do Ride, in which women pick dates based on the cars a man drives.
He had been planning to take the van to Electric Picnic this weekend.
"When I got the bad news, I sold my ticket," he said.
He appealed to anyone who is at the festival to be on the lookout for it. The registration number of the van is 85G 2461.
It would be brazen [to bring it] but the people who have it might be parked maybe in a field nearby. You need a camper van ticket to get into the actual site and those are like gold dust.
The Tipperary man has sourced CCTV footage from around the area and said the man who stole his van is middle-aged, of heavy build and was wearing white baggy trousers and a dark jacket.
He has also contacted Dublin and Belfast ports, the M50 and M7 tolls, shared his story online and placed an advertisement on DoneDeal in case someone tries to sell it on.
Gardaí at Kilmainham Garda Station are investigating the theft and can be contacted on 01 666 9700.