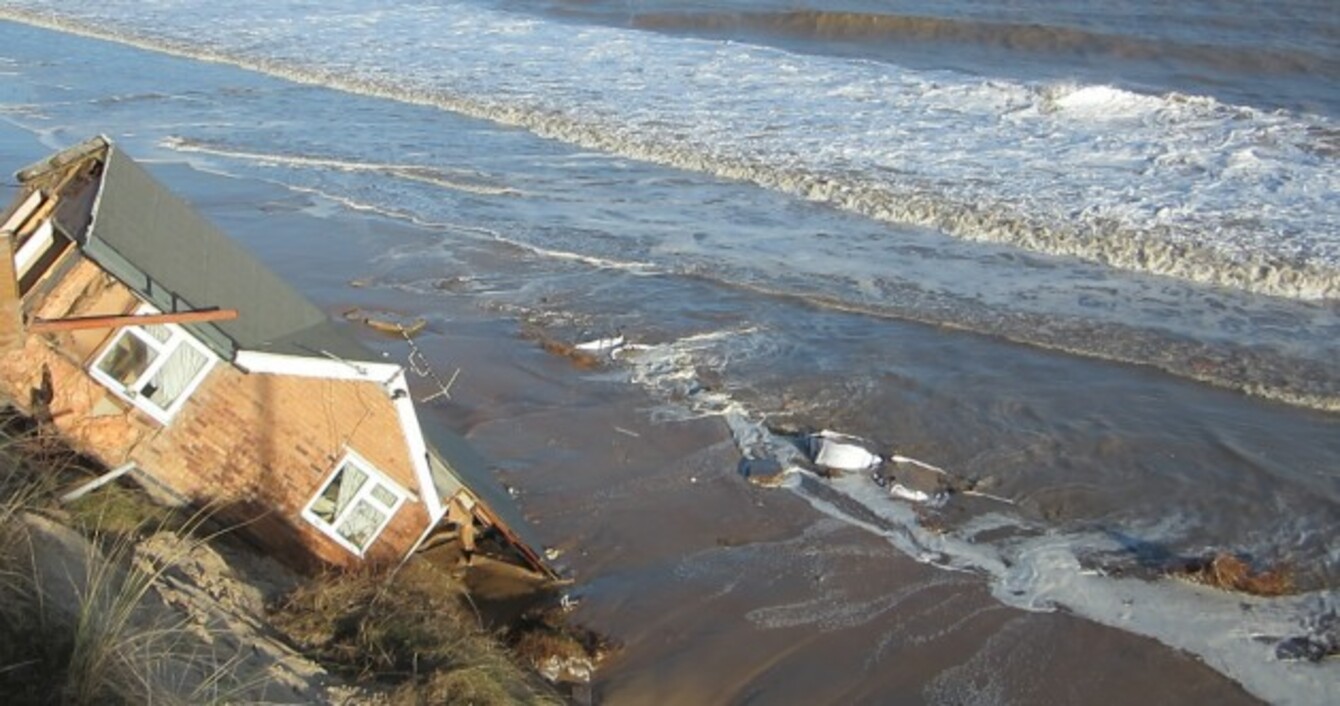 One of five bungalows in Hemsby, Norfolk which fell into the sea last night
Image: Ben Kendall/PA Wire/Press Association Images
One of five bungalows in Hemsby, Norfolk which fell into the sea last night
Image: Ben Kendall/PA Wire/Press Association Images
ICY WINTER STORMS with hurricane-force winds lashed northern Europe today as the death toll from the weather system rose to ten while hundreds of thousands suffered power blackouts and road, rail and air transport chaos.
The latest known victim was an elderly woman in north-central Sweden who was found dead in the snow outside her flat, wearing only her dressing gown.
Also in Sweden, a man was killed by a falling tree, and two Filipino sailors who were swept off a Dutch-registered ship into freezing waters yesterday remained unaccounted for, with the search called off.
Atlantic storm "Xaver", having barrelled across Britain, where two people died yesterday, packed winds of up to 158 kilometres per hour as it lashed Germany, also battering the Netherlands, Poland and southern Scandinavia.
Cromer Pier, Norfolk today [Ben Kendall/PA Wire/Press Association Images]
Across northern Europe, emergency services battled to evacuate flooded harbour areas, sandbag sodden dykes and repair damage from toppled trees that crashed onto houses, highways, train tracks and electricity lines.
Blackouts hit 400,000 households in Poland and affected 50,000 people in Sweden and 4,000 homes in Germany, while thousands of air passengers were stranded as hundreds of flights were cancelled at Amsterdam, Berlin, Hamburg, Gdansk and other airports.
The highest ocean swells in decades — whipped up by the strong winds and a large tidal surge — smashed into dykes in northern Germany and the Netherlands, which however reported no major breaches.
Three people were killed in Poland when a tree crashed down onto their car near the northern town of Lembork, according to a firefighters' spokesman.
The North Antrim coast at Portstewart yesterday [Paul Faith/PA Wire/Press Association Images]