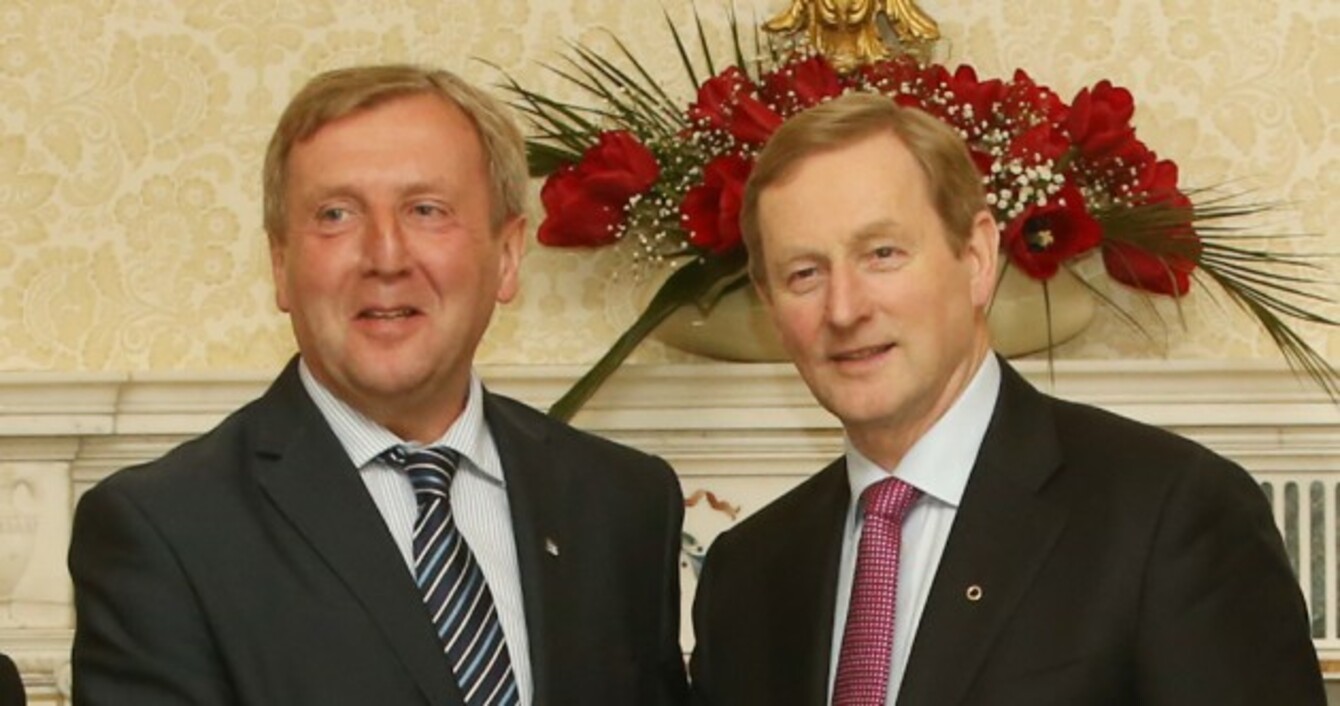 Minister Michael Creed and Taoiseach Enda Kenny.
Minister Michael Creed and Taoiseach Enda Kenny.
MICHAEL CREED HAS been a TD in Cork since 1989 – yet the media have not paid too much attention to what he's been up to.
That changed this year when he missed the launch of the Ploughing Championships, a regular haunt for agriculture ministers.
Sitting at a very large conference table in his office, the Minister for Agriculture, Food and the Marine says he will be attending the event in Tullamore next week.b
"I got a bit of flack for that, but I was out of the country… so I wasn't able to make it. I would have been there if  I could."
With his back to the window – which boasts some spectacular views of the city from the top floor of the Department of Agriculture on Kildare Street – he clarifies he was at an informal council meeting with his French counterpart in France.
The Cork North West TD is an experienced politician.
Creed has held several positions for Fine Gael while it was in opposition. He was spokesperson for Agriculture, Fisheries and Food, from 2007 – 2010, Health from 1989 – 1993, Youth and Sport in 1993-1994 and Education, as well as Arts, Culture and the Gaeltacht in 1994.
But, it wasn't until this year he was given the ministerial nod.
Why no Cabinet portfolio until now? 
It's the price he paid for supporting Richard Bruton's heave against Enda Kenny in 2010.
Creed was one of several rebel Fine Gael TDs who joined Richard Bruton for the famous morning meeting at the Green Isle Hotel on the Naas Road on 14 June of that year.
When word got out that a heave was being orchestrated by Bruton, Kenny showed he was not to be trifled with.
Fine Gael's frontbench team, including Creed, were castigated by Kenny.
"I want an end to this bickering. I want an end to this situation, where there is lack of clarity from some people about where the Fine Gael party is headed," said Kenny in 2010.
Kenny put down a motion of confidence in himself at a special meeting of the parliamentary party – committing to step aside as leader if he failed to win over the majority.
Then Kenny stood the entire frontbench down. This moment defined Creed's subsequent years. Following Kenny's motion of confidence victory, Creed was not re-appointed to the front bench.
He was effectively sent to the political wilderness by Kenny, getting no ministerial position when Fine Gael were in power over the past five years.
To add insult to perceived injury, one of his fellow 2010 rebels and fellow Cork man Simon Coveney was appointed as Agriculture Minister.
By all accounts, the snub was taken personally.
The 2010 heave against Enda Kenny
Does he regret being involved in the 2010 heave against Enda?
For those that know me… I am not someone who lives in the past. I have come to terms with that a long time ago. You do what you think is best at any given time, and if that continues to be my modus operandi, I will be quite happy.
Did it irk him when Coveney was appointed agriculture minister?
I tend to do more forward looking than backward thinking.
It's obvious during the interview that bringing up events that occurred over six years ago frustrates the newly appointed minister.
He is no longer in the political wilderness – but how did that come about? Was he surprised when Kenny picked him as Minister for Agriculture this year?
Yes, is a simple answer to that, I was.I had no expectation or no indication that it was likely to happen either. It was a very pleasant surprise.Since I have come in here since 6 May my working relationship with the Taoiseach's department has been excellent.
Describing the relationship as "businesslike", it doesn't appear that all is forgiven but it seems at least some of the water is under the bridge.
This week's Fine Gael think-in shows that Kenny needs all the alliances he can muster up. No longer are backbenchers muttering about a change of leadership in the party, they are now speaking out – loudly – that it's time for Enda to step down.
Fine Gael leadership 
As someone who was involved in the famouse 2010 heave, what does Creed make of the latest mood of discontent?
I think the Taoiseach has clarified that himself. The import of what you ask is that the Taoiseach should say now, 'I will go on x day', but sure you know if the Taoiseach says that, you know that between now and that date it would be an ineffective situation.
The Taoiseach has clearly indicated what the timelines are in this situation, and that's fine by me.
Creed, who is the son of long-serving TD Donal Creed, has been brought back in from the cold. He is not about to put one step outside the door now that he is at Cabinet.
After waiting for so long, how is he finding being a minister and balancing his constituency work, something sources say he threw himself into when he fell from favour.
When Simon Coveney was in this department, when I was a government backbencher, I used to get quite agitated at the fact Simon wasn't returning my phone calls as quickly as I wanted answers on things.
I am struggling now at keeping up the standard of returning calls to my colleagues. I am probably behind the curve in that area… it is a real challenge to get the balance.
Listing off all the places he has been in the last few weeks – Asia, France, and Bratislava – he said the travel is gruelling.
The agriculture brief 
In an interview with TheJournal.ie last week, Housing Minister Simon Coveney said the travel associated with the agricultural portfolio was something he did not miss.
"It is getting the balance right, and I am not sure I have mastered it. I am not sure I have cracked it yet," said Creed.
A lot of the demands of the Irish political system is that people want to talk to the minster themselves and that is proving problematic.
Creed now finds himself in government, but it is a very different makeup than that of the 31st Dáil, which had the largest majority in the history of the State.
He now operates in a minority government. Just like Kenny needs to foster support in his own party, he needs to call on those outside Fine Gael to get matters through the Dáil.
In recent weeks, there has been talk of a jittering Cabinet, ready to collapse at any moment.
Are the meetings fractious? Are any chairs  being thrown by the newcomers, the Independent Alliance?
No throwing chairs 
"I would be just as likely to throw a chair myself on issues. There hasn't been," he jokes.
I don't see it as a difficulty at all. I think there has been some intemperate commentary, and I think that is unfortunate. I think most of us are trying to get the job done…
Creed says the term "new politics" annoys him.
"When we are all in our constituencies, we are all sole traders," he said. However, in terms of functioning at Dáil and Cabinet it is about "forging alliances", he said.
The minister said he has a good working relationship with those in opposition, such as Fianna Fáil's Charlie McConalogue and Sinn Féin's Martin Kenny.
If I get good idea from anywhere, from AAA/PBP, from anywhere, I'll take it. To get things through the Dáil we have to have that business like approach.
And there is no denying that it is a difficult brief to hold. No sooner had Creed settled into the Agriculture Department, Brexit happened.
One of the key sectors facing repercussions is Ireland's farming sector.
It is a huge issue for this department. When I met the secretary general on the evening of 6 May, on the eve of my appointment as minister, he gave me quite a substantial file. That was a Friday evening and he said 'get your head around that' and we hit the ground running on Monday morning.
We had hoped that the UK would have voted differently and that was a file we could have been shredding post 24 June, but to use that terrible phrase 'we are where we are', we are dealing with that issue.
Brexit is centre stage for his department and a lot of contingency planning has been going on in the background, he said.
Almost 100% of all mushrooms exported
One sector which has seen an immediate impact is Ireland's mushrooms industry. Almost 100% of all mushrooms Ireland produces are exported to the UK.
Last month, mushroom producer, Schiele and McDonald closed its plant, taking 60 jobs with it.
This week, Fianna Fáil criticised the minister for not intervening.
Fianna Fáil's spokesperson on Food and Horticulture, Jackie Cahill said "the exceptional State Aid measure" should be given as a short-term loan to the company to cater for liquidity gaps.
The minister believes this is not an option.
Clearly as members of the European Union, there are rules around State aid. If the solutions were as simple as that, they would have been implemented before now.
We can't simply write a cheque as that is in breach of State aid rules. We would be hauled in front of the commission for that.
"The UK is leaving EU – we have to deal with that, part of the strategy to deal with it is to protect the markets we have… and part of that strategy is to look for new market opportunities."
One of these opportunities is live exports, according to the minister.
As of 1 June, Ireland began shipping cattle to Turkey. Despite calls from the ISPCA to ban the transportation of live animals, Creed said he would like to increase levels.
The ISPCA is also calling on the minister to put a stop to animals being sold for ritual slaughters.
While acknowledging that live exports attract criticism, Creed says it is "something that is entirely defensible from the point of animal welfare and the markets we want to be in".
While Ireland meets EU standards, our standards go further, he adds.
That is because we are very conscious of our image abroad as a food exporter.
Out of the cold 
As if to highlight her minister's earlier point about time constraints, a knock signals the end of our conversation.
The man who waited what might have seemed like a lifetime to get a seat at the top table has to attend his next meeting.
The fruits of his labour.
Walking down the corridor, photos of past agriculture ministers line the wall – Simon Coveney, Mary Coughlan, Ivan Yates…
When will Creed's photo be framed and put on the wall?
With the minority government waltzing from one controversy and disagreement to another, questions of when will it all fall asunder loom heavy.
Who will then be sent out to the cold is anyone's guess. But Creed has just arrived and it doesn't appear he wants to go anywhere.