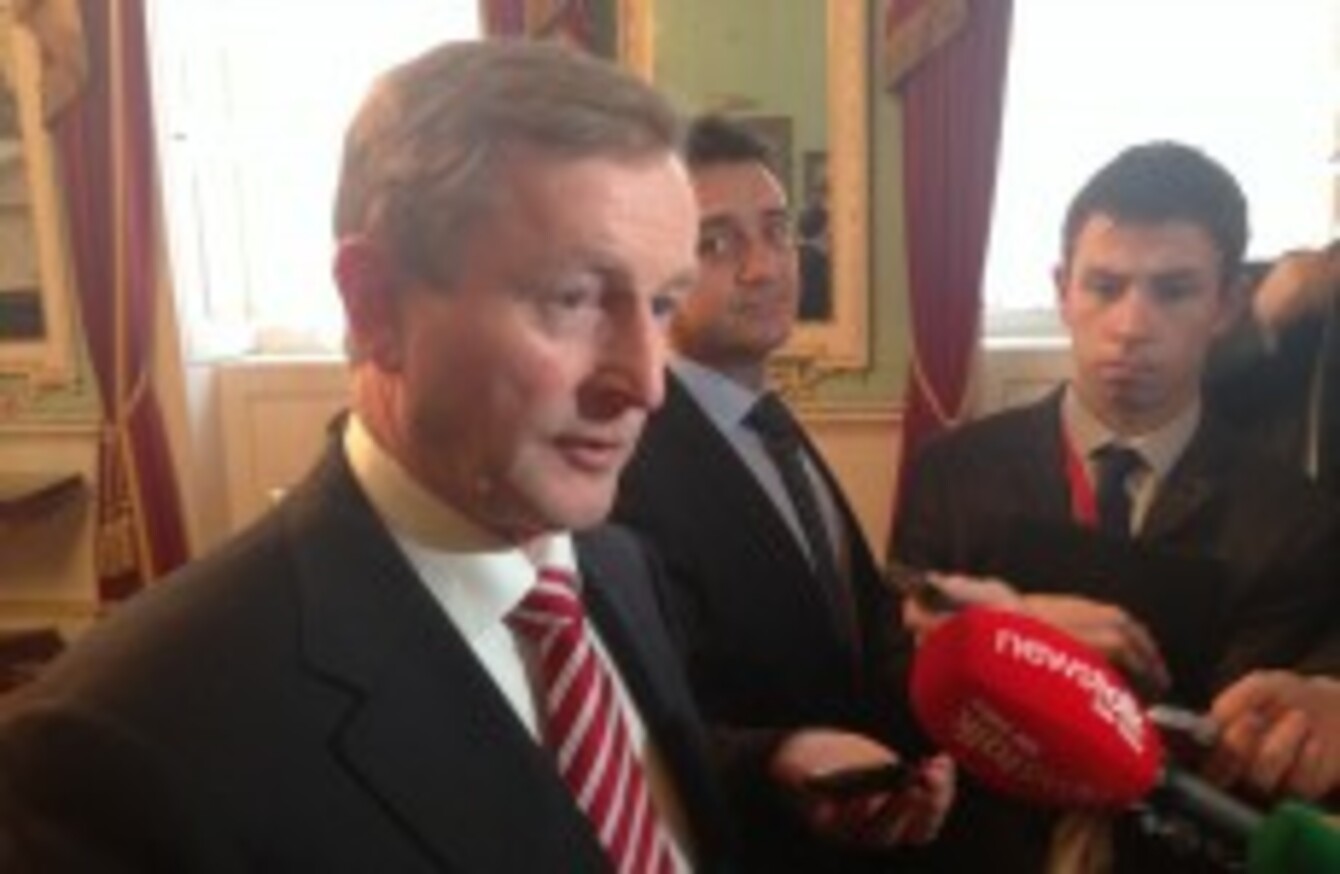 Enda Kenny speaking to the media at the Mansion House in London this morning
Image: Hugh O'Connell/TheJournal.ie
Enda Kenny speaking to the media at the Mansion House in London this morning
Image: Hugh O'Connell/TheJournal.ie
Updated 2.40pm 
TAOISEACH ENDA KENNY has said that he would like to see Queen Elizabeth visit Ireland in 2016 as part of the events surrounding the commemoration of the 1916 Rising.
Speaking to the media after a business breakfast in London this morning, Kenny said that the government had made it clear "some time ago" that it intended to invite members of the Royal family to some events in two years time.
He said he was pleased to hear the Queen herself speak about the possibility during last night's historic State banquet at Windsor Castle.
"I was actually pleased to hear the Queen herself speak last night that members of her family and her government would stand side-by-side with representatives from Ireland at appropriate commemoration ceremonies," he said.
Asked if he would like to see the Queen return to Ireland in 2016, he responded: "Yes, I would like to see it, but obviously there is a protocol attached to this.
McGuinness
He said that Irish people have become "very much enthused and interested" in pageantry and ceremonies attached to State visits such as the one taking place this week.
Kenny said that working out the participation of Royals in any events would have to take into account the different perspectives people have on the past.
Asked about the criticism in some sections of the British media of Martin McGuinness's attendance at the banquet last night, Kenny said that the Sinn Féin MLA should have attended the State banquet in Dublin Castle in 2011.
He also pressed home that it was up to leaders in the North to sort out their differences in the interests of the peace process.
"What I tried to say here, which I think was endorsed by the Queen and President last evening, was that you cannot have a block of politics anchored to the past which does not allow for the next generation to move ahead," he said.
He added that the past "should not strangle the opportunity for the future".
Gilmore and Hague
Speaking at the Foreign and Commonwealth Office in London this afternoon, the Tánaiste said that an invitation to the Queen and other members of the Royal family was something that has been discussed for a long time and would be considered by the government.
"I was very pleased to hear what Her Majesty had to say last night. The idea of perhaps members of the Royal family participating in the 1916 events is something that we have talked about before," he said
For his part, the Foreign Secretary William Hague said that it was important to commemorate the events together.
He said commemorating "all the events from that period" including the Rising needs to be considered by both governments.