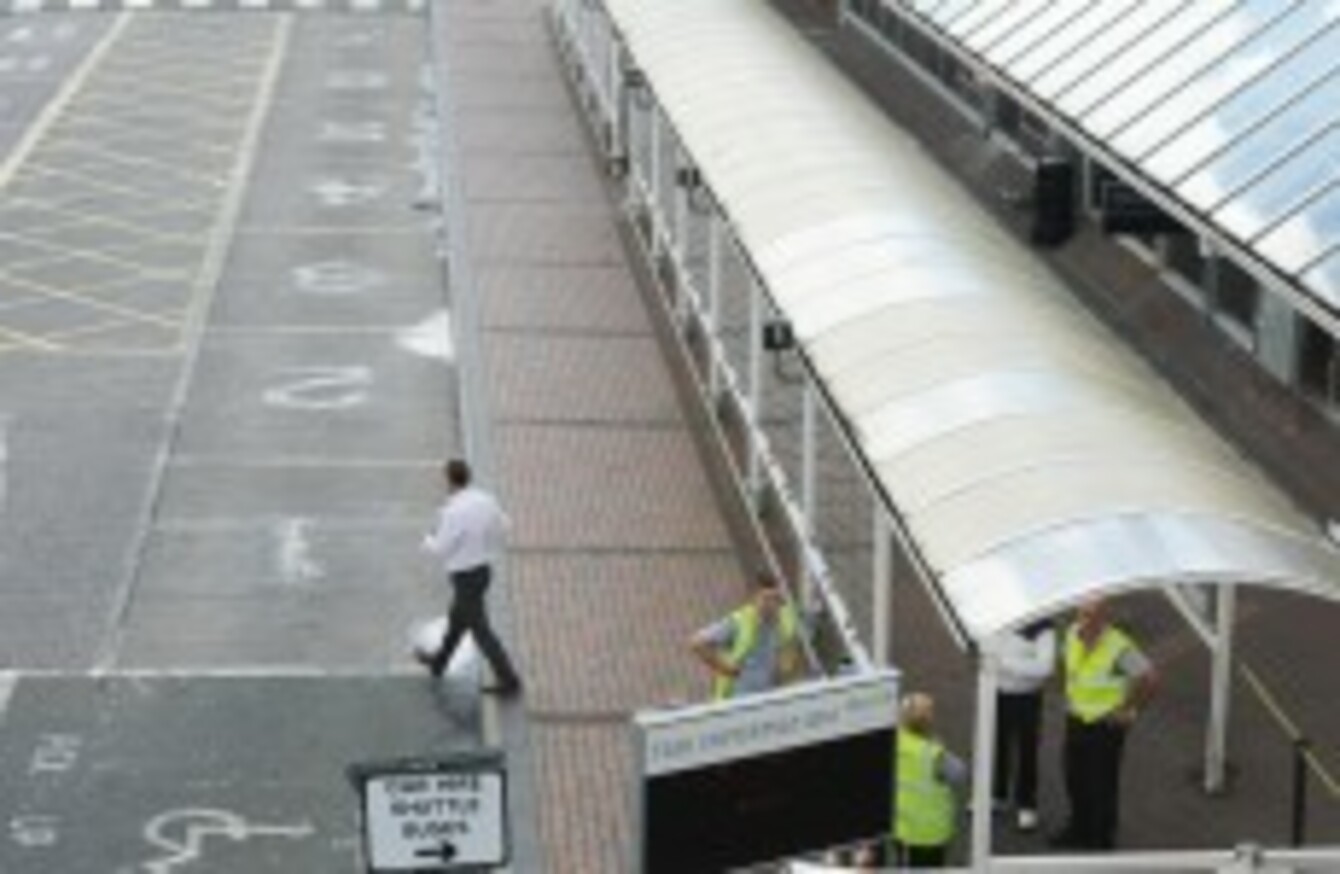 Image: Sasko Lazarov/Photocall Ireland!
Image: Sasko Lazarov/Photocall Ireland!
Updated 11.25am
MANAGEMENT AT DUBLIN Airport and groups representing taxi drivers are currently meeting in a bid to end a dispute which has seen drivers withdraw services for passengers at the airport.
Dublin Airport Authority (DAA) has urged taxi drivers to resume service to the public but drivers have refused to take fares again today as the dispute about parking spaces continues.
Earlier DAA offered to reinstate 30 parking spaces as a "goodwill gesture" but has since withdrawn this offer after 400 taxi drivers staged a slow drive protest around the airport campus causing disruption to traffic at the main airport roundabout leading to both terminals.
Staff at the airport are directing passengers to public transport options. Some coaches have added extra services today with extra DAA staff in place at Terminals 1 and 2 to assist passengers.
The row started over DAA's amendment to the temporary overflow area for taxis which saw the number of parking spaces reduced by about 70.
Jim Waldron of the National Private Hire & Taxi Association told Morning Ireland that drivers are not holding "anyone to ransom" but claimed that DAA are stopping taxi services from doing their work.
Our drivers were stopped coming to work. We turned up to work and were prevented from getting into our parking spaces that we have been using for the past two years.
"That is why drivers are losing money and the public are being inconvenienced." He called on other taxi men and women to "come out to the airport and show their support".
A DAA spokesperson said that there is "enough capacity" for the number of taxis that operate at the airport.
The city centre was flooded with taxis this morning as drivers stayed away from airport ranks.
DAA says it is available to discuss the matter with taxi drivers and their representatives.
Waldron and other taxi groups including Tacsaí Timonaí na hEireann (TTNH) have disputed DAA's claim that they accepted an offer to reinstate 30 parking spaces in return for going back to work.
"No, we never agreed to accept that proposal," he told RTÉ. "What we agreed to do is put it forward to our drivers and that's what we did. The drivers rejected that."
Waldron also called for a more fair system to be implemented at both Terminal 1 and Terminal 2. He says that the 60 additional spaces provided at Terminal 2 can see drivers wait for up to three hours for a fare, while those who arrive later at Terminal 1 pick up passengers more quickly.
DAA disputes this saying that taxi drivers have their "own reasons" for refusing to fill up ranks at terminals 1 and 2. A spokesperson said that 45 per cent of passengers coming through Dublin Airport come through terminal 2 and 55 per cent through terminal 1.
Taxi drivers pay €440 per year for a permit to operate at the airport.
Paul O'Kane of DAA has said there are "adequate spaces for taxi drivers at the airport".
The row escalated yesterday after Gardaí issued a number of tickets to taxi drivers who parked in unauthorised spaces in front of a hotel. It is understood that those tickets have now been rescinded.
- additional reporting from Hugh O'Connell