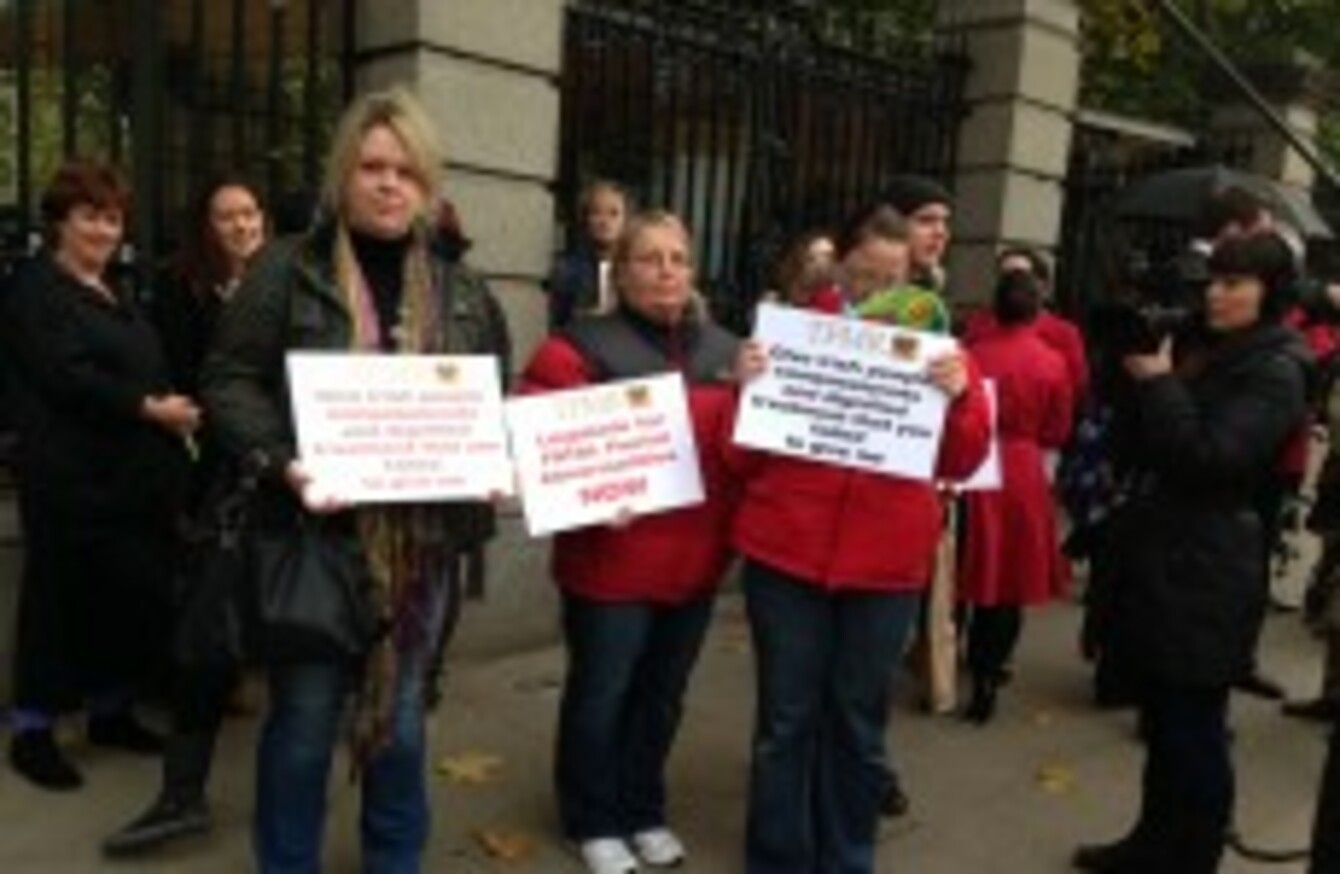 A small protest outside the Dáil yesterday.
Image: Sinéad O'Carroll/TheJournal.ie
A small protest outside the Dáil yesterday.
Image: Sinéad O'Carroll/TheJournal.ie
ANYONE TAKING A case to the United Nations must prepare themselves for a long road.
The UN Human Rights Committee, with its current backlog of cases, will make a ruling within two to four years of a petition being filed.
And, even then, that decision is not legally binding.
So, for the three women from TFMR who are bringing their claims of violations by the Irish State to the committee, immediate hopes rest on the government's reaction.
"Ireland wants to be a human rights leader. This will not look good," explained Johanna Westeson, regional director for Europe at the Centre for Reproductive Rights, at a press briefing yesterday.
"The committee does not make binding decision but that is less important.
It would be a huge embarrassment for Ireland if one of the most important human rights committees in the world found it to be routinely violating women's rights.
She added that her group will continue to encourage the government to be proactive while it waits for the committee to make a ruling.
The first of three petitions by women who were forced to travel to the UK to terminate unviable pregnancies was filed yesterday.
Amanda Mellet claims the Irish government violated her human rights by refusing to allow her to have the procedure here. She said that having to travel compounded her suffering and loss.
What happens now?
The Human Rights Committee works only in written procedures and once the first petition is deemed eligible, the government will be invited to submit its response.
In its findings, the committee will not be likely to give any detailed instructions – that is, whether Ireland should change its Constitution or introduce new legislation.
It leaves the 'how to' to the country itself.
However, it could call for compensation for the victim and ask that a similar violation does not occur again.
"It doesn't matter if it is a legislative or constitutional change needed," Westeson said. "If it is a violation, it is not immune to criticism because it is enshrined in the Constitution."
The two groups said they decided to bring their case to the UN – and not the European Court of Human Rights – after much deliberation.
The precedent set in the Ireland versus D case was one factor considered as 'Miss D' was told that she had not exhausted all possible domestic options open to her before taking the case to Europe.
Westeson believes that media reports of the Attorney General's advice that legislative proposals to include the fatal foetal abnormality category in the recent Protection of Life During Pregnancy Bill 2013 would be unconstitutional could convince the UN that these routes had, indeed, been exhausted.
She also believes there is a greater chance of success with the Human Rights Committee as it has already been critical of Ireland's strict and restrictive abortion laws.
James Burke, another member of TFMR and Amanda Mellet's husband, defended the group's association with the Centre for Reproductive Rights following criticism from certain pro-life movements.
"We did not know what legal route to take," he said. "It is unfair criticism. The one per cent lack of support and judgement – we don't ask for that yet we get it," he added, recalling unsolicited opinions from a GP urging them not to go ahead with the termination or the case.
The petition filed yesterday claims that Amanda Mellet was subject to cruel and inhumane treatment. It also says that her rights to privacy and information were violated and that she was denied critical reproductive care.
She was "abandoned, shamed, stigmatised and forced to leave her country", according to Westeson.
"She was forced to carry her pregnancy for longer under unimaginable suffering. She was effectively kicked out of her safe place….That is as serious as more traditional forms of torture. We are asking the UN that this rule has to stop."