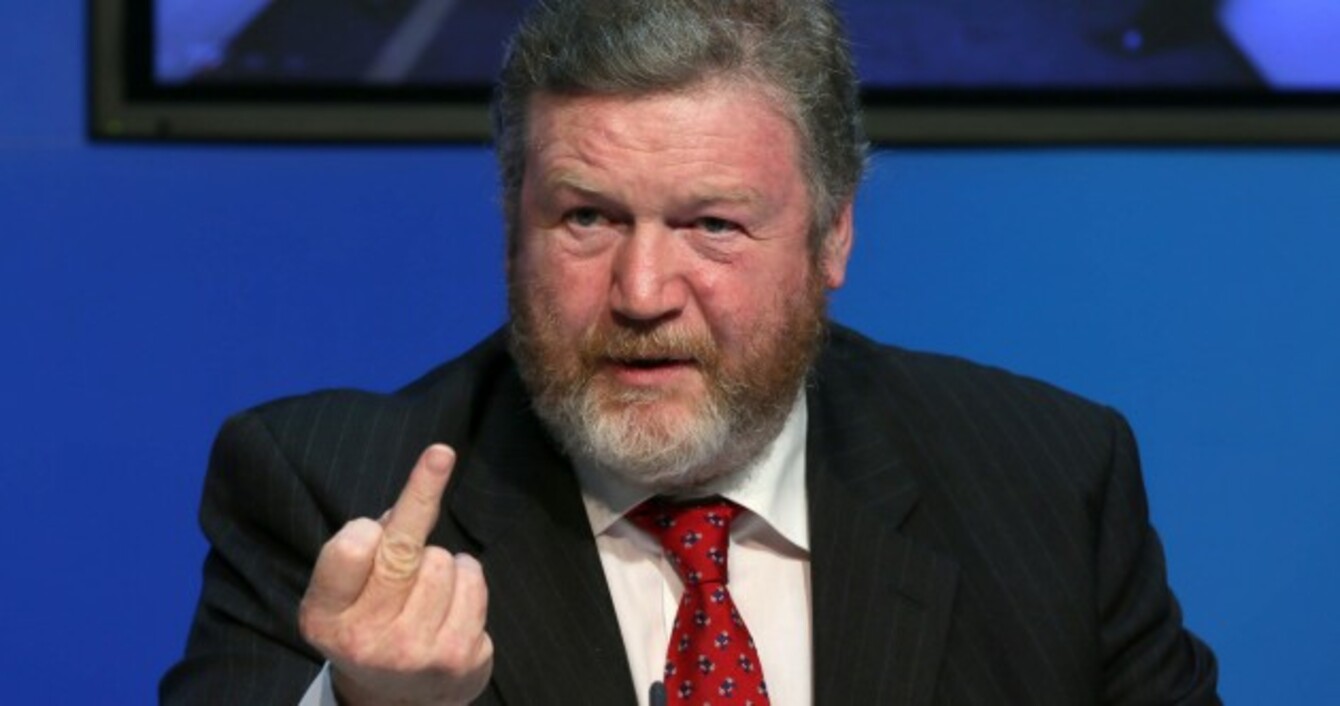 Health Minister James Reilly launching the government's alcohol bill this week.
Image: Laura Hutton/Photocall Ireland
Health Minister James Reilly launching the government's alcohol bill this week.
Image: Laura Hutton/Photocall Ireland
EVERY WEEK, TheJournal.ie casts its eye over events inside and outside Leinster House that have got people talking.
As the saying goes: 'You win some, you lose some.'
So here are our winners and losers from the past seven days:
The 7 winners of the week are…
1. Enda Kenny
The Taoiseach took two hours out of his schedule on Wednesday to listen to the views of Senators on Seanad reform this week in an unusual but welcome move. He came "in peace, not in war" and listened attentively to what they had to say. Credit to him, but the big question is will any real reform follow.
2. Michael D Higgins
The President is having a great old time in Central America. He even met Pelé:
3. The government
Bringing forward the tax reliefs on home renovation was a smart and practical move which should help stimulate the construction sector. There are also some pretty sensible proposals in the Alcohol Bill, but it could be a while before we see them implemented.
4. Aodhán Ó Riordáin
"This whole circus, has been a pure, raw, naked, poisonous racism." The Labour TD gave a strong and compelling contribution in a special debate on the Roma children controversy this week.
5. Luke 'Ming' Flanagan
His bill to legalise cannabis is an interesting intervention which has generated debate and is sure to provoke plenty of reaction when it comes before the Dáil.
6. Mick Wallace
There's a lot to complain about when it comes to the Wexford deputy, particularly his non-paying of tax. But we admire the sartorial elegance of the man noted for his love of all things Italian.
He graced the Dáil with an AC Torino jersey this week:
7. David Norris
The veteran senator made a brave move this week in deciding to shave off all his hair including his 40-year-old beard as he continues his battle with cancer. All in aid of charity too.
… and the 5 losers of the week are…
1. Alan Shatter
To give him credit, the Justice Minister has been prepared to face questions about the Roma children controversy. But saying we should not prejudge matters while at the same time stating definitively that he has no doubt that gardaí and the HSE "responded in good faith" undermines him.
2. The Taoiseach and the Tánaiste
This video from the pensioners protests in 2008 over medical cards got several plays on Vincent Browne this week and makes highly uncomfortable viewing for Enda and Eamon:

YouTube: exteriority
3. Oireachtas Agriculture Committee
The committee of TDs and Senators made some good points about the need to more strictly control the grocery industry but their "serious concerns" about own-brand labels miss the point that they are increasingly popular in these austere times. The committee comes across as being on the side of agriculture and not the ordinary consumer, and that's not good.
4. Eamon Gilmore and Labour
Joan Burton has a habit of referring to Eamon Gilmore as "the leader of the Labour Party" whenever she refers to him.
It's an usual tic and one which does nothing to dispel the considerable tension between the pair. It's not good for Labour or for Gilmore.
5. Mattie McGrath and Pat Rabbitte
"Like Murphy's cow with two dry tits, one blind tit and a sup of milk in the other tit." The TD and the Minister did not cover themselves in glory this week