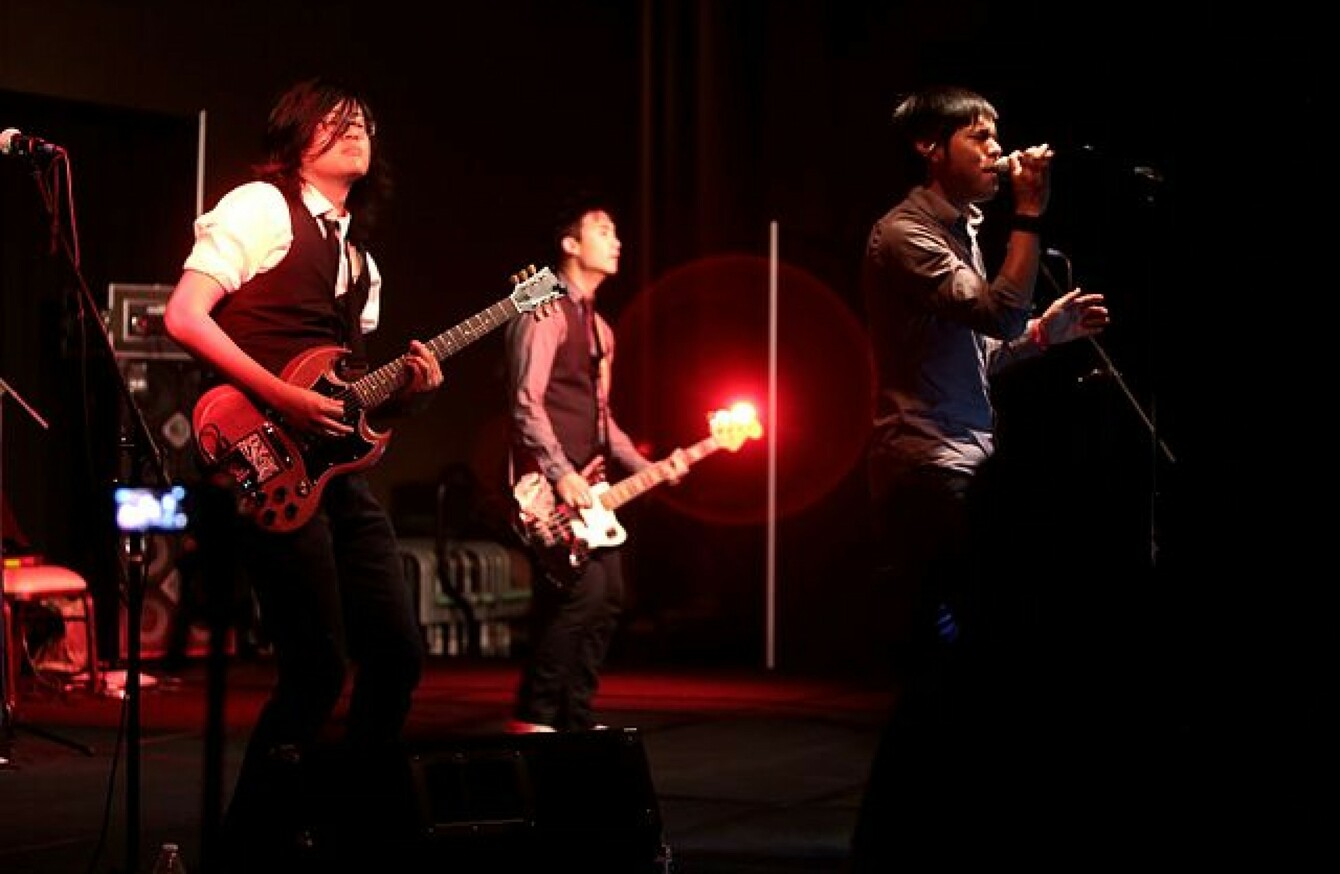 The Slants
Image: Gage Skidmore via CC/Wikimedia
The Slants
Image: Gage Skidmore via CC/Wikimedia
THE US SUPREME Court today took on the loaded issue of language deemed racist as it heard pleas of a rock band – The Slants – to trademark its name.
The case could have an impact on more prominent ones in the United States, notably the ongoing controversy over the US capital's football team, the Washington Redskins, which many Native Americans find offensive.
The eight justices appeared undecided as they heard arguments in a case that pits the US Constitution's sacrosanct First Amendment, which guarantees freedom of speech, against the United States Patent and Trademark Office, considered the world's most influential body of its sort.
The Slants, who enjoy a following in alternative rock circles on the US West Coast with their electroclash sound, consist of four Asian Americans.
When the band's founder, Simon Tam, tried to register the name with the patent office, the agency refused to do so on the grounds that it was derogatory.
The word slant is "a negative term regarding the shape of the eyes of certain persons of Asian descent" that has a "long history of being used to deride and mock a physical feature of those individuals," a lawyer for the patent office ruled.
The Slants have since taken on an activist role, while ironically calling themselves The Band Who Must Not Be Named in a reference to Harry Potter villain Lord Voldemort.
The band said it is hoping to take back the term in the same way that some African-Americans have embraced the offensive N-word when speaking of themselves.
Diverse support
Tam, speaking to AFP after the hearing, said the patent office could not find "a single Asian American who found it disparaging" and boasted of community support, including from Japanese Americans incarcerated during World War II.
"Asian Americans have been using the term slant in a self-referential, empowering way for decades now," Tam said.
The decade-old band from Portland, Oregon has frequently taken a provocative approach to racial identity. One work is called The Yellow Album – a play on The Beatles' White Album.
The rockers have found broad support, including from the American Civil Liberties Union, which staunchly defends freedom of expression, and the premier business lobby, the US Chamber of Commerce.
Other backers include Dykes on Bikes, a group of lesbian motorcyclists who managed to register the name after five years of fighting but is still battling to make its logo official.