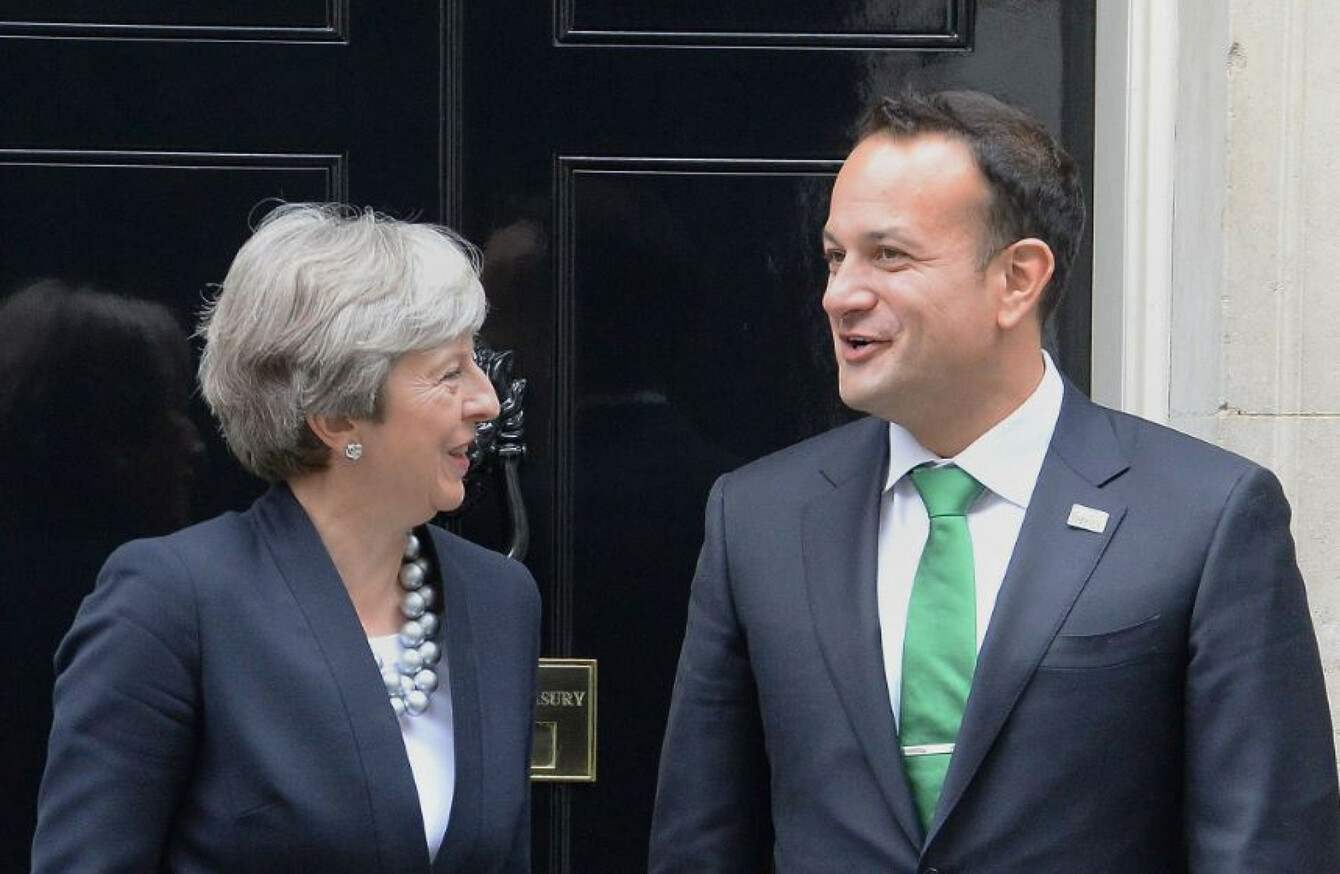 Theresa May and Leo Varadkar pictured in London in September 2017.
Image: John Stillwell/PA Archive/PA Images
Theresa May and Leo Varadkar pictured in London in September 2017.
Image: John Stillwell/PA Archive/PA Images
LEO VARADKAR AND Donald Tusk have both said the draft Withdrawal Agreement struck between the European Union and Britain cannot be renegotiated.
Earlier today British Prime Minister Theresa May confirmed that she was postponing tomorrow's crucial House of Commons vote on the Brexit deal so she can go back to Brussels and ask for certain changes to be made.
May admitted the current agreement "would be rejected by a significant margin" but stated: "I'm in absolutely no doubt that this deal is the right one."
One of the main sticking points is the proposed backstop arrangement. This aims to avoid a hard border between the Republic and Northern Ireland and could see the North stay aligned to some EU rules.
In heated cross-party exchanges in the House of Commons, May was accused of "pathetic cowardice" for postponing the vote. When she said there is "broad support" for many of the key aspects of the deal, laughter erupted in the chamber. 
In a statement issued this evening, Tusk, President of the European Council, said: "We will not renegotiate the deal, including the backstop, but we are ready to discuss how to facilitate UK ratification.
As time is running out, we will also discuss our preparedness for a no-deal scenario.
Varadkar and Tusk spoke over the phone today, the Department of the Taoiseach confirmed. 
"They agreed that the Withdrawal Agreement is the best option and could not be renegotiated. They also agreed that preparations for a 'no deal' outcome should intensify," a spokesperson said.
EU leaders are set to meet at a summit in Brussels on Thursday and Friday.
Calls to resign 
Many politicians have raised concerns about the backstop element of the deal – including MPs in May's own Conservative Party, as well as members of Arlene Foster's Democratic Unionist Party – which is propping up May's minority government. 
The DUP believes the backstop threatens the United Kingdom and could lead to a trade border in the Irish Sea.
There have been calls for no-confidence motions in both the British government and May to be put forward, as well as calls for May to resign – from outside and inside her own party. 
Pro-Brexit Tory MP Jacob Rees-Mogg said May "must either govern or quit". 
"This is not governing, it risks putting Jeremy Corbyn into government by failing to deliver Brexit. We cannot continue like this," he said. 
Sinn Féin President Mary Lou McDonald said the British government are "deluding themselves if they think Irish interests will be cast aside to facilitate their fantasy Brexit". 
She described the postponement of the House of Commons vote as "the latest chapter in the Brexit shambles saga". 
"There is no good Brexit for Ireland, north or south. What we have after two years is a deal which is the least worst option," McDonald said.