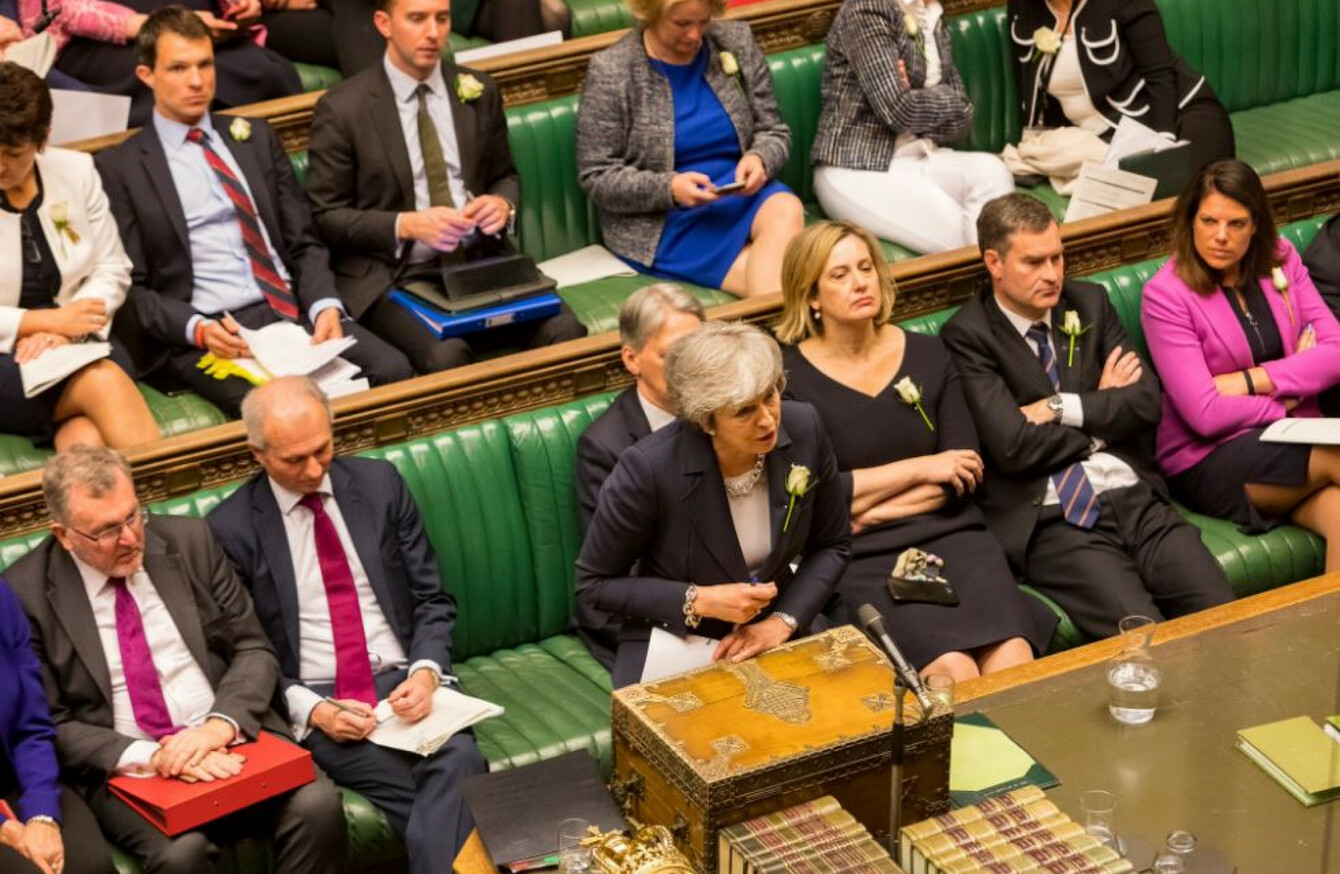 Image: Commons Press Office
Image: Commons Press Office
BRITISH PRIME MINISTER Theresa May told the House of Commons that she can secure a Liverpool-style win in Brexit negotiations if parties and MPs come together.
Opening Prime Minister's Questions this afternoon, Labour leader Jeremy Corbyn asked:
"In view of the amazing performance from Liverpool last night, perhaps the Prime Minister could take some tips from Jurgen Klopp [Liverpool's manager] on how to get a good result in Europe?"
In response, Theresa May said:
When we look at the Liverpool's win over Barcelona last night, what it shows is that when everyone says it's all over, that European opposition have got you beat, the clock is ticking down, it's time to concede defeat, actually we can still secure success if everyone comes together.
The English club lost the first leg of the semi-final clash against Barcelona 3-0, and seemed headed for certain defeat after their injured stars Mohamed Salah and Roberto Firmino were ruled for last night's match at Anfield.
But Liverpool staged one of the greatest comebacks in their history by winning 4-0 at home and getting through to their second successive Champions League final.
Liverpool is a historically liberal port city that likes to buck convention and was the home of Labour's annual party conference last year.
Earlier today, May resisted demands from within her party to give a clear timetable for stepping down, with her spokesman insisting she would stay until Britain's exit from the EU is finalised.
"She is here to deliver Brexit in phase one and then she will leave to make way for new leadership for phase two," the Downing Street spokesman said.
The Conservative leader is under increasing pressure from MPs and activists unhappy over her handling of Brexit, which was meant to have taken place on 29 March but has been delayed twice.
As it stands, the UK will leave the EU by 31 October at the very latest, or if Theresa May's thrice-defeated draft Withdrawal Agreement defies all odds and is passed by MPs in another vote, then they will leave the EU several weeks after that result.
It's also possible another extension will be given on 31 October; Brexiteers fear that if this happens, Brexit might not happen at all.
May's Cabinet is currently in talks with the Labour party to try to win its MPs' support for a Brexit deal, after failing to win over her own Tory rebels or the DUP.
Talks between the Conservative government and Labour will continue next week.