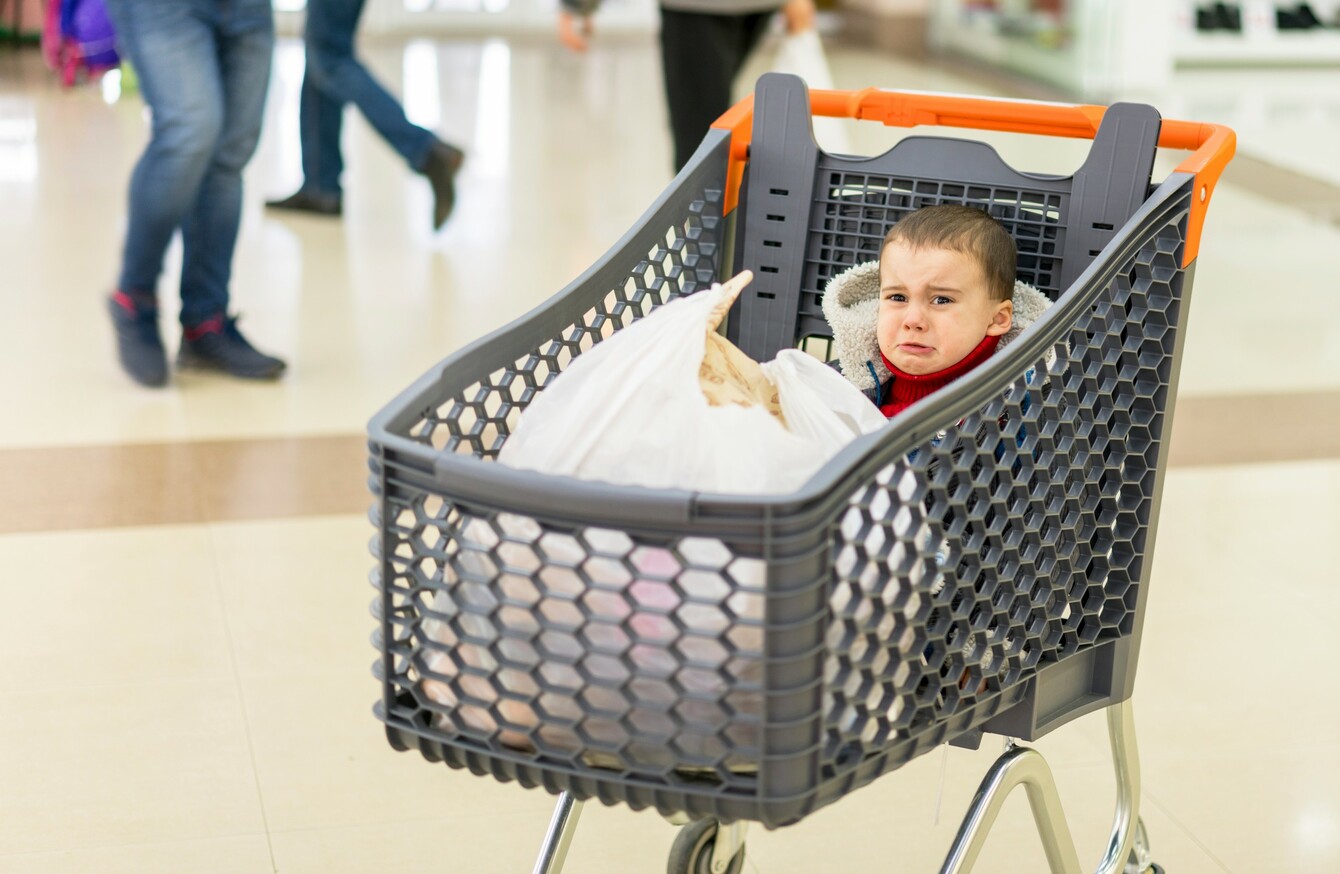 Image: Shutterstock/Petrychenko Anton
Image: Shutterstock/Petrychenko Anton
MY YOUNGEST CHILD seems to have early onset terrible twos.
Until this point, I never actually believed in the 'terrible twos' because, hand on my heart, my eldest son never had tantrums. I'll fully admit that I used to see other toddlers flinging themselves to the ground in cereal aisles and smugly think how well I'd done to not have one of those children.
Well, as a category five hissy fit thrown by my 20-month-old son in a supermarket this week will attest, I'm not so smug now. 
Furious wailing, flinging of shoes and toys in protest, and throwing himself to the floor in ire are all fairly regular features of the meltdowns that now punctuate our weeks. In the face of these fits, I've developed a few coping strategies. 
If your little one is in a tantrum phase, I hope what's helped me will help you.
1. Reminding myself that tantrums are a normal part of development
Regardless of where and when the tantrum occurs, I try to remind myself that meltdowns are a normal stage of emotional development. In most cases, the tantrum phase will pass. Around 90 percent of tots between 18 and 36 months will experience tantrums, and they're important for developing emotion regulation skills and creating vital neural pathways. I try to remind myself that tantrums are good – but of course, that is often easier said than done.
2. Remembering the five big tantrum offenders
Meltdowns aren't about your child being deliberately malicious, but rather about some unmet need that they're really useless at articulating. The five big offenders are: feeling frustrated, anxious, ignored, tired and hungry. I know that if I can tick one or several of those options off the list, he will probably calm down quickly.
3. Always keeping snacks to hand
To keep hunger from launching a temper tantrum, always, always pack snacks. I don't think I have a handbag left that doesn't have raisins glued to the interior and a fine sawdust of corn crisps lining the base. But a ruined bag is a small price to pay for always carrying toddler snacks and avoiding the wrath of a hangry child. 
4. Only planning outings for sensible times
I try not to plan outings when my son is overtired. It's not always possible to obey this rule, but painful experience has revealed it's pure foolishness to head out for the big shop when my 20-month-old is due a nap. It's also best not to expect him to sit patiently when he's going through a development leap, or when he's teething, which admittedly doesn't leave a lot of options in the diary. Maybe click-and-collect is the answer.
5. Using creative methods to master toddler distraction 
Even the finest Billie Barry graduate has nothing on the passion with which I will frantically sing/dance when trying to distract my toddler from a hissy fit. You'll often hear me running through these lines when my son starts to lose it:
"Oooh…what's that over there?"
"Oh my goodness, what wonder is this I have in my pocket?!"
"Look, mummy can pretend to be a velociraptor! Can you?"

#Open journalism No news is bad news Support The Journal

Your contributions will help us continue to deliver the stories that are important to you

Support us now
6. Ignoring a public audience
I have realised that I care far less about a meltdown that happens within my own home, and as a result the drama seems to happen less and definitely doesn't last as long there. On the other hand, my son definitely picks up on my anxiety when we're out in public and turns it up a bit.
But most of the time, strangers are actually lovely in the face of a toddler tantrum. I've had more people empathise with a public tantrum than offer criticism. And even if someone is looking and rolling their eyes  – so what? You'll probably never see them again. Just try to control the impulse to yell "His brother didn't do this!" at passers-by.
7. Soothing my son with hugs and snuggles
The bright lights and noise of the supermarket can sometimes just be too much for a toddler. My son gets frustrated that his mummy's attention has been hogged by squeezing avocados and comparing use-by dates on milk – is it any wonder there are tears?
I've actually found that many a tantrum can be calmed with a hug, snuggle or a quick NIP (nurse in public), all of which result in a much needed hit of stress-calming oxytocin for both of you.
8. Offering choices that give them a sense of control
Toddlers are basically power-hungry tyrants, but they can be easily tricked into thinking they're in control by giving them 'this or that' choices. This is especially effective when you need to quickly diffuse a brewing public meltdown. "Would you like a watermelon slice or a banana?" Proffering the two options for them to choose can actually magically ward off the tantrum that was about to ensue when they spotted a giant bag of Smarties. However, I've also learned that it's best to avoid the confectionery aisle altogether.