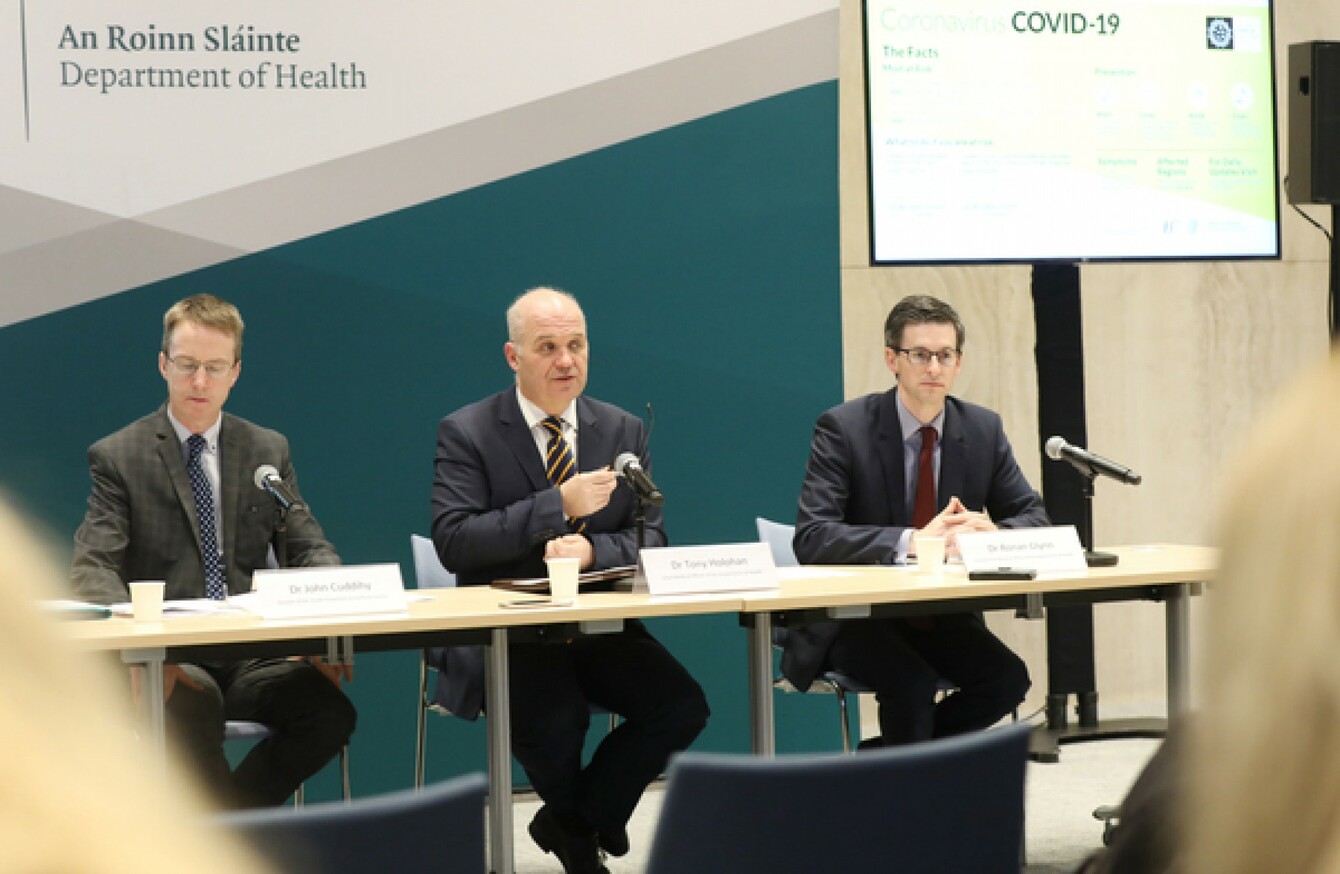 Press briefing in Department of Health this evening.
Image: Leah Farrell/RollingNews.ie
Press briefing in Department of Health this evening.
Image: Leah Farrell/RollingNews.ie
Updated Mar 10th 2020, 7:15 PM
HEALTH OFFICIALS HAVE this evening confirmed there are 10 new cases of coronavirus in the Republic of Ireland, bringing the total to 34 here.
With 16 confirmed in the North, the total number of cases on the island of Ireland is now 50. 
The National Public Health Emergency Team said that a total of 1,784 people have been tested for the virus so far in Ireland. A total of 1,387 of these tests were conducted in the last week.
What's the latest? 
The new cases of Covid-19 confirmed this evening are as follows: 
A male healthcare worker in the south who contracted the illness in hospital 
A female healthcare worker in the south who contracted the illness in hospital 
Three men from the south – associated with travel from affected area 
One man in the west – linked to contact with a confirmed case 
A woman in the west – associated with contact with a confirmed case 
A woman in the south – associated with contact with a confirmed case 
A man in the east who had travelled to an affected area 
A woman in the east who had travelled to an affected area
Dr Tony Holohan, Chief Medical Officer at the Department of Health said: "98% of all suspected cases in Ireland have tested negative. While Ireland remains in containment phase, there is no room for complacency.
"We all have a part to play in limiting and slowing the spread of this disease."
Preparations to tackle the spread of the coronavirus has ramped up significantly in the past few days – with St Patrick's Day events cancelled and Italy on lockdown.
Here are the main points you need to know about the situation in Ireland:
Ten new cases were confirmed in Ireland, bringing the total to 34
In Northern Ireland, there are 16 confirmed cases
Northern Ireland's First Minister Arlene Foster and deputy First Minister Michelle O'Neill have cancelled plans to attend St Patrick's events in the United States, but the Taoiseach's visit is still set to go ahead
The Irish government has upgraded its travel advice to Italy to the highest level, advising against travel there for any reason
The Department of Education has said there's "no such advice" to close schools "at this point". 
Ryanair has cancelled all its international Italian flights from Friday while Aer Lingus has also said it will cancel all flights to and from Italy
Slovakia has announced that the Euro 2020 play-off with Ireland will be played behind closed doors
Trinity College will hold its lectures online and the Book of Kells exhibition will close tomorrow
DCU' has announced that its Spring graduation scheduled for 21 March has been postponed as it is a "non-critical event"
Ulster Bank released details of a range of measures aimed at supporting personal and business banking customers whose financial situation has been impacted by the coronavirus outbreak.
Up to ten people who attended a live Blindboy podcast recording in Clare last month are in self-isolation after a person with the Covid-19 virus was in the audience.
Cork University Hospital has said it will be reducing/rescheduling their outpatient appointments for the remainder of the week.
Here's why Ireland isn't implementing the kind of severe lockdown measures being seen in other countries.
Yesterday, a raft of significant announcements were made, including that St Patrick's Day events have been cancelled, and that the Taoiseach won't travel to New York City to meet US President Donald Trump.
Illness benefit has been increased from €201 to €305 per week, and other barriers to the benefit were lifted to help workers who have to self-isolate.
Leo Varadkar said yesterday that we could "easily" see half the Irish population contract the virus, but that for most people it would be a mild illness.
An Irishman who contracted Covid-19 also explained that he had no symptoms, other than a fever, after a short trip abroad on RTÉ's Claire Byrne Show last night. 
Here's what you need to know from around the world:
The entire population of Italy woke up to lockdown conditions this morning as travel restrictions have been extended to the whole country
New York's St Patrick's Day parade is still set to go ahead on 17 March, according to Mayor Bill de Blasio.
Mortgage payments will be suspended across Italy due to the outbreak
Austria has imposed border restrictions with Italy, unless they have a doctor's note
The UK's deputy chief medical officer said the country will see "many thousands of people" contract coronavirus
The Czech Republic is closing schools indefinitely and banning events with more than 100 people. The country has reported 40 cases of Covid-19
Poland has cancelled all mass events. The country has reported 17 cases of Covid-19  
British Airways has cancelled all flights to and from Italy
Israel has imposed a two-week quarantine on all travellers entering the country
Mainland China reported no new locally transmitted cases outside of Hubei province for the third straight day
The worldwide death toll from the virus has surpassed 4,000 people. There have been over 114,00 confirmed cases and more than 64,000 people have recovered.
Speaking on RTÉ's Morning Ireland this morning, Tánaiste Simon Coveney was asked if the government should now ban air travel from Italy, considering that the majority of cases in Ireland came from people who had travelled from northern Italy.
"We can't control that, but Italy is in lockdown except for essential work," Coveney said.
When asked about the threat of a spread here in Ireland, Coveney said:
The vast majority of confirmed cases have travelled to northern Italy and have brought it home with them… Really, the focus it's about containment. But I think it's inevitable that we move onto the delay phase.
Ireland is currently in the 'containment phase' of dealing with an epidemic; the delay phase would be 'control and mitigation' on this HSE graph:
When asked whether other public gatherings, other than St Patrick's Day events, should be cancelled, Coveney said that if the Public Health Team makers further recommendations about public gatherings, the government will follow them:
We are trying to provide responses that are proportionate, if you shut a country down, you can cause significant damage to people's quality of life.
So we're trying to issue advice based on the public threat. We need to listen to experts. This response needs to be expert-driven rather than [politicians] going on a solo run. Meetings are happening literally every day.
Coveney added: "I think that what we're trying to do here is to respond to a crisis as it develops, and [trying not to] use all your ammunition before [the situation] develops. The advice will be updated on a daily basis."
Taoiseach Leo Varadkar, meanwhile, held a teleconference call with other EU leaders to discuss the ongoing virus outbreak and its impact. 
Speaking to TheJournal.ie this afternoon, Italy's ambassador to Ireland insisted Italy is not to blame for the pace at which the coronavirus has spread across Europe as the country goes into lockdown five weeks after it confirmed its first case. 
Symptoms and prevention 
Covid-19 is spread through droplets caused by sneezing or coughing, or by touching a surface that someone has sneezed or coughed on within a particular time frame. It cannot be passed through your skin, and it's thought that it's unlikely to be airborne.
It may take up to 14 days for symptoms to show. 
The best ways to protect yourself and others from the virus are to wash hands properly and often, cover your mouth and nose with a tissue/your sleeve when coughing and sneezing, and put used tissues in a bin and wash your hands. 
Symptoms of Covid-19 include:
Cough
Shortness of breath
Fever
Breathing difficulties
Further resources:
A helpline for older people who are concerned about the coronavirus has been launched by Alone. The number is 0818 222 024, and it's open Mon-Fri, 8am-8pm.
With reporting by Cónal Thomas