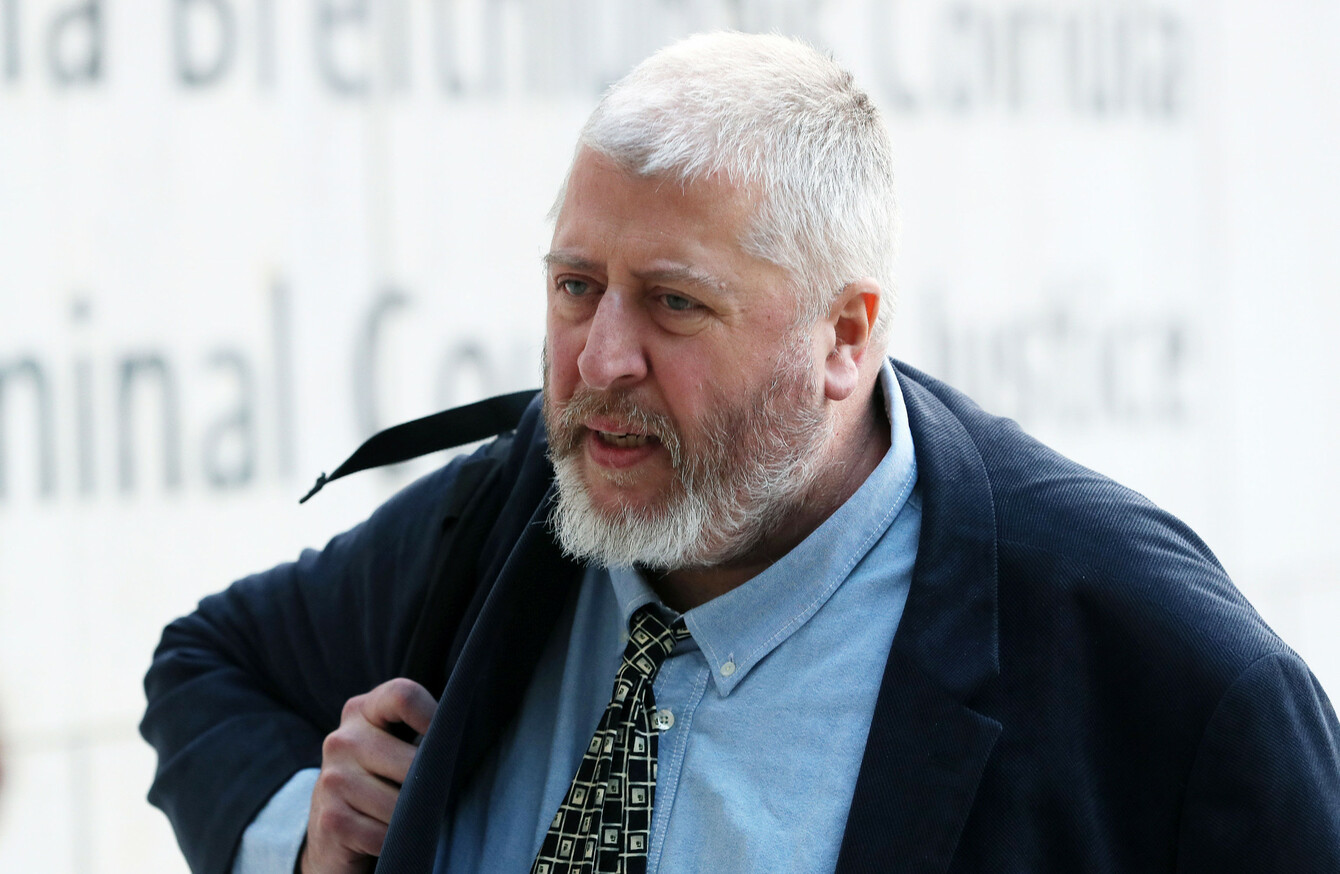 Tom Humphries arriving at court earlier this month.
Image: Brian Lawless
Tom Humphries arriving at court earlier this month.
Image: Brian Lawless
IT WOULD BE nice to sit down and write about the usual frivolities of the sporting week. Maybe a bit about Simon Zebo, (soon to be) the most famous Irish exile in France since the Wild Geese.
Or something about the latest self-serving sermon from Jose Mourinho.
Or do a Joe Brolly: invent a self-sustaining controversy which would keep me in columns over the long dark winter.
But it's impossible at this short remove not to have one's mind dominated by the events in Judge Karen O'Connor's courtroom on Tuesday, the outrage still raw at both Tom Humphries' terrible crimes and the leniency of his sentence, and the heartbreaking thought that the victim has been betrayed a second time.
The case was front and centre for those involved in Irish sport. Humphries — as Tuesday's egregiously-timed Irish Times profile piece reminded us — was the greatest Irish sports journalist of his generation.
But, as his former employer put it in a later, rather more appropriately toned editorial, "it doesn't matter what he once was or that, as one of the leading journalists of his generation, his pen could build or topple the grandest of reputations. That is in the past."
And his crimes were perpetrated by abusing the power of his role as a volunteer GAA coach, with some in the febrile aftermath of the verdict wondering if serious damage had been done to that very volunteer ethos he had frequently championed.
Then there were the character references provided by David Walsh and Donal Óg Cusack, two high-profile sporting figures. Both of their reputations have been seriously compromised by their gross misjudgements in this case.
To give them the benefit of the doubt is to presume they were misled and manipulated, by a man clearly adept at those things. Their friendships were leveraged.
And yet their actions make us question ourselves. If the question is 'What would you do if a friend were in the same situation?', the answer must be 'Who knows?' unless one has been in the situation.
But if the question is 'Should there be compassion towards a wrongdoer?', the answer must be 'Really, any spare compassion you have should be going to the victim.'
Humphries' mild sentence and a penal system that focuses on rehabilitation as well as redress mean he is well served on that front.
Encouraging the reporting and successful prosecution of sex crimes and increasing the duration of custodial sentences is higher on the agenda right now. The fact that Judge O'Connor's sentencing was quite standard for a case like this is one more shocking detail to digest this week.
Trouble in Ballyragget
After all that, the celebratory antics of the new Kilkenny intermediate hurling champions almost seemed like comic relief. Carry On Ballyragget bounced and jiggled its way around social media in recent days, a Snapchat commentary on our nation's sexual mores.
Kilkenny county board launched an investigation into the 'non-GAA event' which saw two strippers get up close and personal with the trophy. Others harrumphed their disapproval. "It flies totally in the face of what the GAA is all about," Fianna Fáil sport spokesman Robert Troy chipped in.
While county chairman Ned Quinn said they were "dealing with" the matter, others on social media adopted a 'boys will be boys' line: What's the harm? Consenting adults, etc etc. "Just stuck my transfer papers in there to join #Ballyragget" tweeted one wag.
Whatever you're into. Me? I found the images unbearably grim. Not because they offended some high-minded notion of GAA values. No, this was just two women being degraded for entertainment.
And I can already read the comments: "It's only a bit of craic"…"This kind of thing has always gone on… "Piss off Martin you po-faced killjoy!"
Well, sorry to be a po-faced killjoy, but if you get off on that kind of thing, there is something wrong with you, end of. When groups of men get together to watch women strip it is about power and humiliation.
The scenes were part of the porny subculture rife among young men, a grotesque social media age mutation of locker room 'banter' that festers the objectification of women and the lack of understanding of clear boundaries of sexual respect.
None of which is to say that the Ballyragget boys are likely to get involved in anything more serious than making fools of themselves on Whatsapp, or deserve any further retribution other than a clip around the ear from their mammies.
But that doesn't make their Snapchat suarée any less soul-destroying this week. I'm looking forward to getting back to the toys.
Written by Tommy Martin and originally posted on The42.ie
Subscribe to The42 podcasts here: