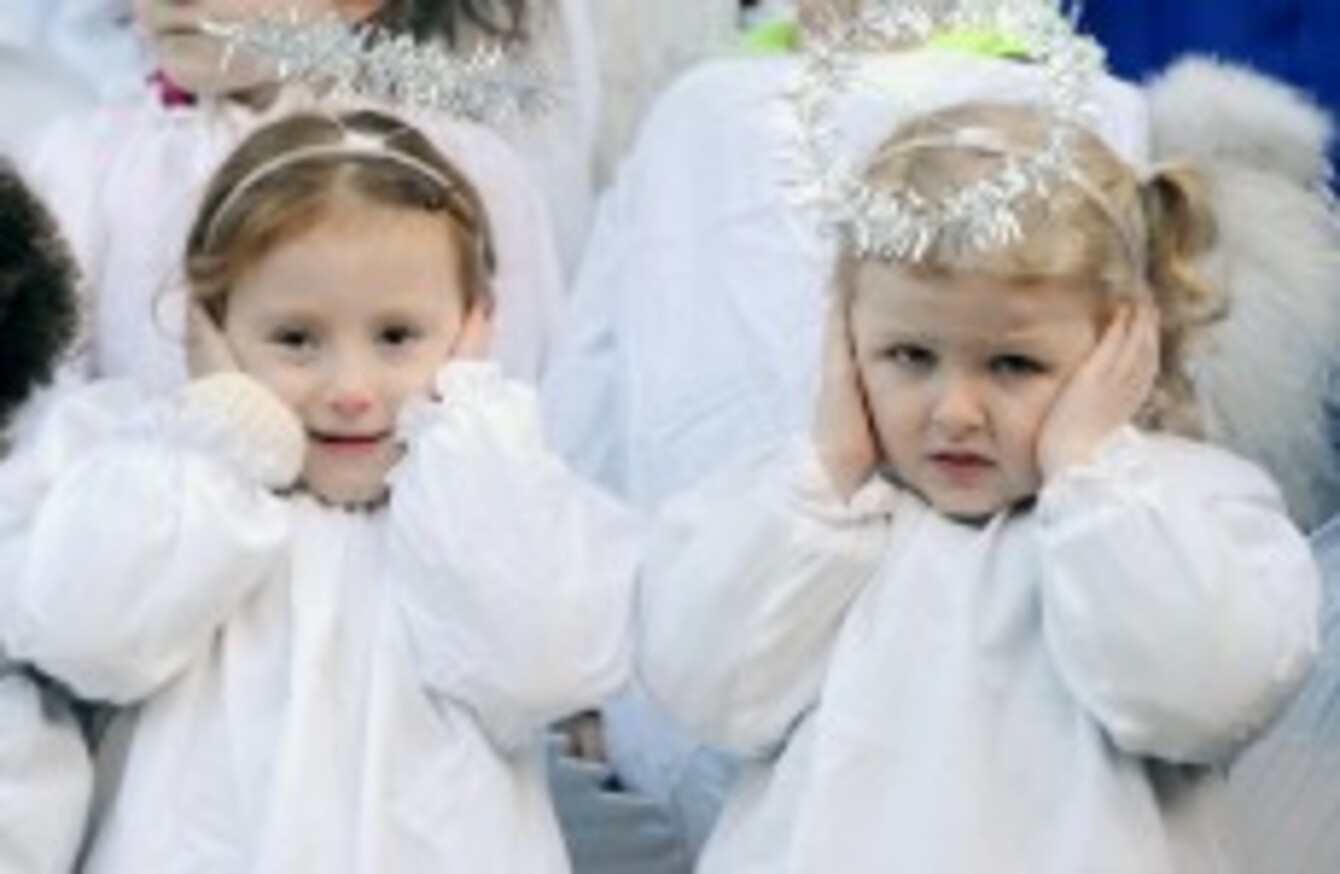 Children dressed as angels on the steps of the Mansion House at the opening of the annual Irish Farmers Association live crib earlier this week.
Image: Laura Hutton/Photocall Ireland
Children dressed as angels on the steps of the Mansion House at the opening of the annual Irish Farmers Association live crib earlier this week.
Image: Laura Hutton/Photocall Ireland
EVERY SATURDAY MORNING we like to take a look at all the best comments left on the site by you lot over the past week.
The news over the past seven days has been a mixture of the very serious – including the tragic death of Shannon Gallagher in Donegal, Labour TD Colm Keaveney being expelled from the parliamentary party after voting against the Social Welfare Bill and a motion of no-confidence in the Government – to the not so serious, including this attack on Santa in Temple Bar and this rather unexpected note in the RTE Guide's tv listings for Christmas Day.
So here, in no particular order, are the standout comments from the week that was.
There's exactly ten days to go until the big day, so let's kick off with some Christmas comments. Lot of thumbs up for this one: here's Nuns on Yokes explaining what a typical Christmas is like in his (her?) gaff:
Usual process: I get tree out of attic and erect it while spreading branches. Check lights work, yes. Stick them to tree (feel all warm and Christmassy, love life and the mot. Might even have a beer). Take out the coloured things and put them on nearest branches, great, it's gonna be a wonderful time of year. The mot comes in to see my display and proud face on me, wait for hug and Mr. Crosby song to come on. "I'll do it myself", and reminds me of how useful I would be if there was more distance between us. Call her a particular farm animal, she slags my family off, I go to boozer and talk to the pint puller about the budget. It's tradition!
John Larkin was worried people forget the real meaning of Christmas:
People get so caught up in buying presents and partying. They forget what its all about! the birth of santa claus.
This comment from Paul Furey about his son growing up got a lot of thumbs up:
My youngest lad is 8 years old. This is the first time in many years I don't have to visit the likes of Smyths etc.Sad in a strange sort of way :(
Meanwhile Abby Garcia explained the last-minute panic when a kid changes their mind about what they want for Christmas:
I thought we were sorted until my 5 yr old and I were doing her Santa letter last night and top of the list was a Monster High create a monster lab thing. I was like wtf, then I vaguely remembered her talking about it in November. She is certain Santa is bringing it. So my husband and I have spent all day looking for it , of course it is one of the ones that was on the Late Late toy show so it's really difficult to get. We have found it eventually in Banba Toymaster in town, they've 16 left so my poor husband has gone back into town to buy one before they close at 7. Pesky kids ;)
What do you want for Christmas? Here's Kathleen Charlonis, Damian O'Brien and Declan Noonan on what they want to see on 25 December:
I'd say world peace but, I really want a Ferrari
A couple of nice Cohiba cigars, a half dozen Hoegaarden beers, (the reason Belguim exists) a bottle of Louis Roderer and a smile coupled with a look of contentment upon wife and daughters faces.
To wake up in Ireland on Christmas morning
Craig Doyle was the top trending celebrity among Google searches in Ireland this year. Seriously. Conor Fuller and Joe Lafferty had two explanations for this disturbing trend:
Craig Doyle must have been Googling himself like a mad!
With UPC fibre powered broadband, he could do it more efficiently, that is all.
HMV has warned that its financial troubles are worsening as people move away from buying from high street record stores. Joseph McGranaghan commented about how these shop closures can have rippling effects:
It's the independent labels I feel sorry for, I read an excellent article about the head of one who said how vital HMV are to their business, HMV buy the records outright from them whereas many of the Independent stores will only buy on a sale and return. The death of records stores will be a sad day, so much life and soul and expertise will disappear, I'd take the word of 99% of employees of good record stores over crap like genius' suggestions.
Comments on the articles about the tragic death of Shannon Gallagher were a mixture of shock, sadness and people sharing their own stories. Shane Healy explained why he felt moved to comment for the first time:
I have never commented on the Journal before although i read it daily. Never felt the need to really. But this story is just the most tragic story that brings tears to my eyes literally. I am a father of two young daughters. Words escape me to describe how this makes me feel. That poor poor family. I hope never to feel the need to comment again.
Should children's toys be coloured differently depending on which gender they're aimed at? A lot of readers said no. Here's Gillian De Faoite explains why she thinks pink for girls and blue for boys doesn't make sense:
I think the pink thing has really gotten out of hand. When I was a kid, Lego came in brilliant reds, blues, yellows, greens and was gender neutral.
. Now it's all fluffy and pink and aimed at girls. Boys get trains, and buildings and just generally cool sets… girls get lego shopping centres? Baby toys come in two shades… Bright and primary and interesting, or pink and soft purple.It's stupid. But if people are going to buy it, it will continue to sell. I think the point of this gender neutral stuff is to send a message that cooking isn't just for girls.
Not everyone's a fan, but comedian Brendan O'Carroll won lots of praise from readers this week when it was revealed he has gifted hundreds of vouchers for a Christmas turkey and ham from Dunnes Stores to the Vincent de Paul Society. Anna May Hope received one of the vouchers:
Thank you,
I'm one of the people that you have helped to feed this Christmas. No words can say how happy and over joyed that we will all be together this Christmas. That's all thanks to you.
Good Bless you and your family.
Happy Christmas xxxxx
So this monkey was found casually wandering around outside an Ikea in Canada during the week. Figo Murphy got more than 500 thumbs up for this:
If that was Ikea over here it would have been walking around in a tracksuit and a pair of Nike air.
(Image: Jeannie Grigio via Instagram)
Spot any good comments? Let us know! Mail christine@thejournal.ie with any suggestions