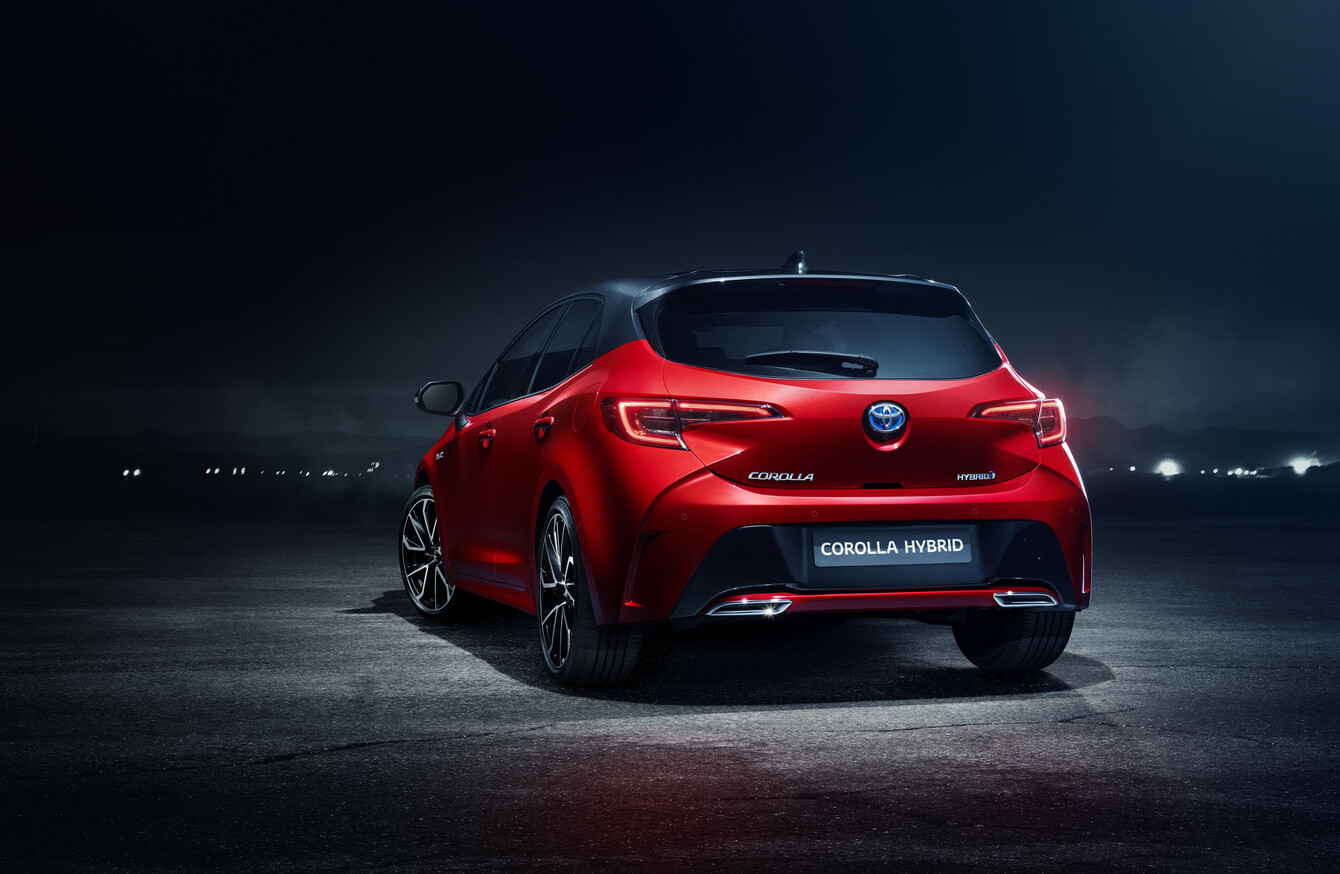 Image: Toyota
Image: Toyota
TOYOTA IRELAND HAS confirmed that we will indeed be getting the new Toyota Corolla Hybrid model in Ireland.
This all new hybrid model will be powered by a 1.8-litre hybrid powertrain – also used by the Prius and C-HR models.
Toyota is saying that the first-ever Corolla Hybrid will have a sharper look and more engaging dynamics, as a result of its Toyota New Global Architecture (TNGA) platform.
The Corolla saloon will also be available with a 1.6-litre petrol engine, but Toyota Ireland is predicting that 90 per cent of sales in 2019 will be Hybrid models.
There are no images of the Corolla Hybrid saloon yet, but it will be hitting our shores in February 2019.
Toyota also announced that the Corolla family will be extending as the Auris model is set to join fold, under the new name – Corolla Hatchback. The Corolla Hatchback will sit alongside the Saloon and Touring Sports and all three Corolla body types will benefit from the Toyota hybrid technology.
The move from Auris badging to Corolla is designed to capitalise on the power of global names – the Corolla has sold 45 million units worldwide since its introduction in 1966, which makes it the best-selling car in history.
The Toyota Corolla Hatchback will be available in Ireland from January 2019. 
The announcement of the Corolla Hybrid as well as the expansion of the Corolla family follows the March 2018 decision from Toyota to cease the production of diesel passenger cars and build cars that have less emissions and contribute to better air quality. 
Commenting on the new 2019 Corolla Hybrid, Steve Tormey, Chief Executive of Toyota Ireland said:
We're anticipating that there will be a huge demand for the new Corolla Hybrids, not only from loyal customers but from a new cohort of fans, long before its arrival in Ireland. and we would encourage those interested to register via

Toyota.ie

. With many people looking for alternative powertrains, the Corolla Hybrid is a very welcome addition to the full Toyota hybrid range.
Want to make sure you don't miss out on anything going on in the world of motors? Like us on Facebook and follow us on Twitter for the latest updates.