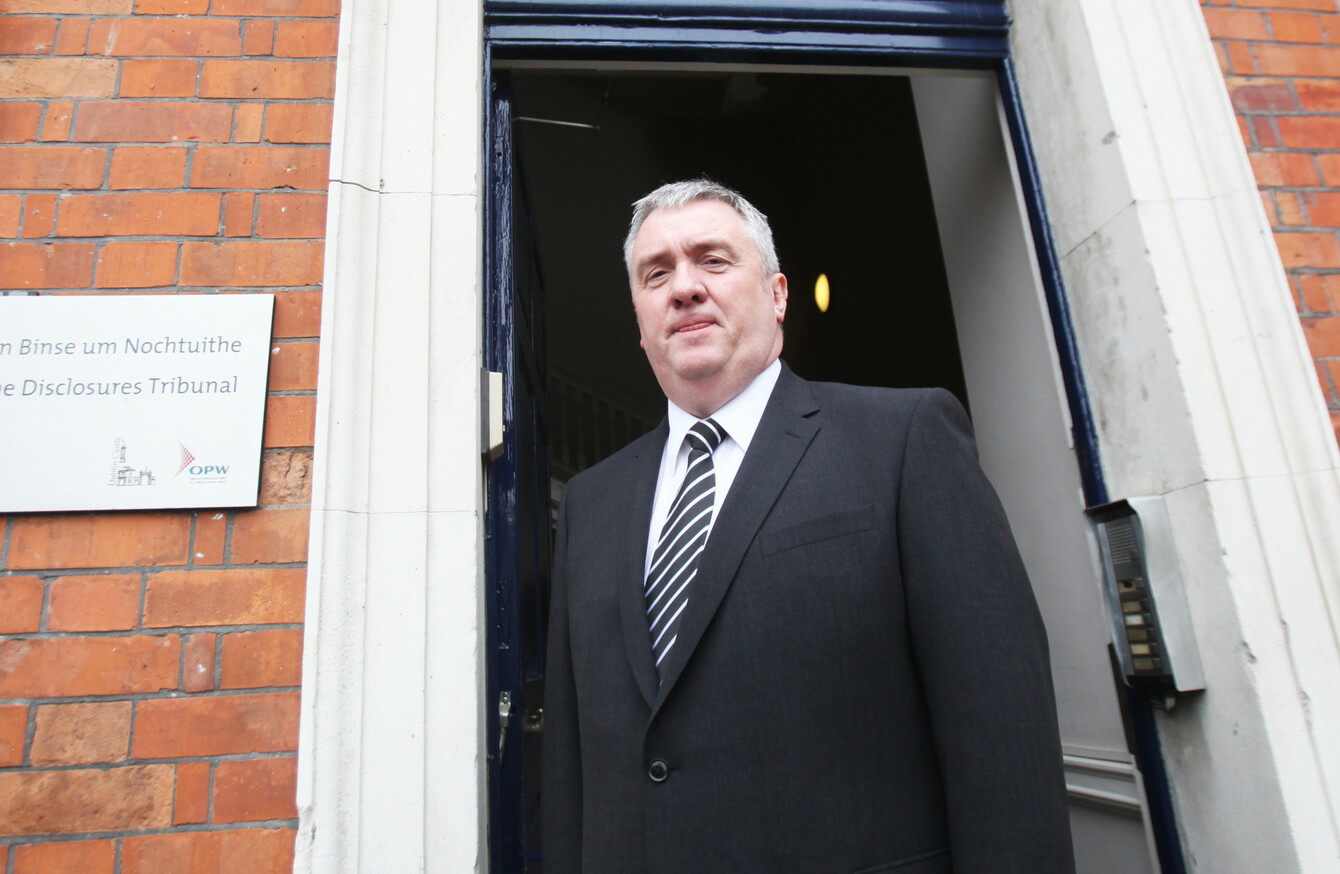 David Taylor was talking about the alleged smear campaign against Maurice McCabe yesterday.
Image: Leah Farrell/Rollingnews.ie
David Taylor was talking about the alleged smear campaign against Maurice McCabe yesterday.
Image: Leah Farrell/Rollingnews.ie
"LOOKS LIKE A bad one."
"Yeah. Two arrests, follow-up searches. There'll be a press conference later."
"You have enough on your plate anyway with all this McCabe stuff going on."
"McCabe? Don't get me started on McCabe…"
This exchange may not have actually taken place, but is a scenario that Superintendent David Taylor outlined at the Disclosures Tribunal yesterday for how he'd "opportunistically" go about smearing the name of whistleblower Maurice McCabe.
Details have already emerged about how Taylor would say he was ordered to conduct a smear campaign against Maurice McCabe to members of the media, but this was the first time we got to hear what he had to say himself.
The former head of the garda press office outlined how we would engage journalists in conversation about McCabe whenever he could at crime scenes, at press conferences, and over the phone.
There, he would drive home the narrative that McCabe was "motivated by revenge" over the allegation of sexual abuse that was made against him by the daughter of a colleague back in 2006.
Taylor claimed that he conducted this smear campaign at the behest of the then-garda commissioner Martin Callinan, describing him as "deeply frustrated" that the penalty points scandal that McCabe had played a large role in putting in the public domain had been "raised and raised and raised again".
Taylor has even given the name of some of the journalists he gave these negative briefings to about McCabe, and waived his own privilege in relation to him being named as their source.
So, all that seems a fairly straightforward account of what Taylor says happened.
Except it's not.
Many of the journalists he's named have either retained their own privilege or outright said that neither Taylor nor any other senior garda ever gave them such negative reports about McCabe.
Callinan – who'll be giving evidence later this week – will say that he never directed Taylor or anyone else to smear Maurice McCabe.
So, how has this whole narrative become murkier again? Let's have a look.
'Callinan directed it. O'Sullivan was aware of it'
Taylor said that sometime in mid-2013 he received his orders from then-Commissioner Callinan to smear McCabe.
And what were those orders?
The superintendent said: "I was given specific instructions by Callinan to take every opportunity I had with the media, when they'd bring up Sergeant McCabe… to say 'well, there's a backstory here'."
At all times, the aim was to divert the media away from trusting what McCabe was bringing forward about the penalty points while casting the whistleblower in a negative light.
I got the instruction around middle of 2013 to take the opportunity to draw the media's attention to Sergeant McCabe's motivation. Sometimes opportunity didn't arise. Sometimes it did.
I was also directed to draw journalists attention to the complaint of sexual assault made against Sergeant McCabe and that this was the root cause of his agenda – revenge against the gardaí.
Furthermore, he said that while it was directed by the then-commissioner, the deputy commissioner at the time Nóirín O'Sullivan was aware that it was happening.
The smear wasn't confined to just that information though. Taylor also said that he was instructed by Callinan to brief the media that McCabe had refused to cooperate with an internal garda review into the penalty points scandal.
Clarity
But who did Taylor tell these things to? When did he tell each journalist? How did each one react? Was it over the phone? In person? One on one?
At the Tribunal yesterday, many of these details were lacking.
One journalist who Taylor said he gave a negative briefing to about McCabe was RTÉ crime correspondent Paul Reynolds.
In a statement to the Tribunal, however, Reynolds denies any such thing. He said: "I was not negatively briefed by anyone in relation to Sergeant McCabe verbally, by text, email or any other form of communication."
When Taylor reiterated that he had indeed given Reynolds such a briefing, Mr Justice Peter Charleton interjected to ask him: "Can you supply another detail? What the reaction of Mr Reynolds was?"
Judge Charleton went on to ask where he'd told them. Was it at a crime scene that they were both attending? Was it at a press conference?
Taylor said that he was an "opportunist" about acting on his orders from Callinan.
"Sometimes they'd come up at scenes, other times they wouldn't," he said.
Irish Examiner political correspondent Juno McEnroe was also named by Taylor, but refuted knowledge of a smear campaign. Again, Mr Justice Charleton wanted more details from the former press officer about when he gave this negative briefing.
As the judge put it: "He's saying as far as I can see that David Taylor never said 'boo' about Sergeant McCabe to [him]."
Mr Justice Charleton continued to press Taylor on how journalists reacted when he gave them these briefings, and the former press officer said he couldn't describe a specific instance but recalled that he got no "negative reaction".
Nevertheless, and in opposition to the accounts of a number of other journalists, Taylor maintained that he had given them the negative briefings about McCabe.
While he said Callinan didn't interfere in which journalists he contacted, Taylor said the then-commissioner was clear in who he shouldn't contact, including RTÉ's Katie Hannon and the Irish Examiner's Mick Clifford.
Successes
An example of a "success" from Taylor's point of view was the work of Paul Williams, whom he also named as receiving negative briefings about McCabe.
Williams sought to track down Ms D, the woman who made the original complaint about McCabe in 2006. This claim had been investigated by the DPP and McCabe had been exonerated of any wrongdoing. The DPP determined that even if what had been alleged had happened, it wouldn't have constituted a crime.
Williams gave evidence to the Tribunal last year, but Taylor differed from his account in a number of ways.

The journalist had alleged that he went to Taylor to confirm that an investigation had taken place, and he said that Taylor had confirmed there had been. He also said that Taylor "made a throwaway remark" that McCabe's case was known about in Garda HQ and in government.
Speaking yesterday, Taylor denied he confirmed any details of the Ms D case to Williams, denied he made the throwaway remark, and denied "directing" Williams to pursue the story.
Nevertheless, he said he was "glad" that Williams chose to pursue the story, and counted it an "unexpected success" at the time.
Taylor said that Williams doing a negative article about McCabe "facilitated the agenda" of presenting a counter-narrative to what the whistleblower was doing.
At a time when McCabe was drawing attention to deficiencies in the force, Taylor's counter campaign was about muddying the waters and casting doubts in the minds of journalists as to McCabe's motivation.
But could these waters be muddied at all when the majority of journalists Taylor is alleging he gave the negative briefings to either saying they didn't happen or exercising privilege?
Towards the end of the day, Taylor was asked whether or not he considered his campaign against McCabe to be "successful". He replied:
It goes without saying that a lot of the media didn't support McCabe in his endeavours in bringing these matters to public attention.