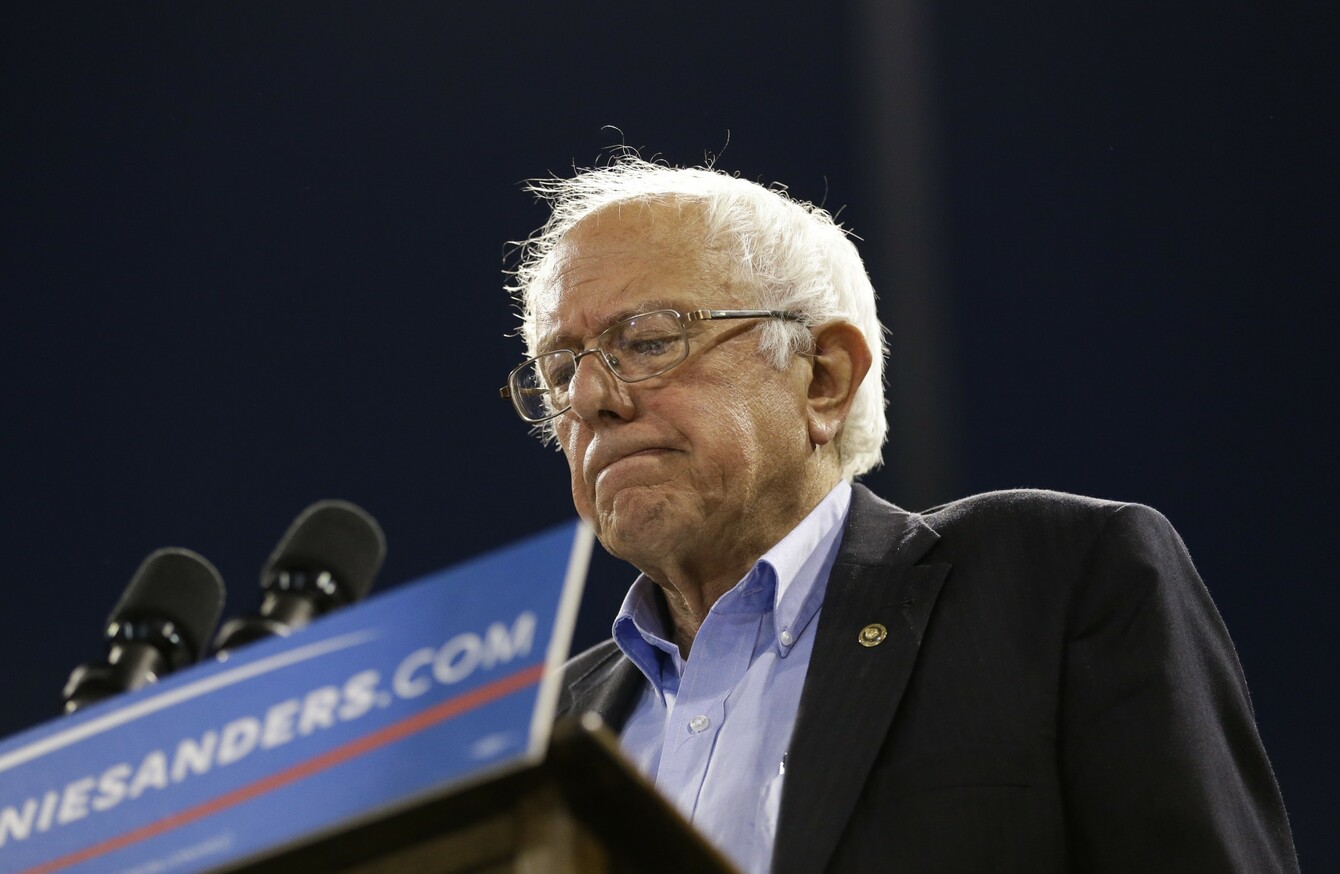 Image: Jae C. Hong
Image: Jae C. Hong
BERNIE SANDERS' CAMPAIGN had less than $6 million (€5.34 million) at the start of May, a critical cash shortage as he makes an admittedly tough final play to wrest the Democratic presidential nomination from Hillary Clinton.
Sanders' rival had five times as much money, according to new Federal Election Commission filings, beginning the month with $30 million (€26.7 million) in the bank.
The two were on roughly equal fundraising footing last month, with Clinton and Sanders each raising more than $25 million (€22.2 million). But the Vermont senator spent almost $39 million (€34.75 million) to Clinton's $24 million (€21.38 million), the reports showed.
This year, Sanders has averaged more than $40 million in spending per month, underlining how quickly he could blow through the cash he had on hand at the beginning of May.
Since he started his presidential bid, Sanders has spent nearly $207 million (€184 million), about $25 million (€22.2 million) more than Clinton's $182 million (€162 million) in expenditures. For her part, Clinton has averaged $26 million in spending per month since January.
Sanders' heavy campaign spending wasn't a problem when his online supporters were minting him money. But now that his fundraising has dropped, his high burn rate could hurt his chance to continue competing.
Even as he racked up primary victories last month and sharpened his attacks against the former secretary of state, online donors started holding back. Sanders raised considerably less in April than his record-setting $46 million in March or $43.5 million (€38.75) in February.
Trumped
On the other side, Donald Trump poured more than $7.5 million (€6.6 million) of his own money into his presidential campaign in April, bringing his total personal investment to more than $43 million (€38.5 million) since he declared his candidacy.
The billionaire businessman, who swatted away 16 Republican rivals and relied heavily on wall-to-wall media coverage of his outsized personality and often inflammatory remarks, reported spending about $56 million (€49.9 million) during the primary.
Almost all of Trump's personal investment has come in the form of loans. That leaves open the possibility that he can repay himself now that he's aggressively seeking donations. A new fundraising agreement he struck with the Republican National Committee and 11 state parties explicitly seeks contributions for his primary campaign.
Yet Trump said in a statement this week that he has "absolutely no intention" of paying himself back.
After the GOP convention in late July, Trump will officially become the nominee and be restricted to spending money that's earmarked for the general election.
His likely rival, Democrat Hillary Clinton, has a head start on building a war chest for the November election. She partnered with Democratic parties months ago and has been raising millions of dollars for them. In April alone, she collected almost $800,000 in campaign money for the general election.