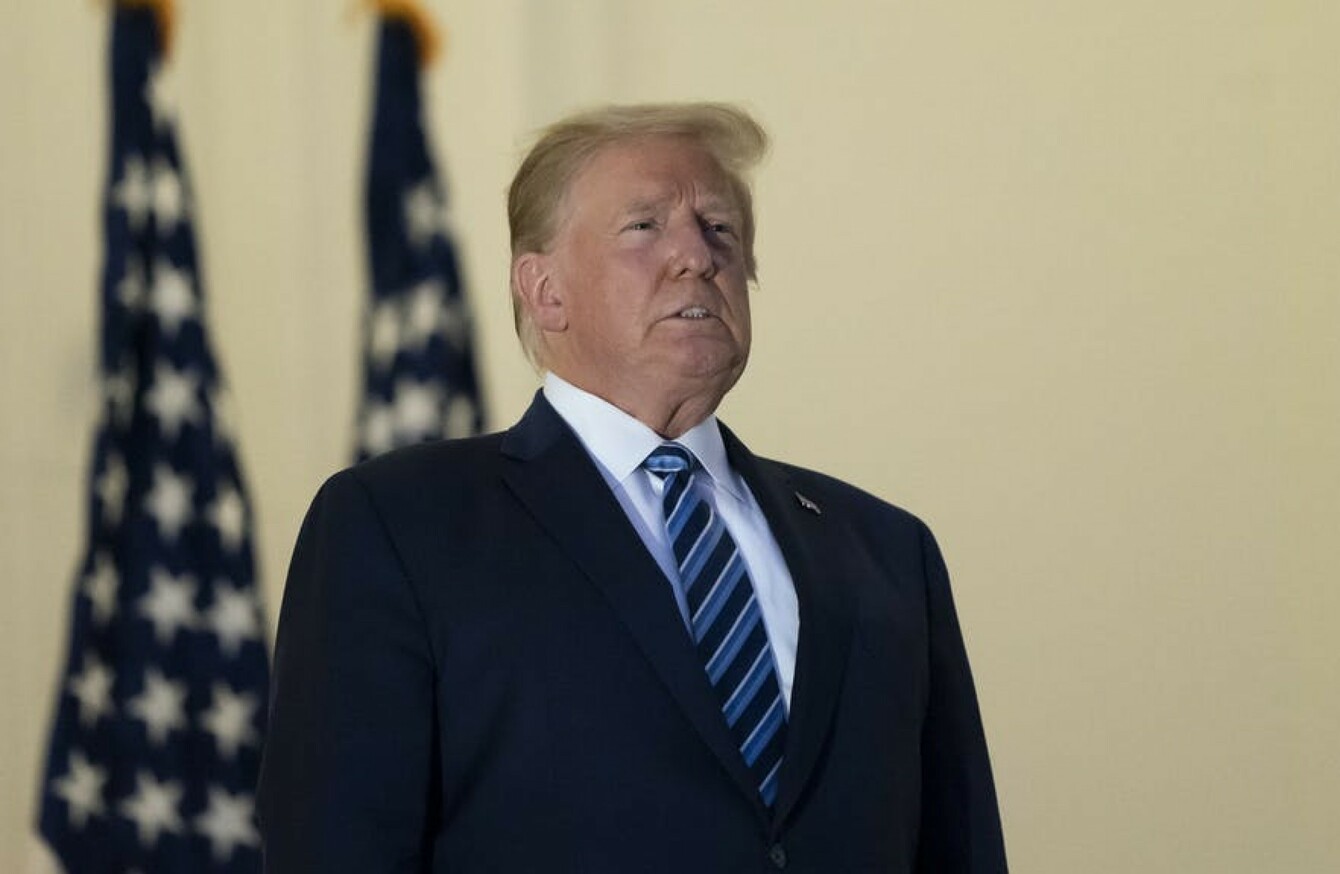 Trump last night.
Image: PA
Trump last night.
Image: PA
Updated Oct 6th 2020, 9:47 PM
FACEBOOK HAS REMOVED a post from US President Donald Trump in which he downplayed the dangers of Covid-19 by saying the seasonal flu is more deadly. 
Trump tested positive for the coronavirus last week and spent three days in hospital as a result. The virus has so far killed more than 210,000 people in the United States. 
The US president today used Twitter and Facebook to post messages inaccurately contending that people have more to fear from the flu.
"We remove incorrect information about the severity of Covid-19, and have now removed this post," Facebook said this evening.
Twitter added a notice to the tweeted version of the Trump post, saying the message was left up due to public interest but that it violated rules about spreading misleading and potentially harmful information related to Covid-19.
Twitter also added a link to reliable Covid-19 information.
Facebook in August removed a video post by Trump in which he contended that children are "almost immune" to the coronavirus, a claim the social network called "harmful COVID misinformation."
That was the first time the leading social network pulled a post from the president's page for being dangerously incorrect.
Return to the White House
Back at the White House after a dramatic helicopter return from the military hospital where received an unprecedented level of care for Covid-19, the president's attitude alarmed infectious disease experts.
Anxious to project strength four weeks from Election Day, Trump, who is still contagious with the virus, tweeted that he is planning to attend next week's debate with Democrat Joe Biden in Miami.
"It will be great!" he said.
His doctor, Navy Commander Sean Conley, said Trump had a "restful" night at the White House and that today "he reports no symptoms".
Yesterday afternoon, shortly before the president's departure from Walter Reed National Military Medical Centre, Dr Conley had said he would not be fully "out of the woods" for another week.
Trump returned to the White House last night aboard Marine One.
He entered the White House, where aides were visible in the Blue Room, without wearing a face covering.
In a video released later, he offered a nonchalant take on the virus, contravening the public health warnings of his own administration that Americans take the threat seriously and to take precautions to avoid contracting and spreading the disease as cases continue to spike.
"Don't be afraid of it," Trump said. "You're going to beat it. We have the best medical equipment, we have the best medicines."
#Open journalism No news is bad news Support The Journal

Your contributions will help us continue to deliver the stories that are important to you

Support us now
The president's doctors rushed him on to experimental antiviral drugs and prescribed an aggressive course of steroids that would be unavailable to the average patient.
"Many people every year, sometimes over 100,000, and despite the Vaccine, die from the Flu," he tweeted on Tuesday. "Are we going to close down our Country? No, we have learned to live with it, just like we are learning to live with Covid, in most populations far less lethal!!!"
In fact, Covid-19 has already proven to be a more potent killer, particularly among older populations, than seasonal flu, and has shown indications of having long-term impacts on the health of younger people it infects.
"We have to be realistic in this: Covid is a complete threat to the American population," said David Nace of the University of Pittsburgh Medical Centre.
"Most of the people aren't so lucky as the president," with an in-house medical unit and access to experimental treatments, added Dr Nace, an expert on infections in older adults.
"It's an unconscionable message," agreed Sadiya Khan of Northwestern University Feinberg School of Medicine. "I would go so far as to say that it may precipitate or worsen spread."
Additional reporting by AFP.