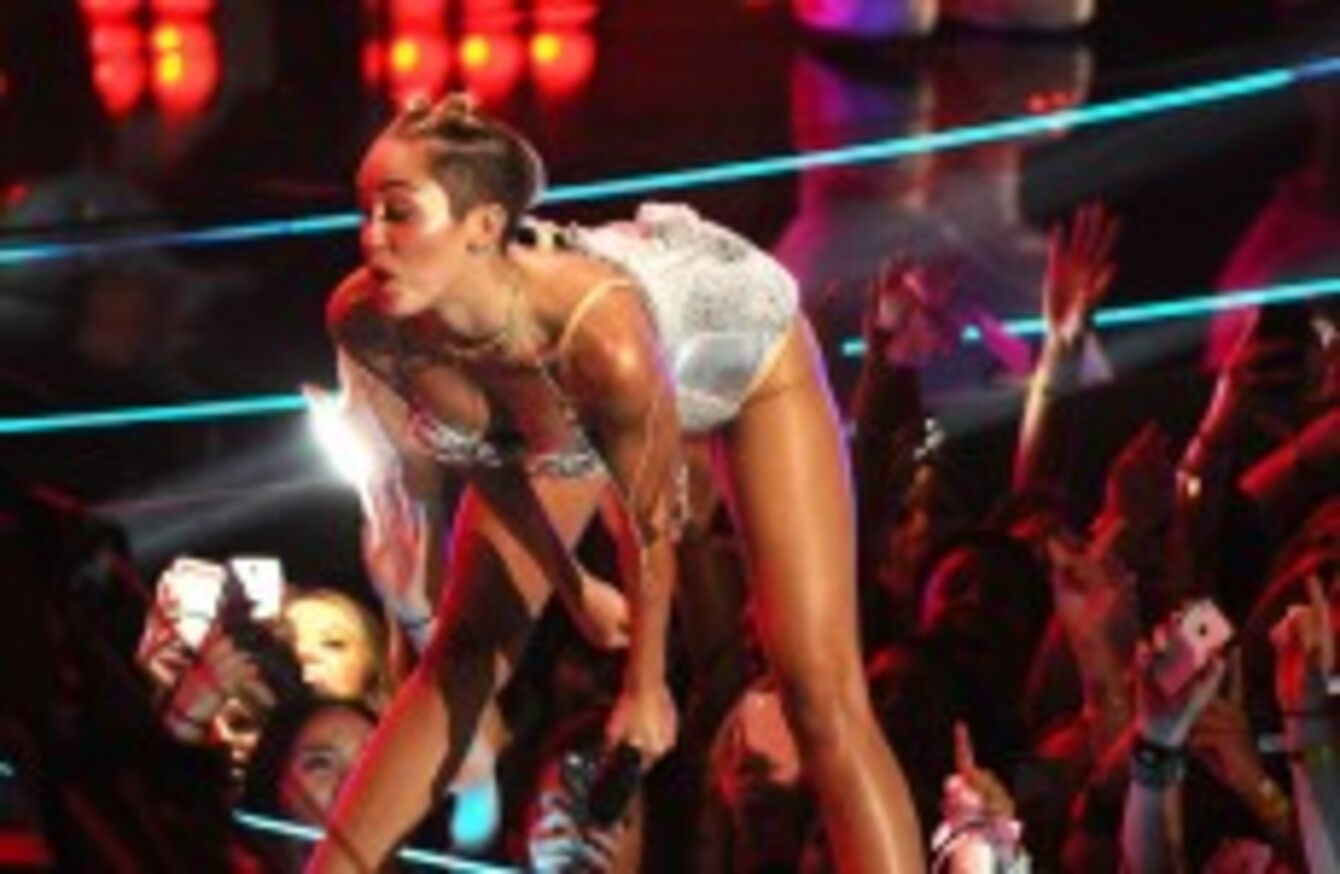 Image: AP/Press Association Images
Image: AP/Press Association Images
FOR MANY THE word 'twerk' can only conjure up indelible images of Miley Cyrus gyrating in front of Robin Thicke at the 2013 MTV Video Music Awards.
But that particularly spectacular performance is just the tip of the iceberg – for it seems twerking, which basically means bending over and waggling your behind if you're feeling flummoxed, has been around for a long, long time. Almost 200 years in fact.
The latest edition of the Oxford English Dictionary (OED) legitimises 500 new words of which twerk is but one.
While the verb 'to twerk' was in use in early 1990s New Orleans, it seems its origins come from much, much further back. 1820s England to be precise.
Back then the word was a noun, spelt 'twirk', referring to a jerking movement or twitch. That sounds familiar alright.
'Really the Germans do allow themselves such twists & twirks of the pen, that it would puzzle any one' says a letter dated February 1820 by a Charles Clairmont.
Source: Fail & Win Compilation/YouTube
"We are confident that it is the same origins as the dance," said senior editor with OED Fiona McPherson.
There has been constant use up into the present day to mean that same thing.
I think it's quite spectacular, the early origins for it. We were quite surprised.
As such, 'to twerk' (which is now officially defined as 'to dance to popular music in a sexually provocative manner involving thrusting hip movements and a low-squatting stance') is joined in its new-found valid state by such (well-known and others not so much) oddities as:
Carnap – to steal a car
Freegan – one who only eats food that has been discarded by others
Meh – an expression of indifference (thank you Lisa Simpson)
Crowdfund – to obtain finance via ordinary people on the internet
FOMO – Fear Of Missing Out
Photobomb – To ruin someone else's photo by jumping in the background of the shot
Gimmick – A night out with friends
FLOTUS – First Lady Of The United States
Totes – Totally
Fo' shizzle – for sure, certainly
Staycation – A holiday taken at home
Sext – Well, you probably know what that one means
When did speaking English get so complicated…