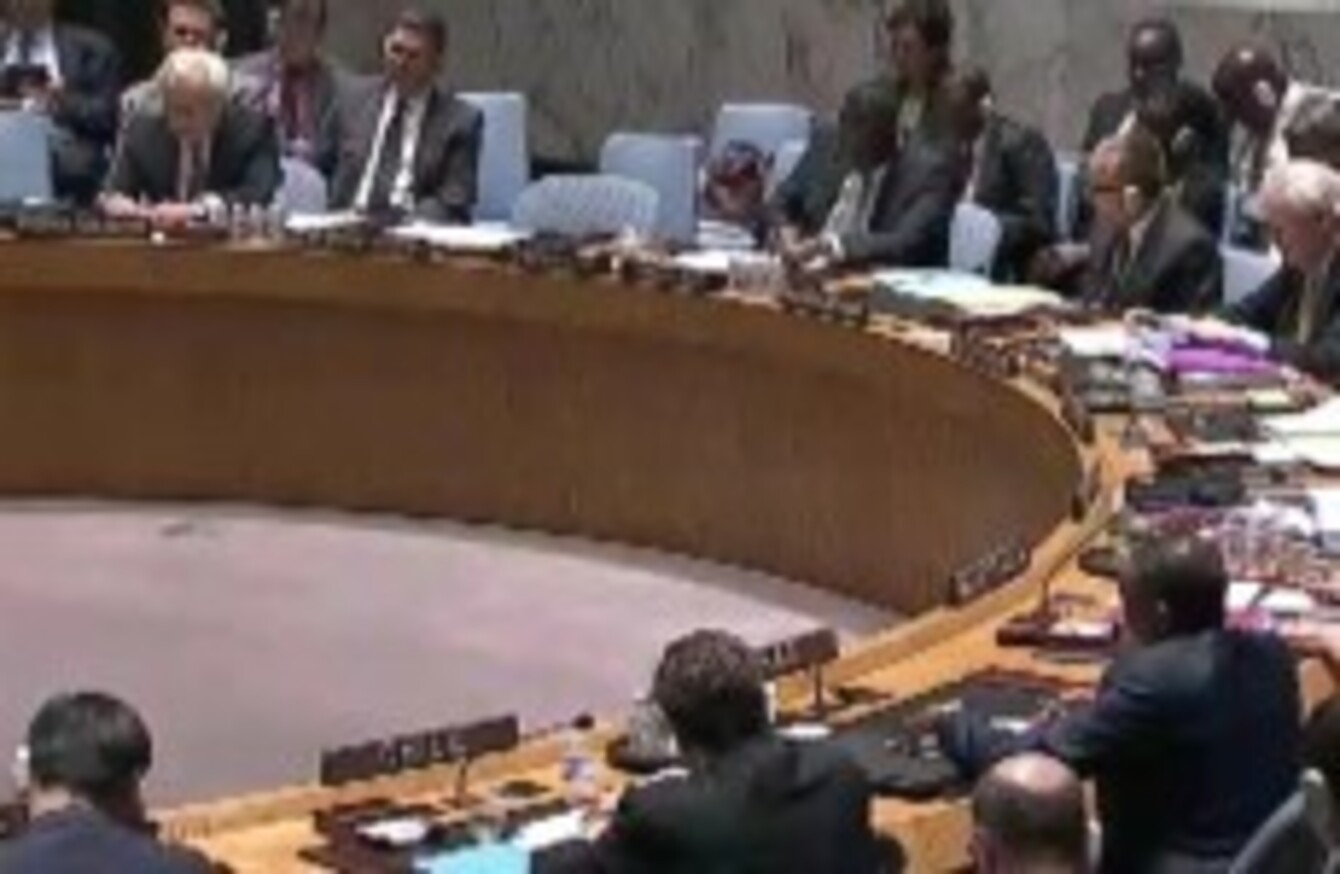 Un Security Council currently underway.
Image: Screengrab/UN webcast
Un Security Council currently underway.
Image: Screengrab/UN webcast
REPRESENTATIVES FROM PALESTINE and Israel addressed the UN Security Council today in New York.
Speaking first, the Palestine representative Riyad Mansour read out the names of and ages of the children killed on a beach in the Gaza this week.
He said that Palestine had the right to "reject the illegitimate occupation" by Israel. He criticised the international community for its "failure to hold Israel accountable" and for not imposing international law.
Occupation
He urged the UN Security Council to uphold its duty. Mansour said they had a duty to their people and called for the "cessation of the occupation" and for the blockade against Palestine to end.
Mansour asked the international community to provide humanitarian aid for the "grave suffering" the people of Palestine are going through, adding that urgent donor support is needed.
He demanded that Israel face consequences for "crimes against humanity".
Speaking in arabic to the people of Palestine, he became visibly emotional, choking back tears as he spoke.
The UN Security Council, Israel's Ambassador Ron Prosor addressed the council, stating that "they were left with no choice" but to begin a ground operation as rockets are "reigning down" on their people.
"We did everything in our power to avoid this," he said, adding that Hamas are "determined to wage war on Israel.
Assault
"No country would tolerate an assault on its citizens and Israel shouldn't either."
He said that the Israeli army was a "moral" army that does not aspire to injure and kill civilians adding that any civilian deaths they regret.
He criticised those that said that both Israel and Palestine are at fault, saying that to say that is "to play into the hands of Hamas".
"There is a clear difference between Israel and Hamas," he said. The Israel representative said:
How can embracing a terrorist group bring about peace?
He said he brought a compass to the meeting today to "guide" the international community to make the right decision.
The meeting comes after 48 Gazans were killed today as Israel pressed a major ground offensive in the coastal enclave, raising the overall Palestinian death toll since July 8 to 289.
An Israeli soldier was also killed as troops began an offensive on the Gaza periphery aimed at destroying Hamas's network of cross-border tunnels, the army said.
Israeli television said he died by "friendly fire".
Deaths
The latest Palestinian deaths included three members of a family killed in an Israeli strike in southern Gaza's Rafah, as well as a 21-year-old man also killed in Rafah, emergency services spokesman Ashraf al-Qudra.
Witnesses said the 21-year-old was killed in the same air strike, but Qudra did not immediately confirm that.
Shortly before, five members of a single family — two men, two women and a child — were killed in tank shelling on their home in northern Gaza's Beit Hanun.
And four children ranging in age from two to 13 years old were killed in tank shelling east of Gaza City, Qudra said.
Among them were brothers Emad Alwan, seven, and Qasem Alwan, four.
In the southern city of Rafah a man was killed by tank shelling, and in Khan Yunis, a 23-year-old died of wounds sustained earlier in the week.
The deaths raised the toll in Gaza during the 11 days of the conflict to 289, as Israel pressed a ground operation it announced on Thursday night.
#Open journalism No news is bad news Support The Journal

Your contributions will help us continue to deliver the stories that are important to you

Support us now
Many of the deaths were in southern Khan Yunis and Rafah, where a five-month-old baby was among those killed.
Figures provided by the Gaza-based Palestinian Centre for Human Rights show civilians account for more than 80 percent of the victims of Israel's assault since July 8 to halt rocket fire by militants of the Islamist movement Hamas which controls the coastal strip.
At least 2,200 Palestinians have also been wounded.
Since the Israeli operation began, more than 1,207 rockets fired from Gaza have struck Israel, and another 333 have been shot down by the country's Iron Dome air defence system, army figures show.
On the Israeli side, a civilian was killed by rocket fire earlier this week, while four others were seriously injured.
US support
Speaking during today's meeting in New York, the US representative on the council said:
The US reaffirms its strong support for Israel's right to defend itself .
They said that any attacks on a UN nation would be "unacceptable".
They said that President Obama was concerned about loss of more lives. Speaking about the deaths of the young boys on the beach in Gaza this week, the US representative said that it is "heartbreaking".
They said that the violence and attacks is "no way for anyone to live – not Palestinians or Israelis".  
Additional reporting - © AFP, 2014