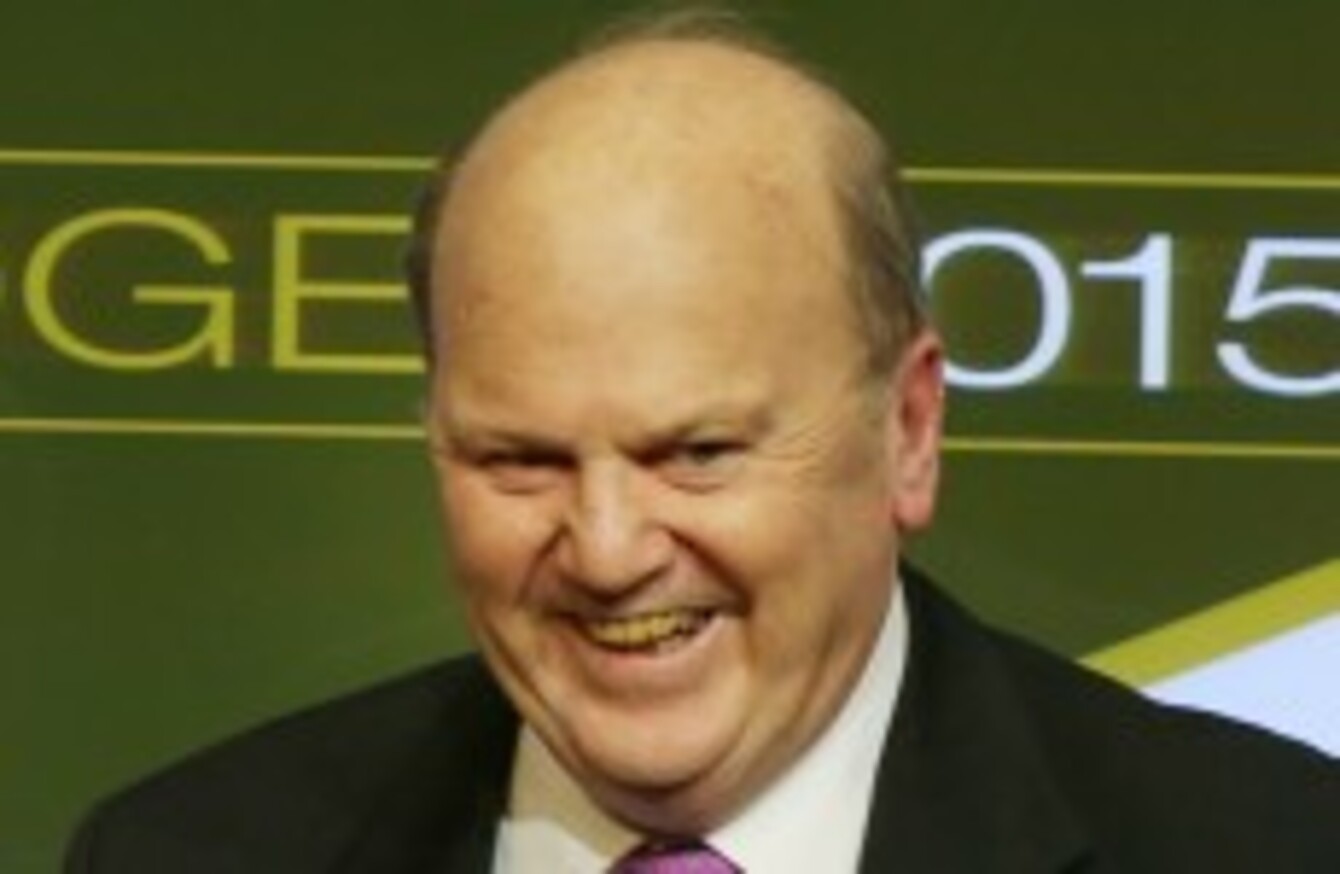 A happy Michael Noonan
Image: RollingNews.ie
A happy Michael Noonan
Image: RollingNews.ie
THE GOVERNMENT WILL be focussed on cutting personal taxes in the forthcoming Budget with the only possible rises coming in duty on cigarettes, Michael Noonan has said.
The much-hated Universal Social Charge (USC) appears likely to be the focus of tax reductions with the Finance Minister having already indicated a cut of at least 1% will be announced next month.
While the Labour party will focus on increasing spending on public services and restoring payments like child benefit to previous levels, the feedback from Fine Gael TDs in Adare was that universal social charge should be prioritised in any tax reductions.
The government is expected to have around €1.5 billion in extra spending available to it in the Budget, which the Taoiseach confirmed today would be held on 13 October.
This €1.5 billion will be divided evenly between tax cuts and spending rises, Noonan said at the end of the Fine Gael think-in in his native Limerick earlier today.
I can't get into the specifics of the budget but one of the areas that there was heavy emphasis on was the feeling that personal taxes are too high. It's a combination of PRSI, USC and income tax and the advice from the party was that in the first instance we should prioritise USC reductions.
Noonan hopes this will be able to attract young people who have emigrated back to Ireland in the coming years.
The Fine Gael TD also said that the government would seek to prioritise "the obvious inequality" between the self-employed and PAYE workers in the tax code, saying he was strongly urged by colleagues to do so.
It's not all tax cuts though. Noonan said his Fine Gael colleagues had stressed the need to deliver more on housing and on childcare.
"The budget is a major policy instrument which the government has. So, we need to have a connection between the measures we take and the potential for those measures to grow the economy and create jobs," he said.
Obviously childcare is a big one and the whole area of making it easier for women to participate in the labour force and making it easier for immigrants to come home and work in Ireland.
Noonan said that Children's Minister James Reilly has been working on "quite interesting" policies on childcare but said he did not want to pre-announce anything.
He added that the government was not minded to increase any taxes but signalled that the price of cigarettes will rise.
"We may raise some taxes, obviously on health grounds. There's always an interest in raising duty on tobacco. We won't rule it out completely," he added.
Meanwhile, ahead of Fianna Fáil's parliamentary party gathering in north Dublin on Monday, Michael McGrath said his party would focus on delivering tax cuts for the self-employed and entrepreneurs.
The Fianna Fáil finance spokesperson said the party is committed to addressing income tax anomalies facing the self-employed and wants to introduce a new special 15% capital gains tax rate for entrepreneurs.
He added: "Personal taxation is also important to a vibrant economy as companies need to be able to attract and retain high-skilled employees.
"As well as the measures outlined today we will publish a package of personal tax related proposals in the run-up to the budget."