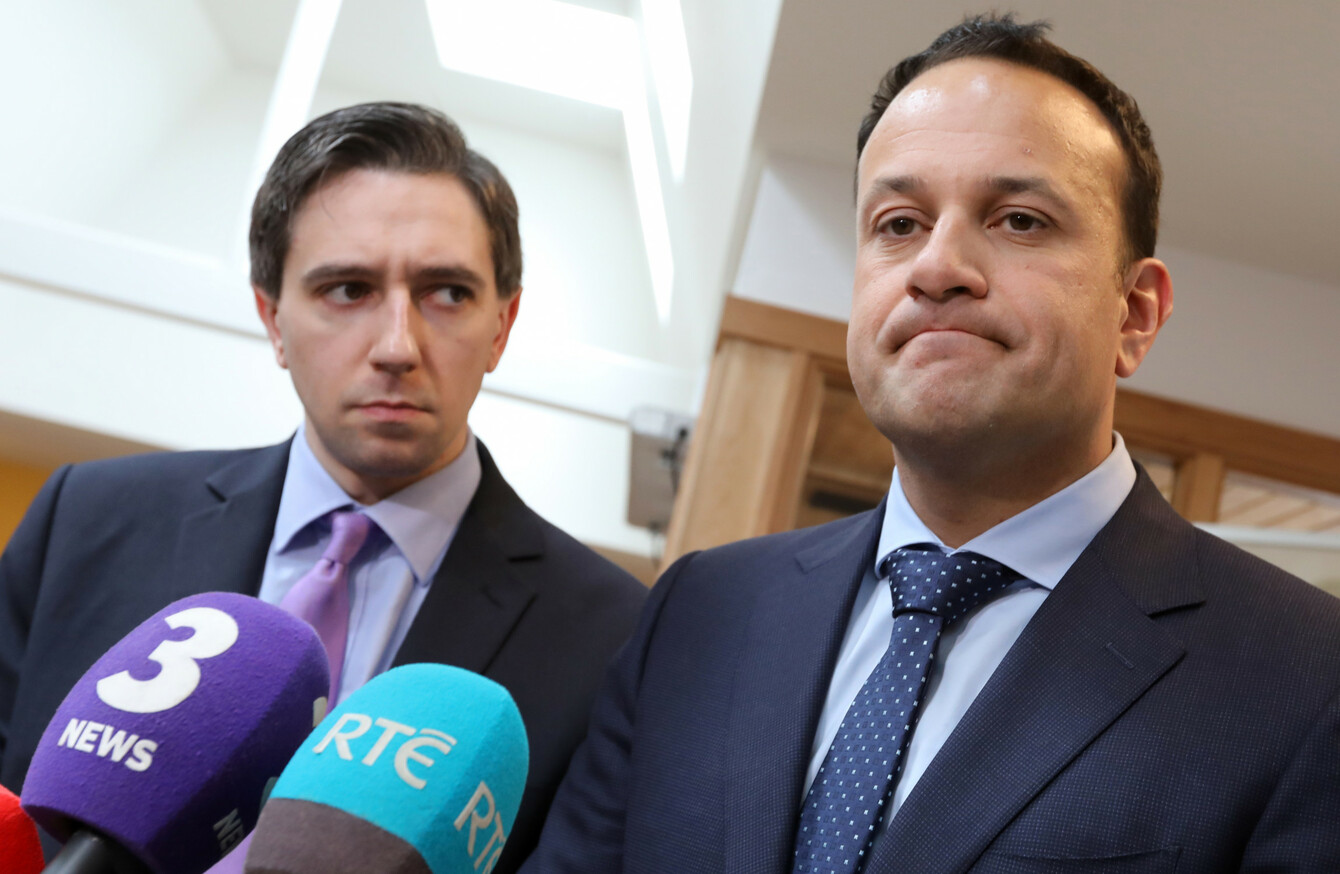 Minister for Health, Simon Harris and Taoiseach Leo Varadkar.
Image: Eamonn Farrell
Minister for Health, Simon Harris and Taoiseach Leo Varadkar.
Image: Eamonn Farrell
TAOISEACH LEO VARADKAR has said he was never informed about a potential scandal relating to CervicalCheck while he was health minister.
Speaking during Leaders' Questions today, he said on various occasions during his two years as minister for health he was informed of major patient safety incidents, such as concerns surrounding bowel screening in the south-east.
However, he said he has no recollection of being informed about issues surrounding the cervical cancer audit. Varadkar served as health minster from 2014-2016.
"I was never informed of any patient safety concern or potential scandal relating to CervicalCheck and certainly not the outcome of any audit such as this. I have asked officials in the department to check that for me in case my recollection is incorrect," he added.
Double-checking
The Secretary General of the Department of Health is commencing a scrutiny of records in the department, TheJournal.ie understands.
A government spokesperson said for the Taoiseach to be "entirely certain" that he was never told about the matter, officials are checking the files. It is unclear whether this will take days or weeks.
A plan for a Hiqa investigation into the screening programme was approved by Cabinet this morning.
This follows confirmation from the HSE that 17 women whose cases were reviewed as part of an audit into the scheme have died.
In total, the probe carried out by the HSE's Serious Incident Management Team has found that, of the 208 cervical smear result cases being scrutinised, only 46 women were told about the history of their smear tests.
Today, Varadkar said he cannot rule out a commission of investigation into the CervicalCheck scandal in the future.
The Hiqa inquiry, approved today, follows on from Vicky Phelan's court case last week.
The Limerick mother-of-two had a smear test in 2011 where abnormalities were missed. She wasn't informed until last year despite the information coming to light following a 2014 audit.
Last Thursday, 43-year-old Phelan settled a High Court damages claim for €2.5 million over her missed diagnosis. The controversy has been causing shockwaves since last week.
Commission of investigation
The Taoiseach acknowledged that a commission of inquiry might be an alternative to the Hiqa investigation, but pointed out it could delay the findings.
I cannot rule out that being necessary in the future. However, I would point out that commissions of inquiry take a long time. It is three years, for example, since the commission of inquiry on the Grace case was announced. The Siteserv inquiry could go on for many years. One thing Vicky Phelan has said – I think she is right – is that she does not want an inquiry that goes on for years and years.
A report could be received by a future government perhaps. What we want is an inquiry that gives us answers quickly. The risk with a commission of inquiry, of course, is that everyone goes legal and lawyers up and it take years and years before we get a report, with probably no answers at the end of that. That is why I am calling for the co-operation of the House in supporting the Hiqa inquiry, which we believe will get answers quickly, and, if not, then we will consider a commission.
Varadkar said he is "personally very angry" the women were not informed
"They should have been informed. It is their health, their lives, their families and they had a right to know," he said.
I am Taoiseach, a doctor and I am also the brother of two sisters and I know a lot of women are afraid today. The 160 women who know that they have cervical cancer but who may not have been told about their previous false smear test result will be told that today if they have not been told already. They will be offered an individual appointment this week so that their clinical case can be discussed.
#Open journalism No news is bad news Support The Journal

Your contributions will help us continue to deliver the stories that are important to you

Support us now
Varadkar added that he is cognisant that some falsehoods may be circulating in terms of whether cancer diagnoses were missed.
Reassuring women
He said he wanted to reassure women that "nobody is walking around today with a cervical cancer diagnosis from whom that information is being withheld by the HSE".
Earlier today, the Health Minister Simon Harris published a memo he received two weeks before Phelan's case details were made public. The correspondence told the minister that the Vicky Phelan case was not a patient safety incident.
The fallout from the CervicalCheck controversy has resulted in calls for the HSE boss, Tony O'Brien, to resign. Sinn Féin's Mary Lou McDonald rounded on the chief executive today, stating that his position is untenable.
O'Brien was one of the key figures who oversaw the roll out of the CervicalCheck programme and the outsourcing of the tests to the US in 2008.
A spokesperson for the Taoiseach said this evening that Varadkar has confidence in the HSE chief.
"There is an assertion that the decision to outsource these tests to the US in 2008 somehow cost lives. I explained why that is not yet supported by the facts. Everyone, even Mr Tony O'Brien, deserves a fair hearing before being condemned. We need to assess whether that decision was wrong. It may turn out not to be wrong. We need to be fair about it in that regard," said Varadkar.