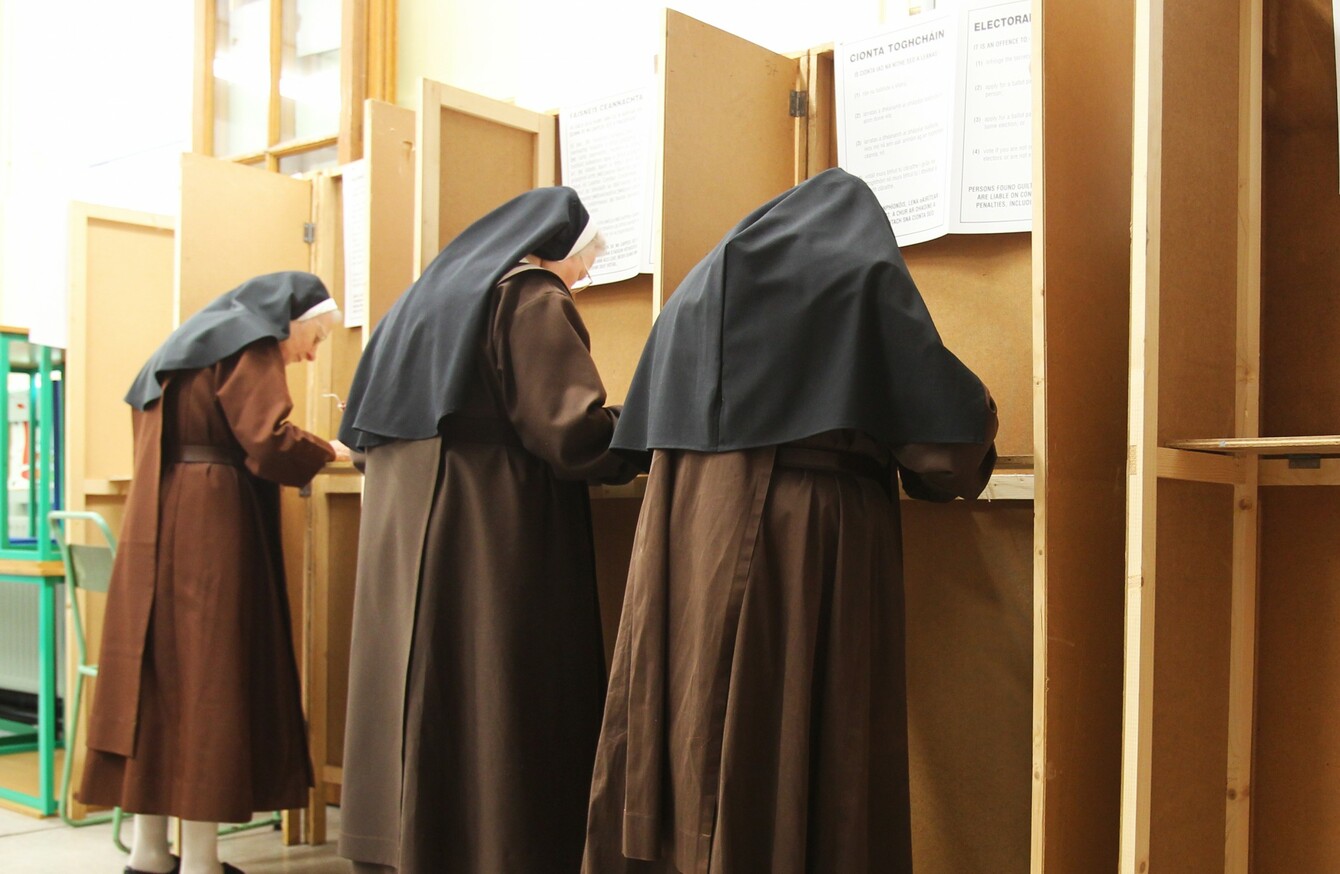 Image: /Photocall Ireland
Image: /Photocall Ireland
NEARLY 500 CANDIDATES are competing for 157 Dáil seats (excluding the automatically re-elected Ceann Comhairle) in 40 constituencies in this general election.
While parties will feel confident of seats in certain areas, others are less certain and there are some key bellwether constituencies where the outcomes will give an indication of which way the national picture is going.
With that in mind we've identified the 10 we think will be ones to watch on count day and outlined why they're important.
There will be at least one high-profile casualty here with five seats down to four. Seeking to hang on are Micheál Martin and Michael McGrath (FF); Simon Coveney and Jerry Buttimer (FG) and Ciarán Lynch (Labour).
Solid vote management from Fianna Fáil and Fine Gael could conceivably see both parties retain their seats, but Buttimer has lost a chunk of his area in the redraw and is facing an uphill battle to hold his seat.
Lynch will come under serious pressure from Sinn Féin's Donnchadh Ó Laoghaire, while the independent Mick Finn, who topped the poll in the local elections, is considered a dark horse.
Why it's one to watch: If the government returns all three of its TDs then it will indicate a good day for the coalition. If Fianna Fáil does not retain its two seats it could be disastrous given it will mean losing one of its most high-profile TDs or, worse, its party leader. A surprise seat for Sinn Féin would be a boost for the party.
The Donegal constituencies have gone from two three-seaters to one vast five-seater. Seeking to retain their seats are Charlie McConalogue (FF), Pádraig Mac Lochlainn (SF), and Joe McHugh (FG) in north-east and Pearse Doherty (SF) and independent Thomas Pringle in south-west. Fine Gael stalwart Dinny McGinley is retiring.
Sinn Féin's two incumbents are considered dead certs. Former Fianna Fáil minister and MEP Pat 'The Cope' Gallagher is expected to poll strongly. Fine Gael's junior minister Joe McHugh should also be re-elected barring disaster. The final seat is seen as a battle between McConalogue, Pringle, Sinn Féin's third candidate Gary Doherty and independents Niamh Doherty and Dessie Sheils.
Why it's one to watch: If Sinn Féin returns three TDs then it's likely to be a very good day for the party. Conversely, and as some SFers privately fear, if there isn't proper vote management it could only end up with only one seat. The loss of Joe McHugh would be a big blow for Fine Gael and might be part of a wider malaise for the party.
This massive five seater has over 20 candidates, five of which are sitting TDs going for re-election. These include Richard Bruton (FG), Aodhán Ó Ríordáin (Lab), and Finian McGrath (Ind) from the old Dublin North-Central and Tommy Broughan (Ind) and Terence Flanagan (Renua) from the old Dublin North East. Labour's Seán Kenny is retiring.
Fianna Fáil is running councillors Deirdre Heney and Seán Haughey with the latter representing the party's best chance of a seat. Sinn Féin is running two candidates with councillor Micheál MacDonncha a strong bet to take a seat. Bruton should be safe for Fine Gael. No one's quite sure how strong Terence Flanagan will be now he's a Renua candidate, but he was an impressive poll-topper in 2011.
The battle for the last two seats could be between Flanagan, McGrath, Broughan, and Ó Ríordáin with Fianna Fáil-turned-independent senator Averil Power, Social Democrat Cian O'Callaghan and People Before Profit's John Lyons in the running too.
Why it's one to watch: The sheer number of high-profile names makes this a fascinating battle. If the constituency elects both Broughan and McGrath then it's indicative of a strong anti-government, pro-independent sentiment. If Fianna Fáil returns Haughey, or even Heney, it will show the party is recovering in Dublin. On a great day for Fine Gael the party could get a second seat through Naoise Ó Muiri, a former Dublin lord mayor.
This four-seater is largely unchanged from 2011. Three TDs in Renua's Lucinda Creighton, Fine Gael's Eoghan Murphy, and Labour's Kevin Humphreys are seeking to retain their seats. Ruairi Quinn (Labour) is retiring.
The strong Fine Gael vote in the constituency should easily elect Murphy. He'll be hoping his surplus will get running mate Kate O'Connell elected. Fine Gael hopes this pro-choice councillor can oust Lucinda Creighton following the former minister's fraught departure from the party. But the Renua leader will be confident of holding her seat and many expect her to do so.
Humphreys is coming under pressure from Sinn Féin's Chris Andrews, formerly of Fianna Fáil, while Eamon Ryan, who polled strongly in last year's European elections, is considered a strong possibility for a seat. Fianna Fáil's Jim O'Callaghan is good candidate who has a strong media profile as the party's legal advisor, but he appears unlikely to win a seat.
Why it's one to watch: It would be bad news for Labour if Humphreys loses out to Sinn Féin's Andrews. The election of two Fine Gael TDs would represent a great day for the party, but is an uphill task with Creighton still holding onto some of her 2011 FG vote. If the Renua leader lost her seat it would be nothing short of disastrous for the nascent party.
The redraw has seen this four-seater gain voters from Dublin Central and lose some to Dublin Fingal. Labour's Joan Burton, Fine Gael's Leo Varadkar and Socialist Ruth Coppinger are seeking re-election. Coppinger's fellow Socialist Party TD Joe Higgins is retiring.
Varadkar is considered safe and many believe he will top the poll. Sinn Féin's Paul Donnelly, who has performed strongly in the two by-elections held here since 2011, is also tipped to take a seat.
Burton, Coppinger, David McGuinness – an independent who quit Fianna Fáil after the party picked Jack Chambers to run – and Chambers himself will be in the mix for the final two seats.
Why it's one to watch: All eyes are on Joan Burton, who is in danger of losing her seat due to Labour's declining popularity. That would be utterly disastrous for Labour. The battle between McGuinness and Chambers will be fascinating with the election of the latter crucial to Fianna Fáil's hopes of recovery in Dublin. Some will also be watching to see if Coppinger can retain Higgins's strong core vote.
A portion of south Mayo has been moved into this vast five-seater which is why Fine Gael's John O'Mahony has moved constituencies to run alongside incumbent TD Seán Kyne and Senator Hildegarde Naughten. Brian Walsh is not contesting for Fine Gael on health grounds. Elsewhere, Éamon Ó Cuív (FF), Derek Nolan (Labour) and independent Noel Grealish are all seeking to retain their seats.
Ó Cuív is considered a certainty to hold his seat and will hope to take one of his two running mates, Mary Hoade and John Connolly, with him. The likely Fine Gael seat is expected to go to Seán Kyne. Crucial to O'Mahony's re-election will be appealing to voters beyond his Ballinrobe stronghold. 

Labour's Derek Nolan has a chance but faces a battle with former party colleague-turned-independent Catherine Connolly. She is a strong contender as is Sinn Féin's Trevor Ó Clochartaigh who is also ex-Labour. Former PD Grealish faces a considerable battle with other strong independents like James Charity (briefly of Renua) and Fidelma Healy-Eames.
Why it's one to watch: It will be a good day for Fianna Fáil if Ó Cuív brings in one of his running mates. This will be equally true for Fine Gael if all three of its candidates get elected. If Nolan were to lose his seat, in what was once Micheal D Higgins's stronghold, it would be disastrous for Labour.
This unchanged five-seater will see Fine Gael's Fergus O'Dowd and Peter Fitzpatrick seek to retain their seats along with Labour's Ged Nash and Sinn Féin leader Gerry Adams. Fianna Fáil's Seamus Kirk, who was automatically re-elected in 2011 as Ceann Comhairle, is retiring.
Adams topped the poll in 2011 and he is expected to take running mate Imelda Munster into the Dáil with him this time. Fianna Fáil's vote collapsed in 2011 but Declan Breathnach is viewed as having the best chance of wining back a seat for the party. Nash will hope transfers from colleague Mary Moran will see him hold on.
A fascinating battle for what could be just one Fine Gael seat is underway between Fitzpatrick and O'Dowd with the former claiming in a letter to constituents that the latter is safe. O'Dowd doesn't see it that way but seems the more likely to be re-elected. There are some strong independent candidates in Maeve Yore and Kevin Callan, both running under the Independent Alliance banner, and in with a chance. Watch out for the Greens' Mark Dearey as well.
Why it's one to watch: It will be a good day for Sinn Féin if it takes two seats while the government's woes would be compounded if only one of their three TDs is returned. There will be some evidence of Fianna Fáil's recovery nationally if it takes a seat while the success – or not – of the Independent Alliance may depend on one of Yore or Callan getting elected.
Geographically, Mayo is the largest constituency in the country but has gone from five to four seats in the redraw. John O'Mahony's move to Galway West means Fine Gael is not faced with retaining four seats, but it hopes Taoiseach Enda Kenny, Michael Ring and Michelle Mulherin will all be re-elected. Fianna Fáil's Dara Calleary is also seeking re-election.
Kenny and Ring are considered safe in this Fine Gael stronghold but it will be interesting to see which one of them tops the poll. The Taoiseach topped the poll in 2011 but Ring is considered to have done more for the constituency in the last five years. Mulherin could be in trouble.
Fianna Fáil expects Calleary to be re-elected and is hopeful that running mate Lisa Chambers will be elected with him. Sinn Féin is targeting a seat and Rose Conway-Walsh should perform strongly. Independent Michael Kilcoyne, who hasn't yet declared, will do well if he decides to run.
Why it's one to watch: It's a good day for Fine Gael if all three of its TDs are re-elected. The same is true for Fianna Fáil if Calleary and Chambers are both elected. Sinn Féin would spring surprise if Conway-Walsh took a seat and it would be evidence of a strong anti-establishment sentiment among the electorate.
One of the oddest constituencies in the country, this four-seater takes in all of Sligo and Leitrim as well as areas of South Donegal and West Cavan. It effectively replaces the old Sligo-North Leitrim and Roscommon-South Leitrim. Fine Gael's Tony McLoughlin and – following his legal battle – John Perry are seeking re-election. Sinn Féin's Michael Colreavy is retiring.
The Perry debacle put paid to Fine Gael's intention of dividing the constituency between McLoughlin in Sligo and Reynolds in Leitrim. Now Ballymoate-based Perry will be seeking votes from all areas. This means Fine Gael is likely to take only one seat, probably McLoughlin.
Fianna Fáil will hope one of Marc MacSharry and Eamonn Scanlon can take a seat for the party while Sinn Féin will feel that Martin Kenny has a good chance of being elected. The last seat will be a battle between Labour senator Susan O'Keeffe and independents Declan Bree and Marie Casserly.
Why it's one to watch: Perry's high-profile battle to be on the ticket creates an interesting story particularly if he fails to win a seat or takes one at the expense of candidates chosen by local members. The strength of anti-government sentiment will be evident in the level of support for Fianna Fáil, Sinn Féin and independents. If all three were to take a seat each it could be a bad day for the coalition.
The merger of Tipperarys North and South into one five-seater means that six incumbents are seeking re-election, including independents Michael Lowry, Mattie McGrath and Seamus Healy (who is technically WUAG); Fine Gael's Noel Coonan and Tom Hayes; and Labour's Alan Kelly.
Despite the redraw, Lowry is considered safe as houses. Fine Gael should take a seat and Hayes is considered more likely than Coonan who has lost some of his stronghold into Offaly. Fianna Fáil will be hoping one of its three candidates is good for a seat with Michael Smith junior, son of the former defence minister, considered the strongest candidate.
The last two seats will come down to a battle between independents Healy and McGrath; Sinn Féin's Seamus Morris and Labour's Kelly.
Why it's one to watch: Alan Kelly's fate will be closely watched here while it will be interesting to see how strong the sentiment is for independents with Lowry, Healy and McGrath all strong contenders. A seat for Sinn Féin, particularly at the expense of Labour, would be a massive coup for the party.