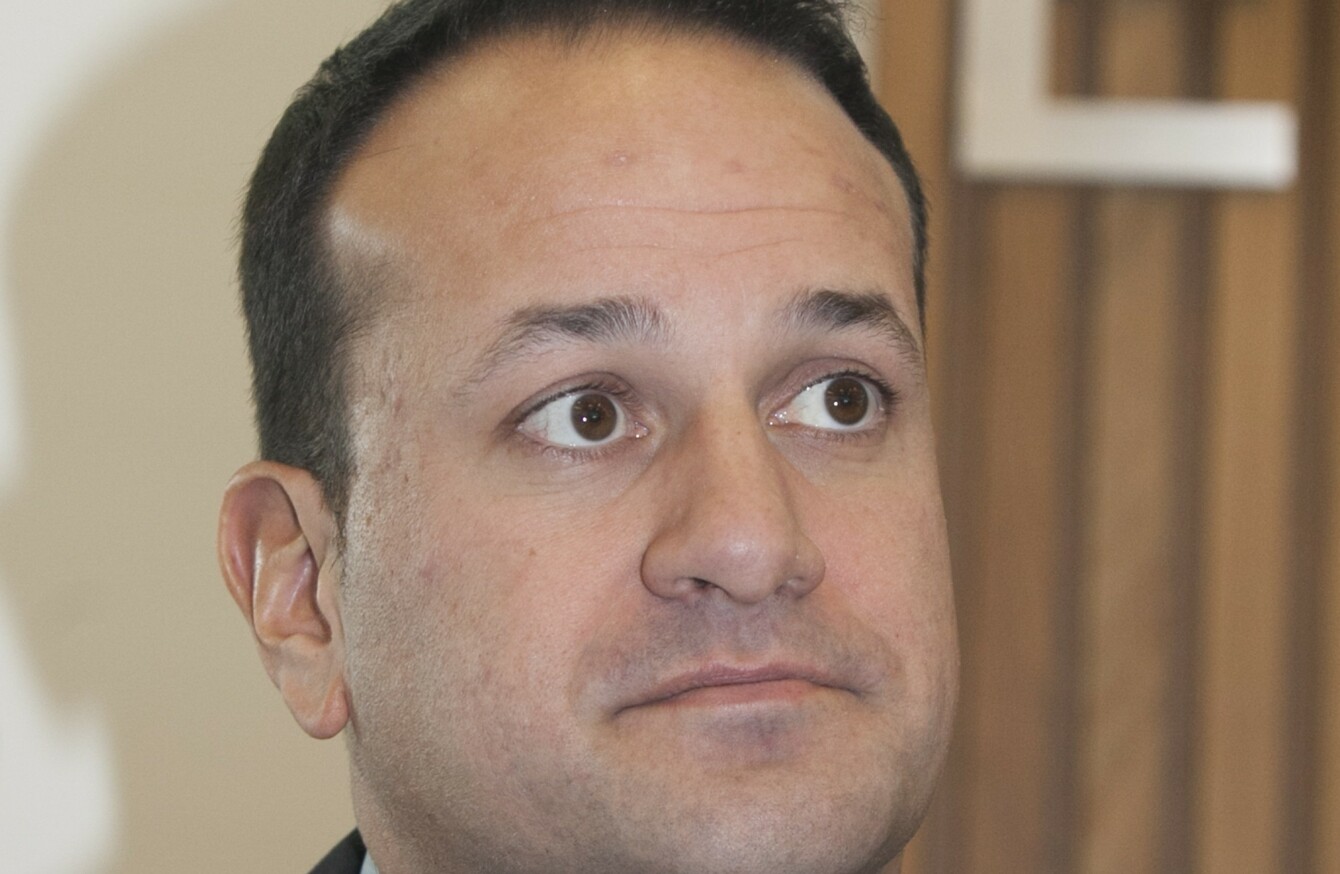 Health Minister Leo Varadkar
Image: Leah Farrell
Health Minister Leo Varadkar
Image: Leah Farrell
Updated 8.44pm 
THE HEADLINES THIS morning did not make good reading for the government as various outlets reported that the much-vaunted plans for the government to eventually introduce universal health insurance were being dropped amid spiralling costs.
The policy was championed by former health minister James Reilly and the idea was simple: the two-tier health system in this country, where those who can afford it can jump the queue for private healthcare, would be eliminated.
In its place would be a system whereby everyone becomes a private patient and has to purchase health insurance.
The State would pay insurance premiums for those on low incomes and subsidise others. People who refused to take out cover would have the cost deducted from their earnings.
A long-stated aim
At the 2007 general election it was championed by both Fine Gael and Labour as a solution to the seemingly never-ending crisis in health.
The 2007 Fine Gael manifesto stated:
Moving towards a system of Universal Health Insurance is a shared objective of both parties, but introducing such a system requires a phased and planned approach, taking into account the critical state of our current health system.
In 2011, it formed part of Enda Kenny and Fine Gael's famous Five Point Plan which promised "a completely new healthcare system". The Fine Gael-Labour programme for government couldn't have been clearer:
This Government will introduce Universal Health Insurance with equal access to care for all. Under this system there will be no discrimination between patients on the grounds of income or insurance status. The two-tier system of unequal access to hospital care will end.
The key phrase there is "this government". It implied a commitment that UHI would have been introduced within the lifetime of the current coalition government.
But that's not going to happen, and indeed the indications are now that it might not even happen in the lifetime of the next government – if it's re-elected.
Playing down expectations
Reilly, who endured three torrid years in Health, championed UHI and even published a white paper on UHI last year just before he was replaced by Leo Varadkar.
The white paper envisaged eventually scrapping the current two-tier health system in favour of making everyone pay for their care through an insurance scheme funded by private operators and the state-owned VHI.
Shortly after he came to office, Varadkar played down expectations that UHI could be implemented anytime soon, saying a plan to have it in place by 2019 was "too ambitious". Instead, the new minister wanted to focus on the rollout of free GP care and more primary care centres.
In a speech earlier this month, Varadkar said that universal healthcare was achievable but indicated it would be well into the government's second term – if re-elected – before it could begin to be implemented:
A reformed health service providing universal healthcare is not impossible. It just needs to be approached with determination, over a sensible period of time and on the basis of a realistic vision.
In the next five years, with a political mandate behind it and a strong stable economy to finance it, I believe we have a new opportunity to do exactly that.
The cost issue
Last year he had asked researchers to look at costing different degrees of cover for UHI including confining it to hospital-only care and excluding drugs or primary care.
It is this research which forms the basis of a memo Varadkar brought to cabinet today.
The analysis estimates that under the UHI model as currently proposed, a health insurance package  - including GP, hospital and mental health care – would cost over €2,200 for adults and €773 for children before any State subsidies are applied.
It would also increase the cost of running the health service by €650 million annually.
The analysis concludes that this extra spending would not outweigh the benefits in terms of improving patient outcomes, lowering healthcare prices or lowering premiums.
This evening, Varadkar told reporters that this model "will never come in":
The premiums that are proposed are far too great for any family to pay or the exchequer to fund if we were to go down the list of subsidies.
Dead in the water?
This, to some, implies that UHI is dead in the water.
Fianna Fáil leader Micheál Martin, a former health minister, said the government should resign over what was effectively the abandonment of one of its core policies at the last election.
This is a resigning matter. We would like the electorate to take matters into their own hands.
The Irish Medical Organisation said it was clear the policy was now being shelved altogether. The IMO president Dr Ray Walley said that the policy was flawed anyway:
UHI was miss-sold as a commitment to Universal Health Care but it was never about that.  UHI was about a new financial management model.  A clear distinction must be drawn between UHI and Universal Healthcare.  The key beneficiaries of the UHI model are the private insurers and there are no improved outcomes for patients.
A form of UHI
But the government sees it differently and, in principle, remains committed to UHI.
A spokesperson said this evening that it remains committed to the principle of universal healthcare (who isn't?) that is funded "through a form of UHI".
They added: "Building on the reforms already put in place, we will continue to move away from the wasteful, inefficient and unfair approach to health service provision that we inherited from the previous Government.
This must be done in a way that is affordable for both taxpayers and buyers of health insurance.
Varadkar said this evening there are other models of UHI that are "deliverable" but not within the lifetime of even the next government:
We need to build on the reforms we've made already in primary care and social care, extending free GP care to other children, continuing to expand care to the elderly and also crucial financial reforms like money follows the patient, activity-based funding and also dismantling the HSE… but all of those things are going to take five or more years to do.
In short, this can be interpreted as the government still very much wanting to introduce universal healthcare and doing it through an insurance-based system.
Varadkar now wants further research on the various insurance-based models in other countries to be carried out, while continuing the reforms already introduced.
But if it's not re-elected it's clear from what Fianna Fáil and Sinn Féin are saying that they will abandon the policy altogether.
And even if the government is re-elected two key questions remain unanswered: Exactly what form of UHI is being proposed and when can it be done? Tonight, Varadkar said in answer to the 'when' question that it could be early in the third term.
With so many imponderables between now and 2021 – not least this government being re-elected and then re-elected again - it's almost certain that the death knell for UHI will continue to be sounded even if Varadkar and co insist it ain't all over yet.