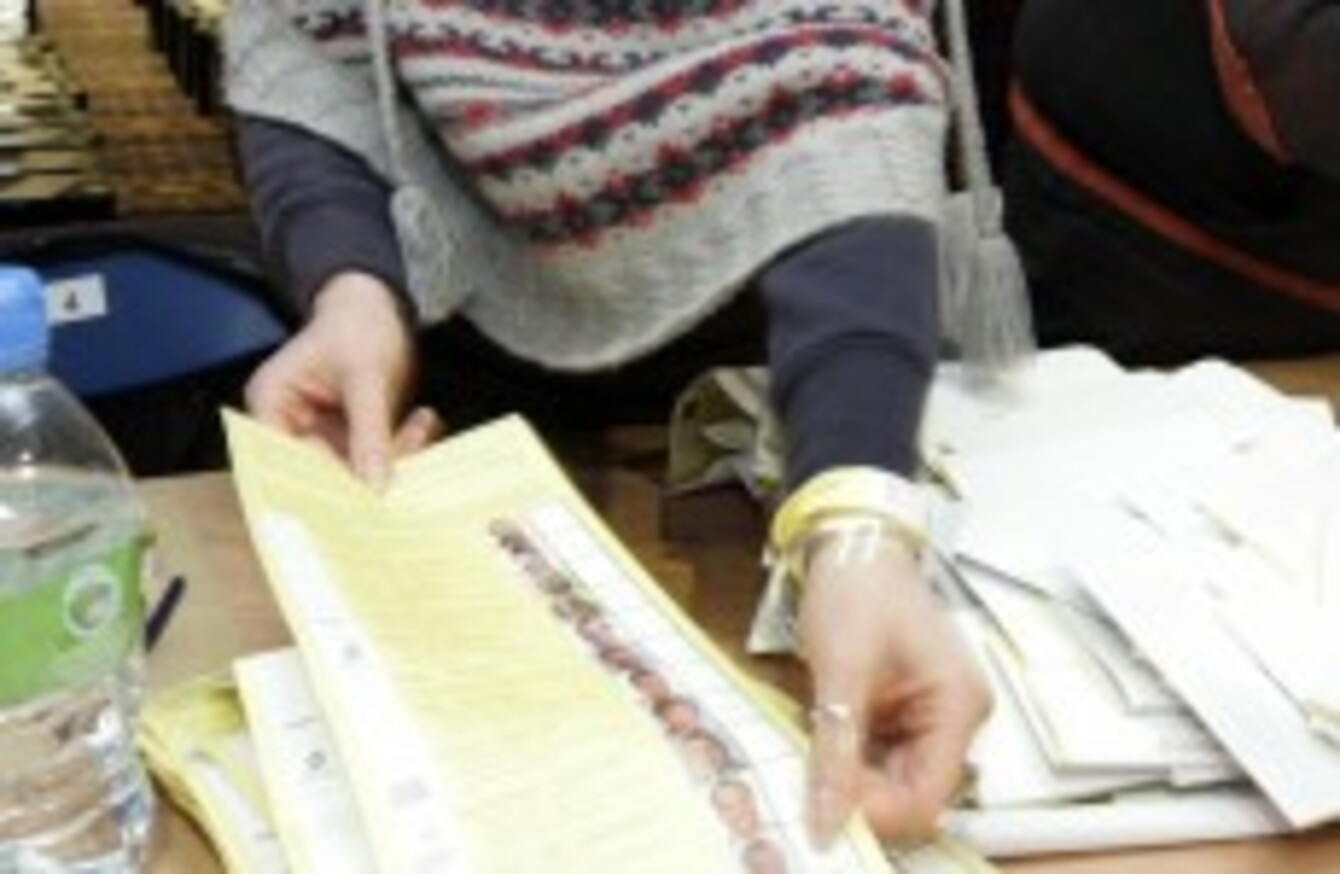 Ballots are counted in the 2011 Dublin West by-election
Image: Mark Stedman/Photocall Ireland
Ballots are counted in the 2011 Dublin West by-election
Image: Mark Stedman/Photocall Ireland
THE BATTLE LINES are drawn, the posters are up and a new TD will be elected in Dublin West in 15 days.
But, whose seat is it? And is there anything that can stop them?
The truth is that the constituency comes with so many variables that it's hard to predict where the seat won by Brian Lenihan, then by Patrick Nulty will go.
Size
The first thing about Dublin West is that it is absolutely massive. Taking in Blanchardstown, Castleknock, Ongar, Tyrrelstown, parts of Clonee, the north side of Lucan, Dublin Airport and a big chunk of Swords, there are well over 100,000 people in the area, with around 65,000 votes up for grabs.
Geographically, it's a tough area for a candidate to traverse because of its sprawling nature, meaning that the snap nature of the by-election puts pressure on local organisations who are already stretched because of the local elections.
The fact that those in Swords are voting for a TD who will not represent them in 2016 also complicates matters. That part of the constituency becomes Dublin Fingal at the next general election.
The signal and the noise
Taking in Swords, there are 24 seats on Fingal County Council, as well as four seats in the European Parliament for Dublin being contested on 23 May.
Adding a by-election to that means that voters on the day will be choosing from over 30 candidates.
For any by-election candidate to be noticed, they have to separate themselves from the pack and rise above the noise. In that regard, two have a distinct advantage.
Eamonn Coghlan, who will contest the by-election for Fine Gael, has being a hugely popular former world champion on his side. Nominated to the Seanad in 2011 by Taoiseach Enda Kenny, Coghlan has never contested an election before now, which could hamper him.
He will attract voters from the more affluent areas of the constituency, hoping to attract the same voters that elected the man who nominated Coghlan, Leo Varadkar.
Independent David Hall is another who has a national profile. His work with New Beginnings and the Irish Mortgage Holders Association will make him popular in many parts of the constituency, which saw massive sums paid for houses in boom times.
From Castleknock, Hall will want to spread his net across Dublin West to attract disaffected party supporters and reluctant voters.
However, his past affiliation with Fianna Fáil could be a problem for some voters.
On the ground
Of course, neither Hall nor Coghlan will have walked the streets of Dublin West looking for votes, something that four other candidates have experience of.
David McGuinness has been the lone bright spot for Fianna Fáil in Dublin in recent years. In the 2011 by-election for the seat vacated by the death of Brian Lenihan, McGuinness performed well above expectations, grabbing over 7,700 first preferences.
He is a councillor for the Mulhuddart ward and hails from the working class Corduff area, meaning that his appeal is not strictly limited to the Lenihan heartland of Castleknock. It may also make him more transfer-friendly than most Fianna Fáilers.
He has already come through a tough nomination contest, seeing off Lenihan's sister Anita and election agent Edward McManus.
Ruth Coppinger of the Socialist Party is another Mulhuddart councillor, having served since 2003. She finished just 200 votes behind McGuinness in the 2011 by-election and has grown into a national politician since then on the back of her anti austerity work.
The recent announcement of the cost of the water tax will give Coppinger ammunition against government parties on the doors and her local network is strong.
However, if turnout is poor, particularly in the working class Huntstown, Mulhuddart and Mountview areas, Coppinger could fall short.
Sinn Féin will run Paul Donnelly, another who will also be on the ballot in Mulhuddart.
Donnelly is a quintessential local representative, who has worked with local sports clubs, community groups and residents associations.
His strong ground game and a buoyant support for Sinn Féin could see him make an advance on the 2011 by-election, when he claimed 3,100 votes.
Green Party chair Roderic O'Gorman is another who is planning for locals, this time in the Castleknock ward. He took 1,700 votes in the last by-election, just months after the party was annihilated in the general election.
Since then, he has maintained a strong local presence and will look to pick off voters in the Castleknock and Carpenterstown areas that don't go for Fianna Fáil and Fine Gael.
The dark horse
It may seem odd calling the party chairperson of the junior coalition partner an outsider in any race, but the Labour Party's Loraine Mulligan is in uncharted territory.
Not originally from the area, her election experience is mostly behind the scenes. Her campaign launch saw support from the party's A-list, but Labour performed woefully in the last by-election in the country and sitting governments have a nasty habit of losing these contests.
Can Mulligan overcome that and convince people to give the seat won by Labour in 2011 back to Labour?
Much will depend on her ability to sell Labour's message that the recovery is happening to the constituents of a Dublin commuter town that still has over 10,000 people unemployed and problems with mortgages, housing, schools and transport.
The verdict
Unlike 2011, when it seemed the seat would go left to either Nulty or Coppinger, there is no prevailing feeling in Dublin 15 right now.
It is likely that turnout could play a massive factor, just as it did in 2007 in this constituency when Joe Higgins lost his seat.
If the Socialists and Sinn Féin can mobilise their support, then their transfers will be key. Hall looks on the face of it to be more transfer-friendly to those on the left, so he too will hope for a high turnout.
McGuinness and Coghlan will both look to inspire their base to come out and vote. In that case, it will be down to who does it better and who can take the floating voters.
As the old cliché goes, it is all to play for.