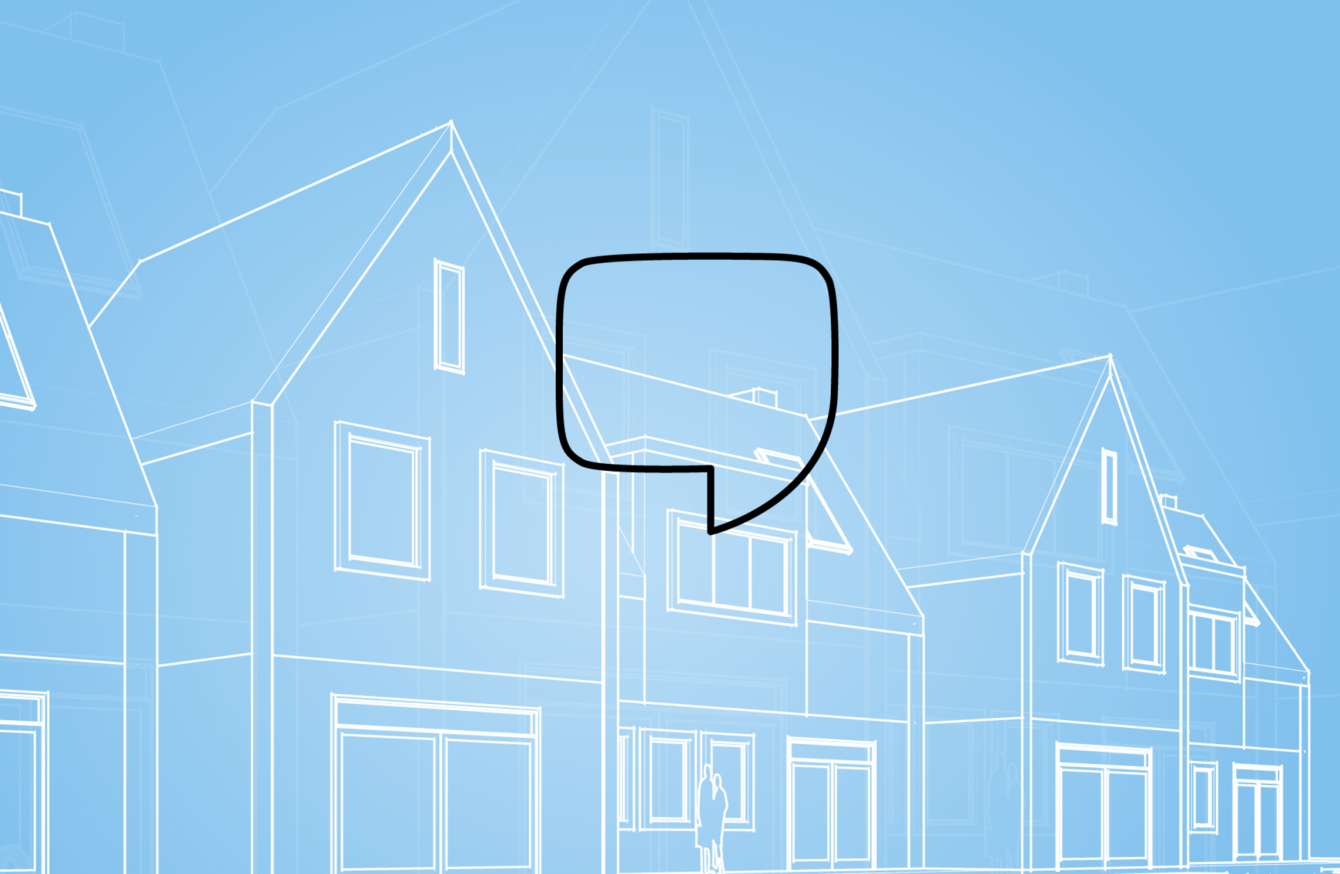 THE HOUSING CRISIS isn't going away any time soon. 
The level of public anger earlier this year over the bulk-buying of family homes was palpable as people watched the pandemic ebb and flow and another crisis loom on the horizon – if it ever went away in the first place. 
The issue of housing came back into sharp focus as people continued to struggle paying rent, were outbid on homes in a market with too little supply, and as Government policy fumbled to get to grips with a reality facing thousands of people: where will we live?
When I was asked to work on the fourth topic for The Journal's Good Information Project, it was something that caught my eye immediately – how do we solve the issue of housing?
It turned out not to be so simple, as you might expect, but as a 30-year-old saving for a deposit with his wife in the city we both grew up in, I felt I was in a good position to try to find some answers.
We want to own a home, we want to live near our friends and loved ones, we want to stay near our community. But for so many like ourselves, that may not be possible.
It was only after asking the question "what are the problems in our housing sector and how do we solve them" did I realise how huge a task this is. 
What is an affordable home? Why do so many housing projects get delayed? How do we protect tenants rights and build a sustainable rental market?
And who is best placed to answer these questions?
Over the past few weeks, I've been delving into all things housing in Ireland, writing about the problems but also the solutions. Here's what I've found out. 
A right to housing
Our first article for this section of The Good Information Project set out our stall for what we'd be looking at over the coming weeks – the problems, the solutions and the personal stories. 
We examined what a constitutional right to housing in Ireland would look like. 
How would this work, and specifically what constitutional amendment would be required?
The Programme for Government commits to holding a referendum on housing – a  commitment with little detail on what said referendum would look like, though broadly interpreted to mean asking the people of Ireland whether we should insert a right to housing in our Constitution. 
And yet we found there was disagreement on how effective such a measure would be – would it actually mean more homes are built? Probably not. 
We wanted to here from other voices too: we held a live event with housing expert Dr Rory Hearne and two of our journalists, which can be viewed here, to discuss the current state of play of the Irish housing market, and we polled readers on which political party people trusted most to deliver on housing. 
After all, the General Election in 2020 was a housing election, and the next one will likely be the same. 
The affordability question
This for me was a key question – why are prices so high and who determines the market?
We took a look at Poolbeg in Dublin where Johnny Ronan plans to proceed with the first part of a major redevelopment at the old Irish Glass Bottle site. 
The 37-acre Poolbeg site in Ringsend, Dublin 4, is one of the last large-scale pieces of development land left in Dublin city with up to 3,800 homes planned for what has been described as a 'new suburb' for the city. 
The problem? The so-called affordable units there could cost as much as €600,000. 
That naturally lead on to the next question – what do people consider an affordable home?
In an Ireland Thinks/The Good Information Project poll, the Irish public mostly disagreed with the Government's Affordable Housing Scheme's assessment of 'affordable'. Overall, 50% of the public suggested that a price between €200,000 and €299,000 was 'affordable – significantly lower than cost of affordable housing in Dublin city, for example, where the cap is currently €450,000. 
In the meantime, the Dáil moved to intervene at Poolbeg with Sinn Féin putting forward a motion to make the homes there "genuinely affordable". 
We took a step back too, to see just what goes into making up the price of housing. My colleague Ian Curran looked at the rise in the cost of building material in Ireland what it means for the housing crisis. 
Voices
As we moved through this cycle we found not only did housing affect nearly everybody in some way, but that people had opinions on where we're going wrong. 
Actor Mark O'Halloran wrote about his struggles in Dublin's rental market:
It is the fault too of the homeless and the working poor and our many distressed communities. It is our fault for believing that the political system is serious about delivering desperately needed change.
It is our fault for not accessing 'the bank of mum and dad', for not believing that €450,00 is an affordable home, for thinking we have a right to a roof over our heads.
And most of all it is our fault for putting up with this bullshit.
Writer Dean van Nguyen said Ireland yearns for strong defences against landlord despotism while architect Emmett Scanlon took aim at the commodification of housing on TV. 
#Open journalism No news is bad news Support The Journal

Your contributions will help us continue to deliver the stories that are important to you

Support us now
A panel of experts joined us to discuss the most viable solution and my colleague Michelle Hennessy took politicians to task in her own inimitable way. 
We also heard from the host of the Talking Bollock Podcast Calvin O'Brien and Terence Power who said Dublin's inner-city communities are being left behind. 
They said: "People are being pushed out to the outskirts of Dublin and even down to the country. And a lot of people have emigrated because they can't even afford to stay." 
Planning and those left behind
As the discussion grew louder, the mica scandal unfolded with Michelle Hennessy taking a look at whether it could still happen today. 
Cormac Fitzgerald examined the figures and the significant barriers of access to secure living arrangements for Travellers and migrants and took a look at what is being done to tackle vacancy in Ireland. 
This came against a backdrop of rising rents and more unsuitable development getting the go-ahead from An Bord Pleanála. 
We therefore wanted to look at how planning could work better – and where is was going wrong. 
CJ McKinney wrote that he whole point of the planning system is to stop builders doing whatever they like, and try to strike a balance between competing interests.
So how does that system work, and is there really a pressing need for reform? Well, it's complicated. 
During all this, Ireland got its first cost-rental model, explored here by Jane Moore, and we found that people are split down the middle on Central Bank mortgage rules that limit the size of mortgages given to people buying a home. 
Digging into all these topics provided serious food for thought as we navigate this crisis – the reality is that it won't be solved any time soon, and not without significant political will. 
It won't be fixed overnight, but I hope out cycle of the Good Information Project enlightened readers in what can often be a noisy and confusing arena. 
Our system will have to adapt and change if supply is to be increased and prices brought down. Similarly, delays in delivery must be pinpointed and addressed.
And perhaps most importantly people affected by this crisis should be heard loud and clear. 
This work is co-funded by Journal Media and a grant programme from the European Parliament. Any opinions or conclusions expressed in this work is the author's own. The European Parliament has no involvement in nor responsibility for the editorial content published by the project. For more information, see here.