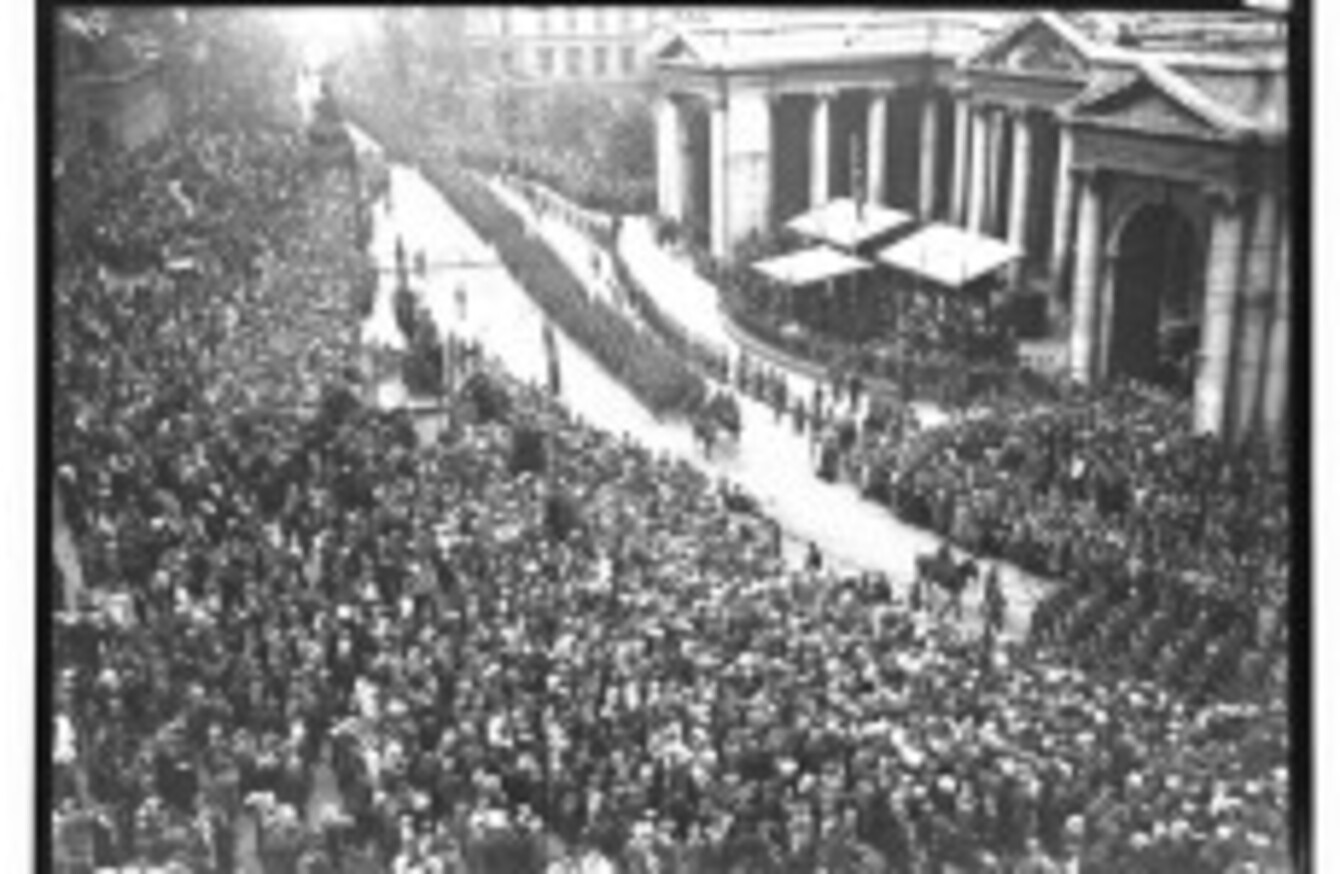 A victory parade in 1919
Image: Joseph Cashman via RTÉ Archives
A victory parade in 1919
Image: Joseph Cashman via RTÉ Archives
IRELAND'S PART IN World War 1 will be explored today at a Road Show being held at Trinity College.
People are being given the chance to tell their family stories, bring in mementos and even eat the rationed food of the war.
It's a big partnership between RTÉ, Trinity College Dublin and the National Library of Ireland.
It's being held as part of a major retrospective to mark the centenary of World War 1.
RTÉ Radio 1 Editor of Arts, Factual & Drama, Lorelei Harris, told TheJournal.ie that, "It's a culminating day of exhibition and broadcasting."
Stories
If you have a family story about World War 1, RTÉ will be there to record it in soundproof booths
Harris said the individual stories will be used in an RTÉ series that will be broadcast in August.
World War 1 on RTÉ is a season of programmes and features to mark the 100th anniversary of the start of World War 1.
Britain declared war on Germany on August 4 1914.
However, it's not just stories that are being preserved- people can bring in war memorabilia to be authenticated and digitally archived by experts from the National Library of Ireland.
What else does the day involve?
The day long programme of free events will include pop up talks, cooking demonstrations, music, theatre and lectures.
There will be three guided tours and very rare access to the Trinity War Memorial in the 1937 reading room.
Lorelei Harris added that people will also be able to have their genealogy checked by genealogy experts.
She said, "We want loads of people to come along and explore what the war was about.
A lot of people will never have had a look at Trinity College before- it's a great way to see what it's all about.
Speaking about RTÉs role in the Road Show, Lorelei said, "We are very proud to be involved, I genuinely mean that."