Image: Maxwell Photography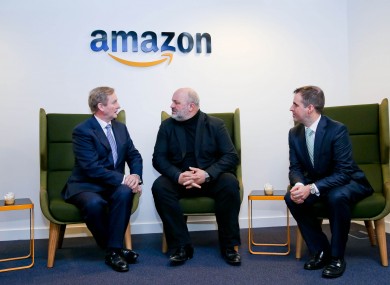 Image: Maxwell Photography
AMAZON HAS MORE than 300 jobs going at its Dublin base, so many that it has had to expand its offices.
It said today that the highly-skilled roles include datacenter technicians, software engineers and customer support staff. They will be hired over the next two years and will be based out of Amazon's offices in Ballsbridge, Dublin.
More room for employees
Amazon has expanded its office space, bringing it to over 100,000 square feet with room to further grow the number of employees in Dublin.
Today's news also comes as Amazon celebrates the start of its tenth year in Dublin. It says that since September 2004 it has invested over €1.5 billion in the local economy.
"Amazon has been an active contributor to the Dublin technology community for a decade and during this time, we have been extremely impressed with the creativity and strong technical talent available in the country," said Dr Werner Vogels, Chief Technology Officer, Amazon.com.
"Amazon has been an integral part of the Irish technology community for many years and we welcome today's announcement of 300 new jobs created in Dublin," added An Taoiseach Enda Kenny TD.
People looking to apply for one of the roles with Amazon in Dublin can apply online.
Action plan for jobs
Also today, the Government announced its third progress report for the Action Plan for Jobs 2014. Taoiseach Enda Kenny said that on average, over 90% of measures set out in the Action Plans to date have been delivered on time within the specified quarter.
If a measure slips for some reason, we acknowledge it and we come back to it in subsequent quarters until it gets done.
"This quarter, we have delivered 88 specific measures out of 100 that were scheduled for delivery. Some of the measures are large and impactful, others are smaller steps towards a larger goal," he said.
He said that these included publishing the National Entrepreneurship Policy Statement; the competition for Ireland's Best Young Entrepreneur; and launching the Strategic Banking Corporation of Ireland.
It also includes 50 new research partnerships between companies and colleges, involving funding of some €5.7 million, and a second tranche of research centres announced by Science Foundation Ireland.
Work has begun on the Action Plan for 2015, and the Government has set itself a target of an additional 100,000 jobs by 2016.