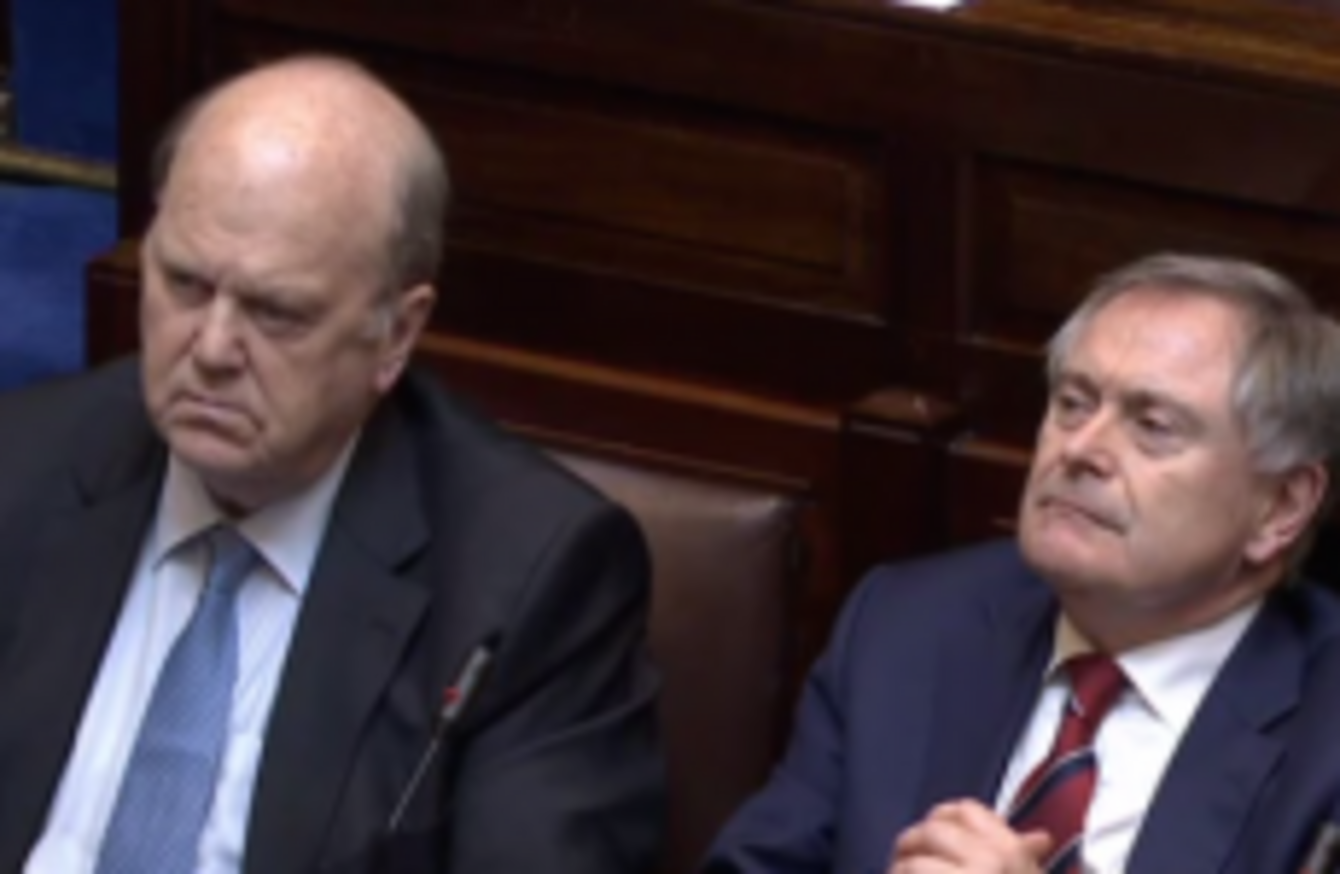 Michael Noonan and Brendan Howlin listening to considerable criticism of their speeches earlier
Image: Oireachtas TV
Michael Noonan and Brendan Howlin listening to considerable criticism of their speeches earlier
Image: Oireachtas TV
IT WAS ALWAYS going to be this way.
Four years ago it was envisaged that having done the heavy lifting and implemented most of Fianna Fáil's four year plan, the Fine Gael/Labour government would be in a position to offer a succession of tax cuts and spending increases and position itself to win re-election in 2016.
The plan went somewhat awry last year when a series of blunders and missteps resulted in the two government parties pretty much screwing up everything and having, by common consensus, an 'annus horribilis'.
Such was the damage that Fine Gael and Labour inflicted on themselves last year, there was an urgent sense within the coalition of the need to regain the initiative and outline to the public the reasons why it should be re-elected.
Opposition parties, particularly Fianna Fáil, make much of the coalition's love for spin, strategic leaks to friendly media and flashy announcements.
They're not wrong. This government LOVES a jobs announcement, a press conference to say how great they are and, this week, days of Dáil debate to ensure every coalition backbencher gets an opportunity to say how magnificent they are.
"We. Are. Great," was one Fine Gael backbencher's succinct tongue-in-cheek summary of the events in the Dáil moments after Brendan Howlin concluded his statement.  Another joked that Enda Kenny was off to the Áras such was the government's confidence in its own excellence.
The statement itself was undoubtedly a PR exercise. There was very little in terms of detail beyond revised economic growth forecasts, a commitment to as much as €1.5 billion in spending increases and tax cuts in the next budget and plans to resume public sector pay talks.
This was the opening salvo in what could be one of the longest general election campaigns in Irish political history.
For the coalition, there is much work needed to convince voters they are worthy of re-election on the evidence of last weekend's opinion poll.
Putting aside nearly all normal Dáil business for the entire week to outline the achievements of the last four years and make vague promises about the next five years isn't enough to convince the public.
Opposition attempts to paint it as an exercise in vanity will likely have more impact on many people tuning in today – if they even bothered at all – than the government parties saying how great they are.
#Open journalism No news is bad news Support The Journal

Your contributions will help us continue to deliver the stories that are important to you

Support us now
Nothing of what Micheal Noonan or Howlin said in the Dáil yesterday will have any tangible benefit to voters right now. They won't feel the effect of further tax cuts until January of next year at the earliest.
But they've been told, in no uncertain terms, that there will be more money in their pockets over the next five years if they stick with this lot. Of course, all of that is dependent on economic growth being more or less maintained at its current levels of between 3 and 4 per cent.
But there are plenty of voters who have given up on this government having become thoroughly fed up of the spin and bluster from coalition figures. For many, water charges was the last straw. They've now entrenched themselves with the Anti-Austerity Alliance and Sinn Féin. Others are drifting back to Fianna Fáil and may have been enticed by some of the centrist policies unveiled at its Ard Fheis over the weekend.
In announcing its plans for the next five years, Fine Gael and Labour have not only tied their fortunes to each other and outlined an economic manifesto for a second term, they've put it up to the opposition parties to come up with the alternative.
The election is on. Over to you Gerry Adams and Micheál Martin.