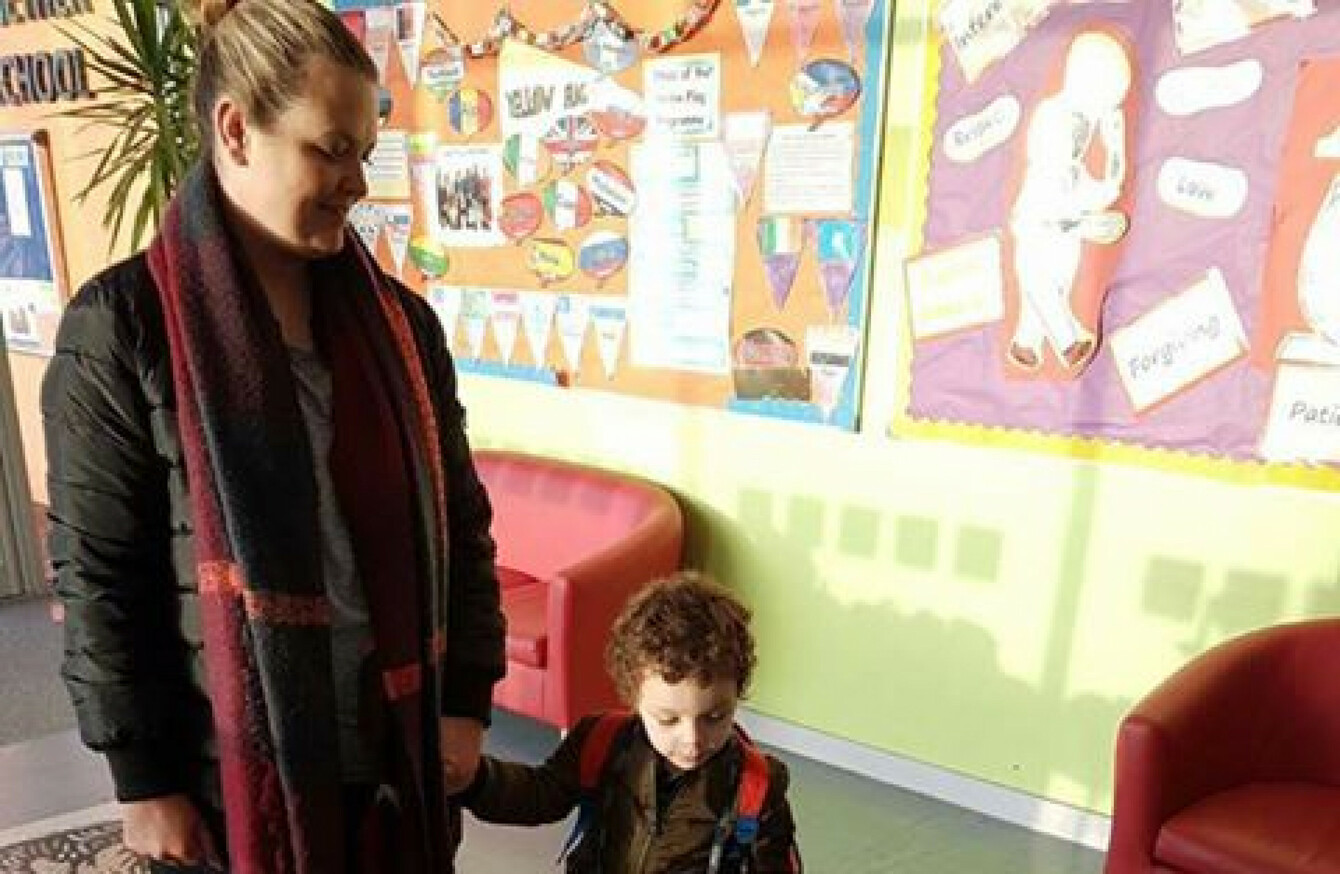 Olga and her son, Andy on his first day of school.
Olga and her son, Andy on his first day of school.
A MOTHER HAS expressed concern about the provision of a new building for her son who has autism, after his school closed down immediately due to building defects.
This week it was announced that a number of schools – Tyrrelstown Educate Together, St Luke's National School also in Tyrrelstown and Ardgillan Community College in Balbriggan – would close immediately following inspections by the Department of Education.
A further 39 schools, built by the same construction company Western Business Systems, would also be inspected, Taoiseach Leo Varadkar has said.
Olga Morgan's son Andy has attended the Autism Unit in Tyrrelstown Educate Together National School since January 2017, along with 11 other children. Andy, who is aged 6, has severe Autism and an intellectual disability. He is also non-verbal.
"As a parent of a child with Autism, you fight from day one, you fight for their placements – it's a constant battle so this is no different. I'll treat this the same way.
You have to be your child's voice.
Olga says that she was suspicious after the Balbriggan school closed down as parents had been notified a month ago that a minor building defect had been found at Tyrrelstown.
"I was suspicious but I thought – No, they're not going to close the school down. I thought there might be more works over the mid-term but that's it. I wasn't expecting it to close down immediately at all."
On Tuesday at 5pm, Olga along with 1,200 other parents at the Tyrrelstown school got a text to say that the school would be closing with immediate effect. She said she immediately messaged the Minister for Education and asked what would happen next.
She said it was "terrifying" to think that the children were in the school when it was unsafe.
Andy has been in that school when there has been storms. What if something catastrophic had happened when the children went back to school after a storm? It doesn't bear thinking about.
It's hoped that interim accommodation will be in place by the time pupils return to school after the mid-term break on 5 November.
But Olga is concerned that an alternative building won't be in place by then.
I know for a fact that there are zero placements in other Autism units in the Greater Dublin Area.
"I've spoken to parents and they have the same anxieties as me – everybody is anxious, parents didn't have the time to prepare their children for the change, they don't just settle back in like other kids."
The disruption to Andy's routine is already having an effect.
"I didn't realise it myself until yesterday how the routine matters so much to Andy," she said.
Yesterday was a nightmare. The bus comes to collect him at 8.30am before my other children, so on Wednesday it was a normal school morning as in he got up at the same time. And then suddenly I'm saying 'Right, let's go in the car and drop Sophie and Cian to school', and he threw himself on the floor and started kicking and screaming and crying.
"He just couldn't understand why he wasn't on the bus. It took 10 or 15 minutes to calm him. He was crying in the car and it was downhill from there. He was so out of sorts for the whole day – he was climbing things, breaking things, ripping things. It was a very difficult day yesterday."
Olga said that today wasn't as bad; his tutor was over which kept him to some sort of routine.

She said that she understands that each child is important, but that continuity and routine is crucial for children with Autism.
"Andy is in the middle of an intense toilet training programme in school and at home, it's important that isn't interrupted.
This could have a knock-on effect for months. Regression is a real possibility.
She said that the best outcome would be that defects in the old building would be fixed in time for the 5 November – but added that won't happen. She said that the next best thing would be for an alternative building to be found, and that it would have to be close by.
Andy wouldn't be able to travel for two hours on a bus somewhere every morning.
She said that furniture was being taken out of the building, so "this is not something that's going to be fixed by the end of the midterm".
There were rumours that the 1,200 students would be dispersed around other schools, but that they were "left in the dark" about what was happening: "There's been no correspondence from anybody since Tuesday – we're finding out the latest from Facebook articles and the news."
A Department of Education spokesperson said:
"The Department of Education and Skills has assembled a team which is currently working on possible interim accommodation options for all students affected by the closures in Tyrrelstown.
The team will be working over the weekend if necessary in order to arrange accommodation. They are particularly aware of the situation of students with special needs.
"The team is in close contact with the principals and patrons of both schools in Tyrrelstown on possible options."
The HSE is also examining hospital units that were built by WBS.