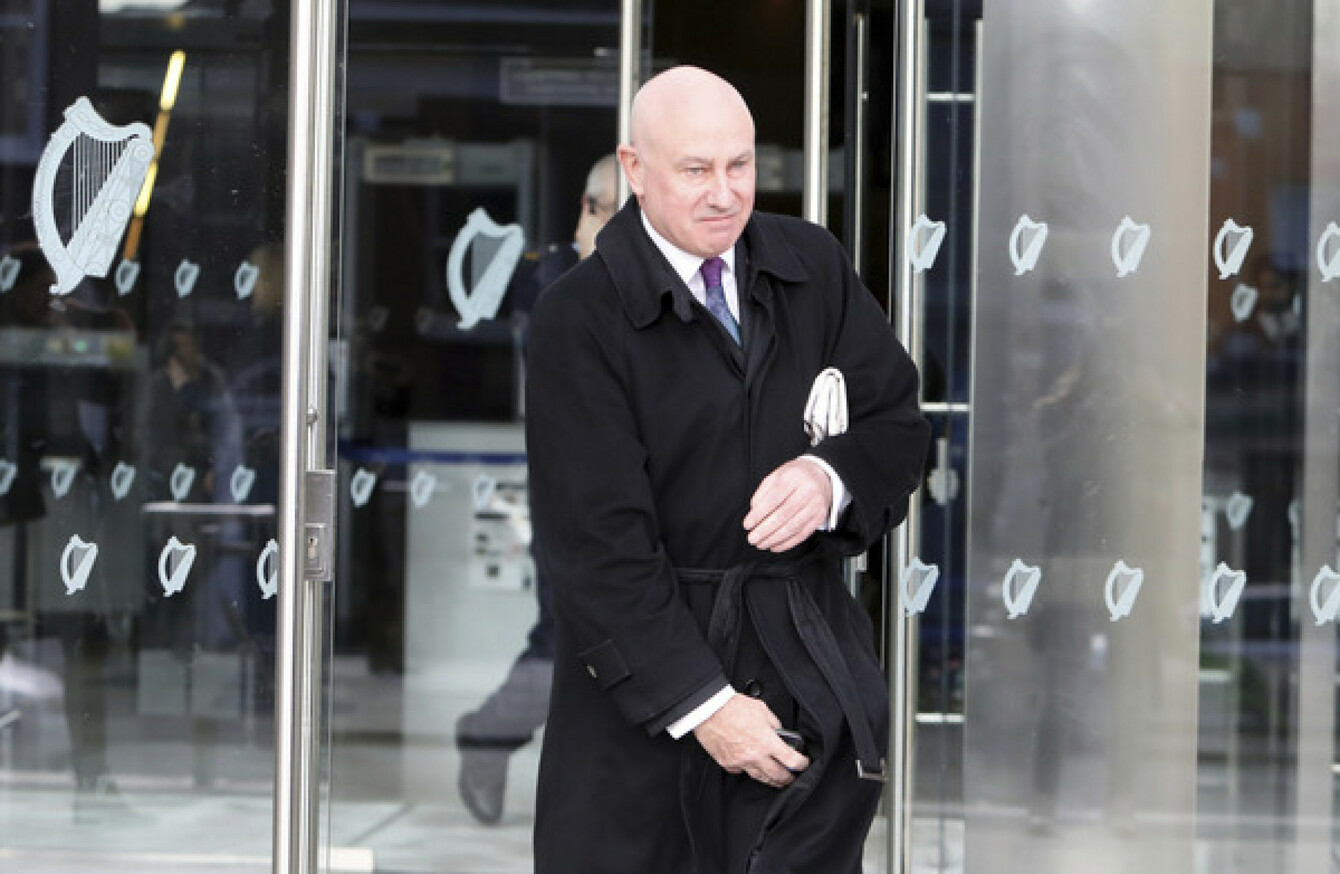 File photo of former official of Anglo Irish Bank Tiarnan O'Mahoney.
Image: Leah Farrell/RollingNews.ie
File photo of former official of Anglo Irish Bank Tiarnan O'Mahoney.
Image: Leah Farrell/RollingNews.ie
EX-ANGLO IRISH Bank executive, Tiarnan O'Mahoney, is seeking legal costs of his original trial for conspiring to conceal bank accounts from the Revenue Commissioners, on top of costs for his successful appeal against conviction and subsequent acquittal.
O'Mahoney (58) of Glen Pines, Enniskerry, Co Wicklow was originally found guilty by a jury in 2015 of knowingly furnishing false information and conspiring to defraud the Revenue as well as conspiring to have accounts deleted from the bank's internal system.
The accounts were alleged to have been connected to the bank's former CEO Seán Fitzpatrick.
O'Mahoney successfully appealed his conviction in March 2016 with the Court of Appeal holding that a substantial number of documents were wrongfully admitted into evidence and that the false information charge was brought outside of a ten year time limit.
A retrial was ordered in respect of O'Mahoney, Anglo's former Chief Operations Officer, which resulted in his acquittal on all charges by direction of the trial judge last year. O'Mahoney has no convictions arising out of the so-called Anglo trials.
The Court of Appeal had awarded costs to O'Mahoney, who has not been on legal aid, for his successful appeal. However, an issue has arisen over precisely "what was said" in relation to costs for the original trial and retrial.
 Digital recording
President of the Court of Appeal Mr Justice George Birmingham directed that the digital audio recording of the order for a retrial be made available to both sides, on foot of an application by O'Mahoney's lawyers.
Counsel for O'Mahoney, Brendan Grehan SC, said his client was seeking costs for the original trial and the matter will come before Judge Martin Nolan on Monday next. Judge Nolan was the judge for O'Mahoney's retrial.
O'Mahoney, who was not in court for the brief matter, originally stood trial alongside Anglo's former company secretary, Bernard Daly (68) of Collins Avenue West, Whitehall, in Dublin and an assistant manager in the bank Aoife Maguire (64) of Rothe Abbey, South Circular Road, in Kilmainham.
Daly and O'Mahoney successfully appealed their convictions and a retrial was ordered in respect of O'Mahoney only. Maguire successfully appealed against the severity of her sentence only and her conviction still stands.
Quashing Daly's and Mr O'Mahoney's convictions in March 2016, Mr Justice George Birmingham said they "should not have had to stand trial" on the charge of furnishing false information because the proceedings were not commenced within the ten year time limit.
They also successfully contended that a substantial number of documents were wrongly admitted in evidence.
Mr Justice Birmingham said the documents, which the trial judge ruled admissible, were "vital to the prosecution case".
These documents allowed the witness – a fraud investigator within Anglo, Patrick Peake – to trace for the jury and to explain and illustrate the means by which Anglo accounts were opened, kept, how ownership was designated, how funds were sourced, moved between different accounts and how the names of different accounts were changed or re-designated at various times.
In circumstances where crucial documentary evidence was admitted in breach of the hearsay rule, Mr Justice Birmingham said the court must uphold this ground of appeal.
 Re-trial 
The question of a re-trial did not arise fo Daly because, the court concluded, there was insufficient evidence to go before the jury.
O'Mahoney's position was different. His "omnibus" ground of appeal concerning multiple complaints related to the trial in the summer of 2015 did not preclude the ordering of a re-trial, Mr Justice Birmingham said. 
At O'Mahoney's subsequent retrial, Judge Martin Nolan directed the jury to acquit him on all charges.
Judge Nolan said that after considering arguments from both sides he had reluctantly come to the conclusion that the case was "too tenuous" to go to the jury and a conviction would be "perverse".
"The evidence of conspiracy to do the acts with which Mr O'Mahoney is charged is too tenuous, too remote in both substance and in time," he said. 
He said he was not satisfied that any properly directed jury could convict in these circumstances, as they would be asked to speculate and to fill in gaps in the evidence adduced during the trial.
Judge Nolan said there was every reason to be suspicious of O'Mahoney's activities in October and November 2003, and his subsequent dealings with gardaí. But, he said, in the absence of formal evidence of conspiracy with Aoife Maguire this was not enough.
Comments have been disabled for legal reasons