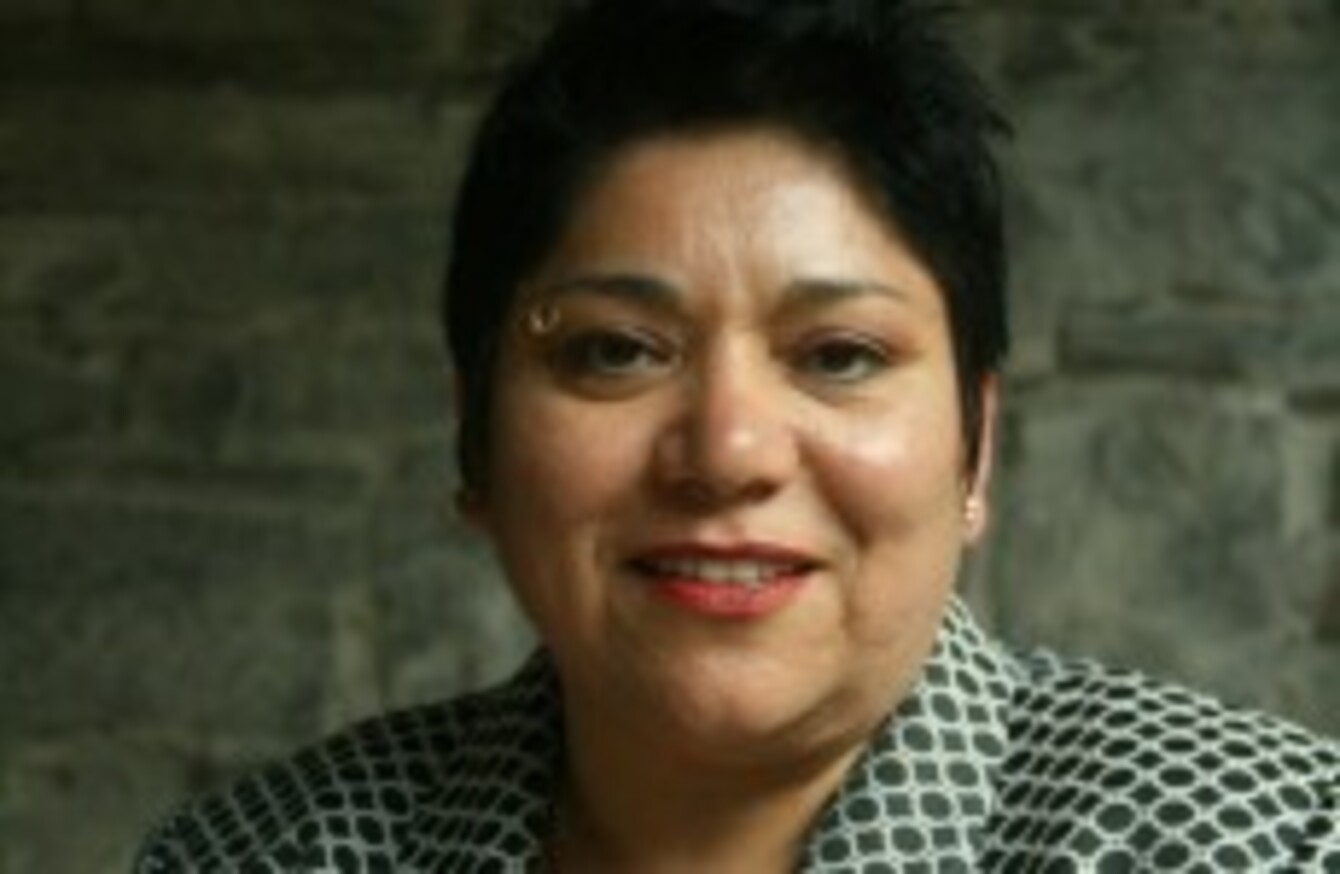 Artist Alma Lopez
Artist Alma Lopez
THE ARTIST AT the centre of the controversy surrounding an exhibition at University College Cork has said that she's offended by the offence caused by her work.
Alma Lopez, a Mexian-American artist, was invited to participate in a conference on Chicano culture at UCC, organised in conjuction with NUI Maynooth and the University of Beilefeld in Germany.
The exhibition featured one of Lopez's works called Our Lady, which is a digital print of the artist's impression of Our Lady of Guadalupe. It was attended by about 50 people, including scholars from Arizona, Germany, Mexico, England, Ireland and Spain.
Lopez told TheJournal.ie that she lays the blame for the controversy surrounding her work at the feet of an American group called America Needs Fatima. She said they have embarked on a campaign of harassment and stalking, and that the group preceeded her visit to UCC by bombarding the college with emails and petitions – thousands of them, compromising the university's system.
The Bishop of Cork and Ross voiced his concern about the exhibition last week, as did Fine Gael Cork South Central TD Jerry Buttimer, while there were protests outside the university for the duration of the conference.
Lopez said that she can't see how she's being accused of blasphemy, because her work has nothing to do with religion. She said Our Lady of Guadalupe is a very important figure in Mexican culture, and a symbol of honour and respect. The artists said that people are confusing the image with that of the Virgin Mary:
I don't want to show my work in a church, it's not a religious piece. It's supposed to be honoured as a symbol of Mexican and Chicano culture and as a tribute to women.
In fact, Lopez said that she's offended by people taking offence to the piece, because she sees it as an affront to women and the celebration of women and her culture. She rejects reports that the woman in the picture is wearing a bikini – she says she is merely covered with roses. The image also features elements of the Coyolxauhqui Stone, which is an Aztec artifact.
'I am an artist!'
Catherine Leen, lecturer at the Department of Spanish at NUI Maynooth, who was one of the organisers of the conference at UCC, said they never dreamed that inviting Alma Lopez to take part would cause such controversy:
We didn't sit around in a room planning and scheming to bring this artist over because we thought it would cause a stir.
Leen told TheJournal.ie that the purpose of bringing Lopez over was to showcase her art and to hear her speak about a book she's co-edited about controversies surrounding images and the use of images of Our Lady of Guadalupe. She said she was embarrassed by the protests and the reception the artist recieved.
Lopez herself exclaimed "I have a Masters in Fine Arts. I am an artist". She has ridiculed Ireland's blasphemy laws, after it was suggested that a file may be sent to the Director of Public Prosections after complaints were made to the Gardaí. Her co-editor on the book – entitled Our Lady of Controversy – Alicia Gaspor de Alba, who is a Professor of Chicano Studies at UCLA, accompanied Lopez on the trip. She told TheJournal.ie that she had done some thorough research on Irish blasphemy laws in advance of the trip. Both women feel that the laws are ridiculous.
Lopez said that her image wouldn't even qualify for investigation under the laws, because it is a work of art, and she is a bona fide artist. She feels controversies like this are stirred up in an attempt to find an easy target or a scapegoat, and to distract from issues within the Catholic Church. She has called on the Irish people to organise themselves against these laws, because "they are a threat to Irish freedom of speech".
Racism, sexism and homophobia
Asked if she feels her sexuality may have something to do with the activities of America Needs Fatima, Lopez said she is certain of it. "I am queer" she said: "I think these protests are about racism, sexism and homophobia". She detailed how the group has protested against businesses in the US for supporting Gay Pride. She and Alicia Gaspor de Alba felt that the protests at UCC had something to do with America Needs Fatima.
The group protested when the Lopez's Our Lady was first displayed in Santa Fe, New Mexico in 2001. After the events in Santa Fe, Lopez did not show the piece again until earlier this year, at a museum in California. Again the group protested. Lopez told TheJournal.ie that although members of the group did not make the trip to Ireland, they certainly made their presence felt.
Our Lady, Alma Lopez, 1999