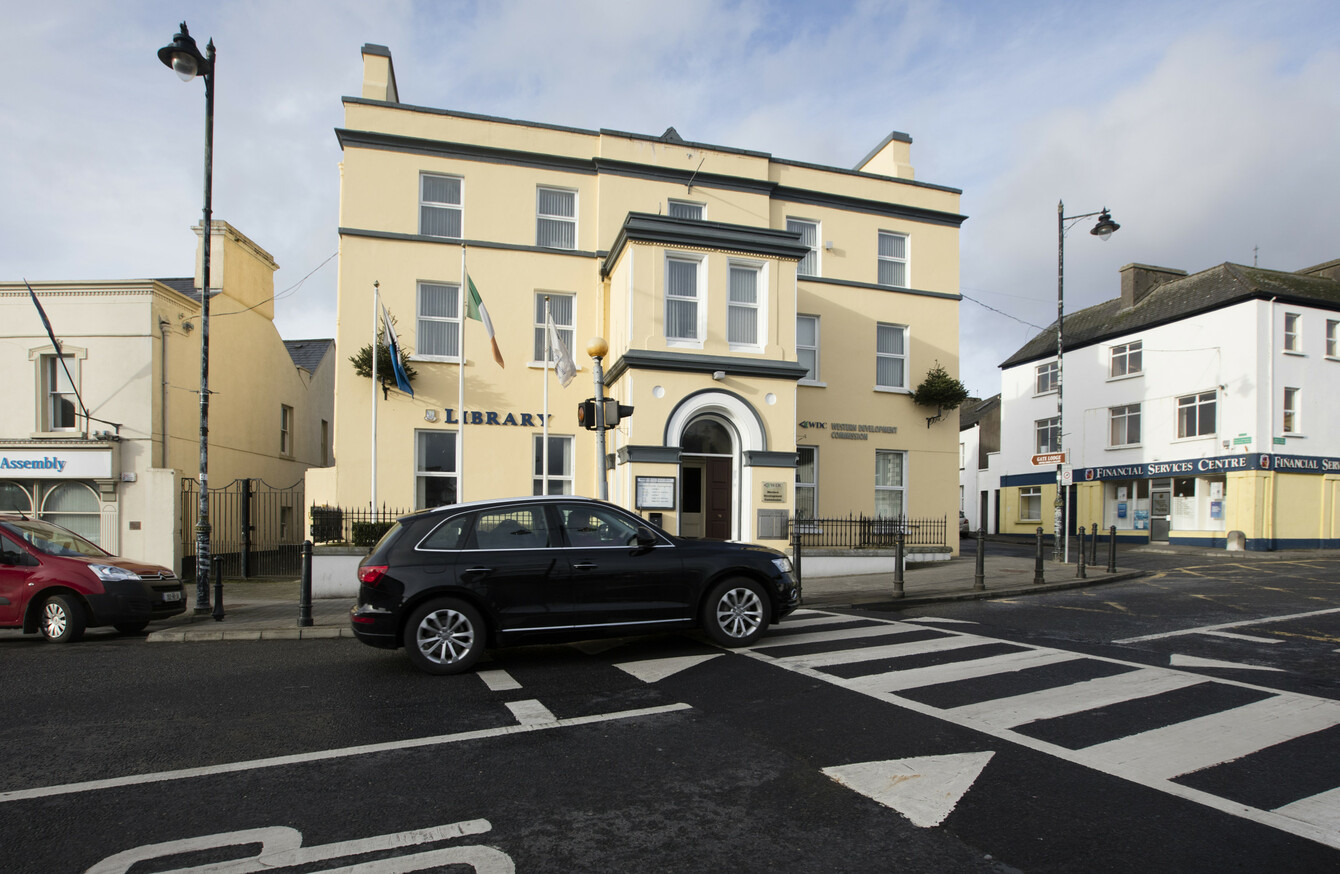 Abbeyfield Centre in Ballaghaderreen, which is now being used as an emergency reception and orientation centre.
Image: Eamonn Farrell/RollingNews.ie
Abbeyfield Centre in Ballaghaderreen, which is now being used as an emergency reception and orientation centre.
Image: Eamonn Farrell/RollingNews.ie
SINGLE REFUGEES WHO have been living at an emergency reception centre in Co Roscommon for the last year are reliant on housing offers from the public due to the shortage of social housing for individuals.
More than 200 Syrian refugees arrived at the Abbeyfield Emergency and Reception Orientation Centre (EROC) in Ballaghaderreen between February and May last year. The Department of Justice told TheJournal.ie that more than one year on from the arrival of the first group, 96 people have been resettled in 31 properties across 12 counties.
This includes 18 families and 21 single persons, who were housed between September last year and February. The Department said further moves are planned in the near future but moves out of the centres are "entirely contingent on accommodation being made available in the relevant local authority resettlement area in a timely fashion".
Housing is not controlled by the Department of Justice and Equality and the supply of housing in a timely fashion is the greatest single challenge facing the programme who are entirely reliant on the local authorities. Most of the single persons are being accommodated via pledges made by the public to the Irish Red Cross as the housing of single persons presents particular difficulties in the current housing market.
'Misunderstanding'
In December, the Irish Red Cross said it had received hundreds of offers for accommodation from members of the public.
The charity said it had supported a number of Syrian and Iraqi families and individuals to move out of EROCs and into vacant standalone housing, private rented accommodation and shared accommodation. At the time it highlighted one particular case – a woman in Baldoyle who took a 26-year-old Syrian refugee into her home.
Last week RTÉ's Drivetime reported that a group of single residents living in the Abbeyfield Centre in Ballaghaderreen had written to the department urging it to stop the Irish Red Cross managing their resettlements.
The department said this letter is a "reflection of the misunderstanding and interpretation of what the refugees are entitled to in Ireland when it comes to housing, although these realities have been exhaustively explained to refugees by both the Department of Justice staff and the Irish Red Cross".
In its response to TheJournal.ie, it said the Office for the Promotion of Migrant Integration (OPMI) conducts weekly or bi-weekly clinics with refugees and works to secure accommodation for them in a timely manner.
However, it said the provision and timing is led by individual local authorities and so the decision has been taken at central level to only resettle people outside of high demand areas. Each local authority has been allocated a cohort of refugees to be resettled in communities in their area.
Last month Minister of State for Equality, Immigration and Integration David Stanton said a further 204 refugees from camps in Greece would be relocated to Ireland in coming weeks.
The government has also pledged to take 600 refugees from camps in Lebanon over the course of this year. Some of these refugees will be housed in the Ballaghaderreen centre.