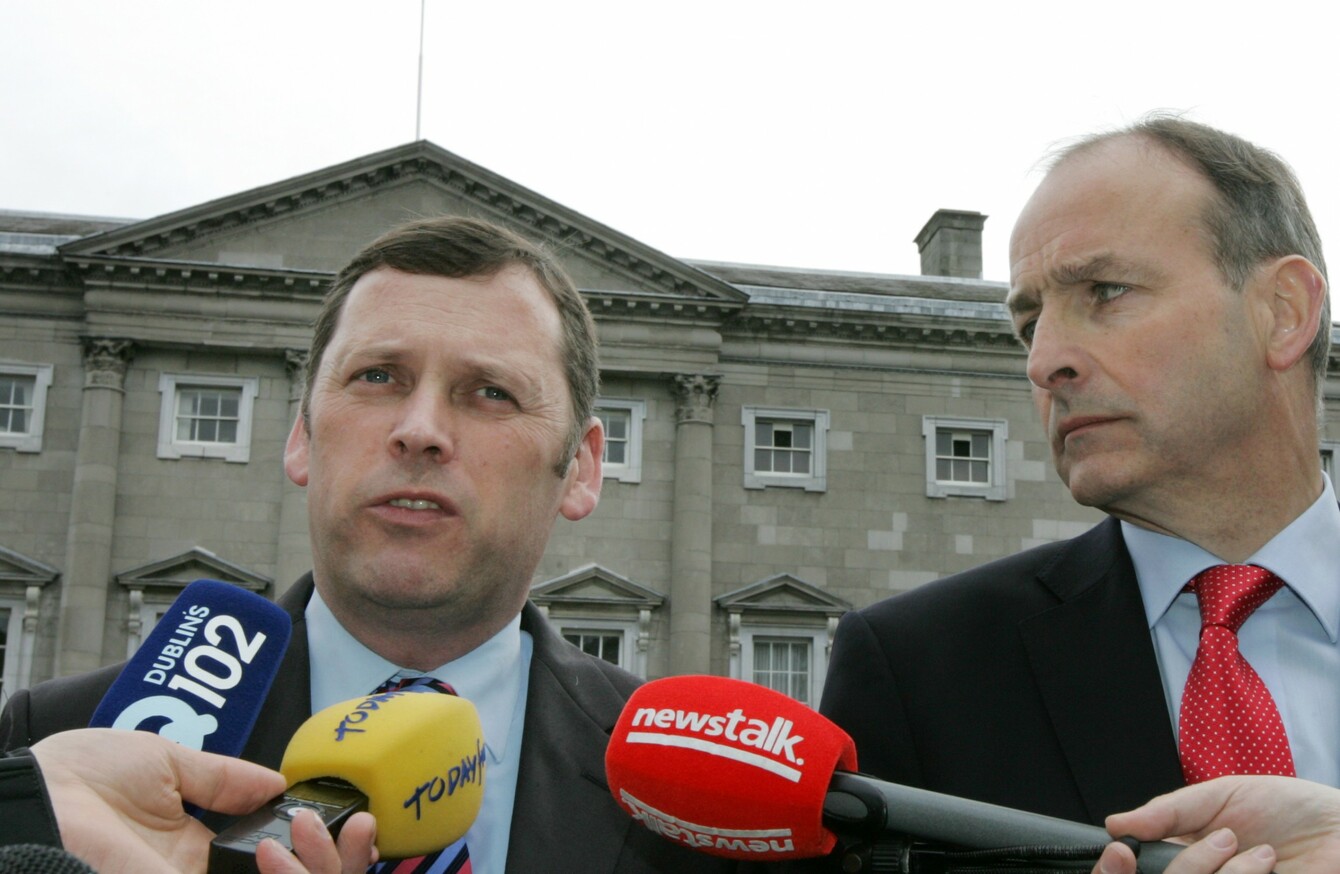 Barry Cowen and Micheál Martin in 2012.
Image: Sam Boal/Photocall Ireland
Barry Cowen and Micheál Martin in 2012.
Image: Sam Boal/Photocall Ireland
Updated Jul 15th 2020, 12:31 PM
TAOISEACH MICHEÁL MARTIN has told the Dáil that as soon as Leaders' Questions was over yesterday, he contacted Barry Cowen and said his position in refusing to come before the Dáil to answer questions "was not acceptable or tenable".
Yesterday evening the Taoiseach sacked Cowen as Agriculture Minister.
Cowen had come under fire in recent weeks after it emerged he was issued with a three-month driving ban in 2016 for being over the legal alcohol limit.  
Martin made the announcement in the Dáil chamber last night, stating that he had read the Garda report and said that it "raised additional issues" about the incident that require "further explanation and clarification".
He added that Cowen wasn't prepared to answer further questions publicly about the incident, which lead to Martin sacking Cowen, the brother of former Fianna Fáil Taoiseach Brian Cowen.
The Offaly TD reacted to his removal as minister on Twitter: "I am both surprised and disappointed with this decision."
Martin told the Dáil this afternoon that he sought the Pulse file on Monday night from Cowen, and only saw it for the first time at 7.30am yesterday morning.
The Taoiseach said he didn't know what was in the file until yesterday.
He told the Dáil that he was satisfied yesterday that Cowen should come in before the Dáil to address matters.
After Leaders' Questions
Martin said he made it clear to Cowen he should answer questions, and after Leaders' Questions he said that to him.
"I made it clear to Deputy Cowen yesterday morning that he should come into the House. He said he wasn't going to, and I said I want you to reflect on that."
The Taoiseach said he told Cowen yesterday afternoon that it was "not acceptable" that he was refusing to answer questions in the House.
Cowen still "refused to go that route", the Taoiseach told the Dáil.
Martin said the fundamental difference between Cowen and his viewpoint is Cowen took a legalistic approach to defend his rights as a citizen, which he said Cowen is entitled to do. 
However, Martin said he felt the matter could only be resolved through the "political route", as Cowen is a TD and minister. 
"He wanted to go the legal route, that to me wasn't tenable," said Martin.
The Taoiseach said that Cowen's decision meant he was left with no other choice but to fire him.
Sinn Féin's Mary Lou McDonald also raised an issue with Cowen disputing a Garda report. 
"I've my own view on it, and I didn't have that perspective a week ago… I've never said, in any shape or form – never have I sought – to undermine any Garda, or to undermine the accuracy or the credibility of any Garda statement," said Martin. 
However, he said Cowen disagrees with what is said in the file. Martin said any citizen has that right and has a right to seek it be changed.
Labour's Alan Kelly said he was confused about what happened with Cowen.
"What has changed is your interpretation of this, politically when it was not causing a big issue for you Cowen could stay, but when it was he couldn't," he said, stating that this brings the judgement of the Taoiseach into question.
Kelly also queried whether the file is a Garda file or a Pulse file, stating that citizens don't get access to Pulse files. 
"You refer to it as a garda report or record, he refers to it as a Pulse file. Which is it?
"This is a subject Access Request Form. This is how you get information about yourself from An Garda Siochana. It usually takes between one and three months.
"How was this information provided to then-minister Cowen? Was it expedited for some reason?" asked Kelly.
Many people are asking how he got that file, how it was provided, because such a request for information usually takes about three months, said Kelly.
Martin said Cowen was taken aback and shocked that a journalist had got access to a Pulse file on the case, stating that Cowen did not have access to it.
Cowen called the gardaí last week to get access to his own information in the file, confirmed the Taoiseach.
Everyone should be concerned about the fact that others had access to the file when Cowen did not, said Martin.
The matter relating to Cowen and his drink-driving ban has become a "huge public controversy", admitted the Taoiseach.
The sacking of Cowen followed on from revelations in the Irish Independent that in 2016 Cowen was banned from driving for three months after testing over the drink-drive alcohol limit while on a provisional licence.
At the weekend, the Sunday Times published a story claiming that the official Garda report of the incident at the Garda checkpoint indicated that Cowen had attempted to evade the Gardaí – a claim he strenuously denies.
#Open journalism No news is bad news Support The Journal

Your contributions will help us continue to deliver the stories that are important to you

Support us now
Cowen has now asked for an internal investigation of the Garda report of the incident, Gardaí have begun an internal investigation, and the Garda Ombudsman is also to be involved in the review.
Martin is the Taoiseach in a three-party government, where the leaders of the two other parties – Fine Gael's Leo Varadkar and the Green Party's Eamon Ryan – had called on Cowen to answer questions about the disputed facts at the Garda checkpoint in 2016.
Mayo TD Dara Calleary was today announced as the new Minister for Agriculture, Food and the Marine.
Jack Chambers will take over Calleary's role as Chief Whip.
A Cabinet meeting is to be held this evening on whether Ireland should move to Phase Four of Ireland's roadmap to easing Covid-19 restrictions (due to take place on Monday, 20 July).
Speaking on Morning Ireland and on Newstalk this morning about the Cowen controversy, Fianna Fáil's Michael McGrath, Minister on Public Expenditure and Reform, said that the issue had "developed into a political crisis that showed no sign of abating, of going away".
He said Martin's decision was taken "without prejudice" but that the situation was "incompatible with the normal functioning of government".
Every media interview we did on any issue, this was the story that everyone wanted to talk about. 
With reporting by Gráinne Ní Aodha