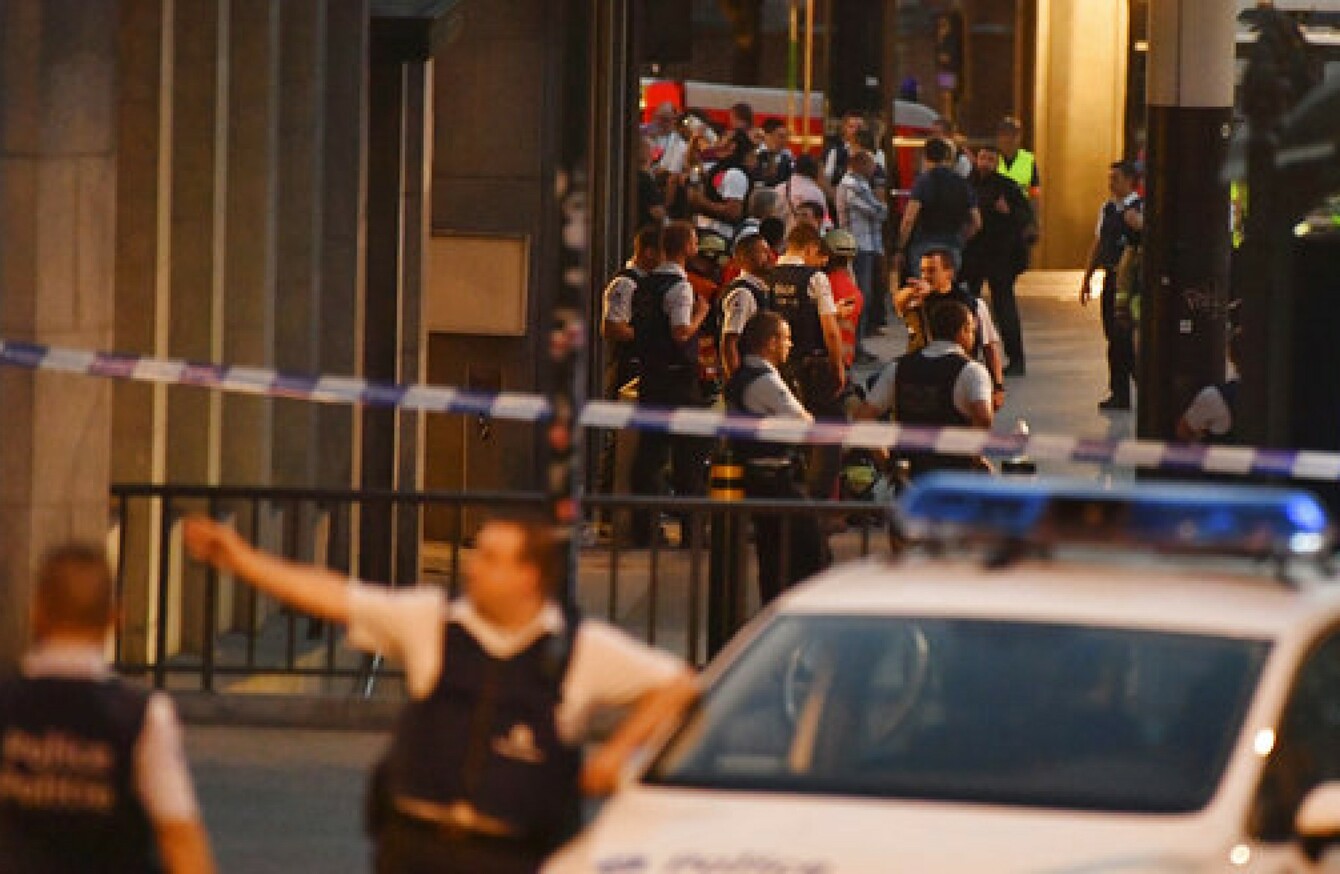 Image: Geert Vanden Wijngaert/AP Photo
Image: Geert Vanden Wijngaert/AP Photo
Updated 10.30pm
SOLDIERS SHOT A suspect in the heart of Brussels after a small explosion at a busy train station this evening.
A bomb squad performed a controlled explosion of a bomb belt the suspect had at the Central Station and was checking to see if there more hazards, VTM network reported.
Authorities set up a wide perimeter around the station, located near the city's famed Grand Place square.
It appeared no one else was injured besides the suspect and the damage from the explosion was limited, Brussels prosecutor's office spokeswoman Ine Van Wymersch told VRT. It was not clear if the suspect survived.
Police are treating the incident as a terrorist attack.
"This is considered as a terrorist attack," federal prosecutor's office spokesman Eric Van Der Sypt told a news conference outside Brussels Gare Centrale station.
He added: "The suspect has been neutralised by the military that were present at the scene immediately after the explosion. "
An eyewitness told AFP that a trolley was blown up by the suspect.
"I went down the mezzanine level, someone was shouting. Then he cried 'Allahu Akbar', and he blew up a trolley," Nicolas Van Herrewegen, a railway sorting agent, told reporters.
I was behind a wall when it exploded. I went down and alerted my colleagues to evacuate everyone. He (the suspect) was still around but after that we didn't see him.
Van Herrewegen added: "It wasn't exactly a big explosion but the impact was pretty big. People were running away."
He described the suspect as well-built and tanned with short hair, wearing a white shirt and jeans.
"A crowd panicked in the station and ran for the tracks after an incident," said Arnaud Reyman, spokesman for Infrabel, the Belgian railway operator.
Broadcaster RTL quoted Fires Services spokesman Pierre Meys confirming that some kind of an explosion had happened in the city's Central station. Meys could not say what had caused the blast.
He could only confirm that firefighters were at the scene.
The Belgian capital's Grand Place, a major tourist site, was evacuated along with the station about 200 meters away.
Police said that they were attending the scene at Brussels Central, adding that the situation was "under control" but urged people to follow instructions given in the area.
Belgium has been on high alert since suicide bombers killed 32 people on the Brussels subway and at an airport in March 2016.
There have been incidents involving extremists in Paris and London in recent days, including the attack by a van driver who tried to run down worshippers outside a London mosque.
With reporting from the Associated Press