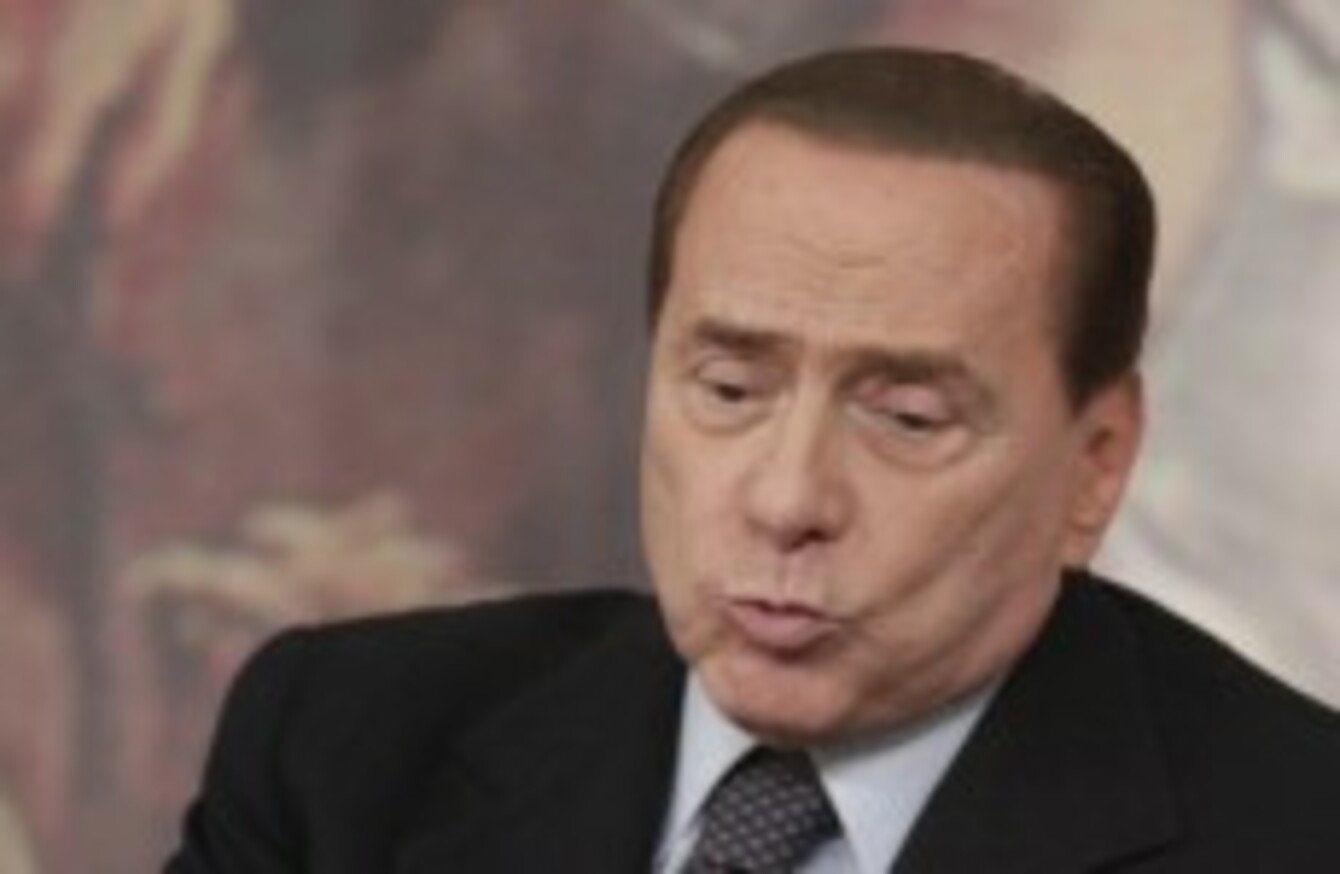 Italian premier Silvio Berlusconi.
Image: Pier Paolo Cito/AP/Press Association Images
Italian premier Silvio Berlusconi.
Image: Pier Paolo Cito/AP/Press Association Images
ITALIAN PRIME MINISTER Silvio Berlusconi's family investment company was ordered Saturday to immediately pay €560 million — a devastating sum and a significant blow to the Italian leader — to a rival media group over corruption in the acquisition of the Mondadori publishing company
The Milan appellate court, while upholding a 2009 verdict against Fininvest, reduced the damages from €750 million.
The civil damage award stems from a case in which three Berlusconi associates were convicted of corrupting a judge to overturn a ruling in favor of industrialist Carlo De Benedetti in the struggle for control of Mondadori in the 1990s.
De Benedetti's company said the verdict confirms that "corruption … organized on behalf and in the interest of Fininvest" was behind his loss of Mondadori in 1991.
Berlusconi's daughter Marina Berlusconi, who chairs Fininvest, said the "totally unjust verdict" was part of a campaign against her father.
"The verdict represents the umpteenth scandalous episode of violent aggression that has gone on for years against my father, by all means and on all fronts, including entrepreneurial and economic," Marina Berlusconi said in a statement.
She complained that the award was worth twice Fininvest's share of Mondadori capital and said lawyers were already working on strategy for an appeal to the nation's highest court.
Berlusconi came under fire this week when he introduced a measure into Italy's austerity budget that would have allowed Fininvest to delay payment until the final appeal. Berlusconi hastily withdrew the measure under opposition political pressure, but even allies claimed to have been unaware that the measure had been buried in the package.
Despite the move, the Italian leader later said there was nothing to stop him from reintroducing the measure in Parliament after the verdict. "Afterward, no one can consider it a norm only for Fininvest," Berlusconi said.
Following the initial verdict, Fininvest made a bank guarantee in a deal agreed by the rival to avoid immediate payment. The appellate ruling implies an immediate cash transaction.
Marina Berlusconi remained defiant.
"We should not have to pay a euro," she said.
The struggle for control of Mondadori was an important turning point for Berlusconi's media empire, wresting control of such influential publications as weekly political magazine "Panorama" from de Benedetti, who owns the Rome-daily "La Repubblica," Berlusconi's fiercest critic.
While the award does in fact dwarf Fininvest's 50.41 per cent share of Mondadori, valued at €306 million at Friday's closing prices, analysts don't expect it will bring financial ruin on the Berlusconi family's family vast media empire, which also includes the separately held Mediaset broadcasting group.
"If you look at Fininvest's balance sheet, there is no economic threat for Fininvest itself," said LUISS law professor Roberto Pardolesi. "I think it is unlikely that Berlusconi will suffer political damage because the worst part of the story, the corruption, has already been digested. This is a kind of conclusion on the story."
Still, the award comes at a time when the premier has been weakened by a series of electoral defeats in recent weeks. Not only did his candidates lose control of major Italian cities in local elections, including his native Milan, but voters reversed several key policies in referendums — including a law that partially shielded Berlusconi and other top officials from prosecution.
Berlusconi has faced dozens of court cases in Milan, most of them related to his business dealings. He has always denied wrongdoing, and in the final verdict has either been acquitted or seen the statute of limitations dropped.
Four cases are currently pending in Milan, including the sensational trial alleging the premier paid for sex with an underage teen and then used his influence to cover it up. The trial continues later this month.
Berlusconi's lawyer, Niccolo Ghedini, who was not involved with the Mondadori case, expressed confidence that Italy's highest court would reverse the sentence.
"The Milan court of appeals has handed down a verdict against all logic," Ghedini said.
- AP