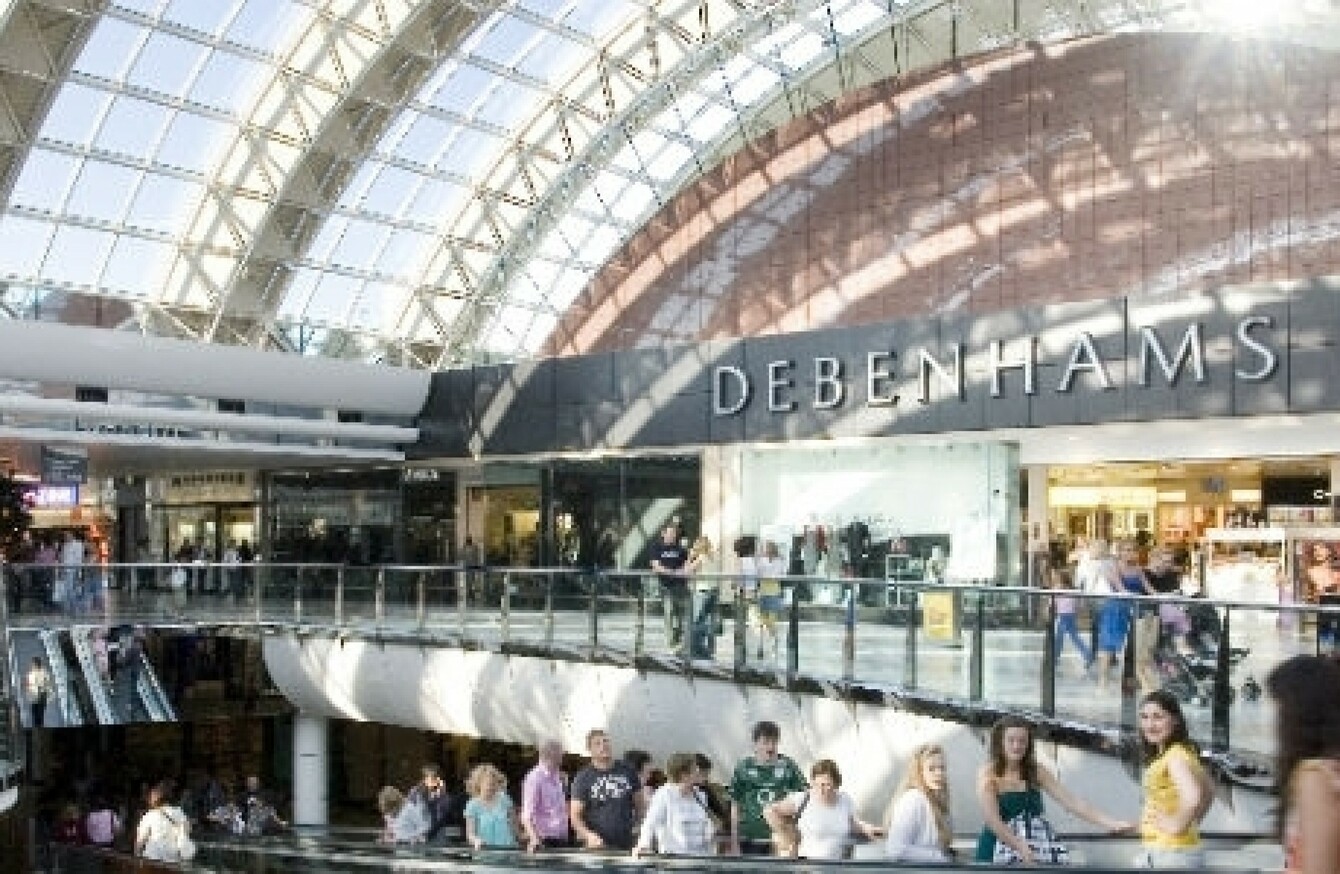 INVESTORS SPENT BIG on Irish shopping centres last year as smaller retail units proved harder to come by, new figures have shown.
According to a report from property group Savills, 21 shopping centres were traded across Ireland in 2016 at an overall price of more than €1.9 billion.
However this figure was somewhat skewed by two enormous deals – the sales of Blanchardstown Town Centre and Liffey Valley Shopping Centre.
The Blanchardstown centre was sold by Green Property to US institutional investor Blackstone for €950 million during the spring. The sale was Ireland's single most expensive property deal to date.
Blackstone, the world's biggest property investor, bought large swathes of Irish property after the crash and still controls several recognisable assets, including the Elysian Tower in Cork city.
Liffey Valley, which is also located in west Dublin, was bought for €630 million in December by Germany's largest public pension group, BVK. The centre was previously owned by HSBC, Grosvenor Britain and Ireland, and international property giant Hines.
Outside the capital, Whitewater Shopping Centre in Newbridge, Kildare, the biggest regional shopping centre in the country, was also bought by a German fund – DEKA Immobilien – for €180 million.
Childers Road retail park in Limerick was acquired by Irish Life, the country's largest commercial property owner, for €44 million in April. Golden Island Shopping Centre in Athlone and Lucan SuperValu both sold for €43.5 million.
Limited opportunities
According to the report from Savills, a total of €2.25 billion was invested in retail property during 2016.
While high-street stores alongside shopping centres consistently accounted for over two-thirds of total retail investment since 2012, the balance between the two has steadily shifted in favour of shopping centres.
The report said that this "reflects the relatively limited opportunities to invest in Irish high-street assets".
"(For example), just three shops traded on Dublin's Grafton Street in 2016, while only one investment traded on Henry Street," it said. "And, in all four cases, the purchasers were long-term institutional owners."
Back to normal
However, it seems less likely that the massive spend on retail commercial property will be replicated in the coming years, as many of the prime shopping centres across the country have recently changed hands.
"There are already some indications that the scarcity of product is beginning to curtail retail investment activity," Savills said.
"Our view is that, with many of the larger retail assets now having been traded, and with limited new development scheduled in the immediate future, expenditure on retail property is likely to ease back somewhat in the coming years."
Overall, €4.47 billion of income-producing property assets were sold in Ireland during 2016, involving 292 separate transactions. Officially, this makes 2016 the second busiest year ever – just below the 2014 record of €4.51 billion.
However, the report also noted that Nama's Project Jewel, a €1.8 billion transaction backed by assets such as the Dundrum Town Centre, was not included in comparative 2015 figures as it was a loan sale.
The report also noted the skewing effect that the Blanchardstown and Liffey Valley deals had on 2016 figures.
"Allowing for these factors 2016 actually felt like the beginning of a return to more normalised trading after several years of furious deleveraging activity," Savills said.
Written by Paul O'Donoghue and posted on Fora.ie